The moment I say I love my mother-in-law, people think I'm being sarcastic (or lying). But I promise I'm not. My relationship with her is something I had never thought possible. And yet, here we are!
She's probably the best thing about my marriage (this is not to make my hubby jealous…he's above all these mundane human emotions). She's cool even though not always composed. She makes the best sambar in the world (she can actually give the best chefs in India a run for their money) and she knows who's sleeping with whom in Bollywood (gossip columns in newspapers and magazines are her favorites).
Together, we can prove feisty Ekta Kapoor and her money-minting telly soaps wrong. And long before Shoojit Sircar made the award-winning Vicky Donor, both of us have enjoyed sipping a glass of whiskey and a mug of beer together. She's my 73-year-old mother-in-law, and there's literally nothing I'd change about our dynamic. I'm here to tell you what mother-in-law love truly means.
I love my mother-in-law!
Let me break your notion that people have to be similar to get along. We are as different as chalk and cheese (leave aside the sense of humor). Like most Nair matriarchs, she has a quirky sense of humor. And that's definitely one of the reasons we bond so well. Don't get me wrong…it's not a picture-perfect story. A lot of boundaries, as well as a lot of love have gone hand in hand for us to develop this beautiful connect.
We have taken years to arrive at where we are today. No relationship is perfect right from the get-go. Be it romantic or familial, it evolves with time. When two people put in years of work, compromise, and understanding, the bond becomes beautiful. Despite these years, we still have our moments. She has her flaws, and god knows I have mine.
Related Reading: 10 Thoughts That Come To Your Mind When Your Mother-In-Law Visits You
We are not always civil to each other. We argue, we disagree, we fight.  On rare occasions, we also bang phones (in her case, it's a landline phone while mine is a smartphone).  But, as in most relationships, we choose to move on, and usually make peace over a plate of erisherry, a Malayali dish she makes that's so scrumptious.
Sweet moments of reconciliation follow the most sassy of our disagreements. And I secretly think even our arguments are a treat to observe. My husband disagrees with that, but when my mother-in-law and I have a row, the battle of wits is legendary. He really should be more grateful, he never has to choose between the mother and wife.
Bonding over our husbands' antics
She tells me she was given the name 'Sowbhagyabati' (I actually made her write her name down on nice, handmade paper to see how it looks) because she was born after five sons causing much delight in the Nair household.  She comes from a matriarchal family in Kerala where daughters are much desired and celebrated (unlike those killer fields of Haryana, Punjab, Uttar Pradesh and Rajasthan where girls are killed at birth).

She hopes that unlike her daughter-in-law's famous namesake (Deepika Padukone, are you listening?), there's a faint chance of having a superstar by the name Sowbhagyabati. So, she revels in her name.
Our favorite 'hobby' is talking (well, bitching will be an offensive word) about our respective husbands. This combo offer includes her husband, my father-in-law, and her son, my husband. I love my mother-in-law and the absolute objectivity with which she criticizes the men.
Related Reading: How I Refused To Be An Evil Mother-In-Law And Unfollowed Tradition
We talk about the grim national crisis of wet towels being thrown on the bed without any rhyme or reason, the men's inability of buying perfectly fresh cauliflowers, their lack of interest in both Bollywood pot-boilers and high-octane cricket, and to top it all, their expectations of enjoying gourmet lunches and dinners at home day after day.
Both of us feel that the men in our lives have done something wonderful in their lives to deserve us as their life-partners. But the same can't be said about us. Of course the men might think differently. There's something called benefit of the doubt.
Our world of fantasies is the best thing about my marriage
When we get bored talking about men, we talk about how our dull lives (more in these dreadful summer months) would get an exciting makeover if she could just manage to woo a filthy rich NRI.  She has asked me to pay for her makeover (hair-streaking and facials, so that the potential NRI stud won't be able to take his eyes off her).
She says with a sense of pride that she can beat all those Patels and Kapoors of the world in dishing out Gujarati khatti-mithi dal/undhiyu or aloo gobi and rajma-chawal. She believes that's enough for the NRI to write away his entire wealth in her name. I love my mother-in-law when she launches into these outlandish tales. And she's got a point about marrying the NRI.
That would make life easier for her and me (as her loyal assistant, I am also entitled to enjoy life). Even as we discuss all these things and roll in laughter, the two men at home dismiss us with a look that only fools deserve. But then who cares? Life need not be taken seriously 24×7.
At least, the laughter makes us feel better. The debauched mercury feels a tad better. We call our mad sessions of laughter 'Saas Bahu Ekta – perks of being married.' I think it is in these moments where I realize what Indian mother-in-law love is.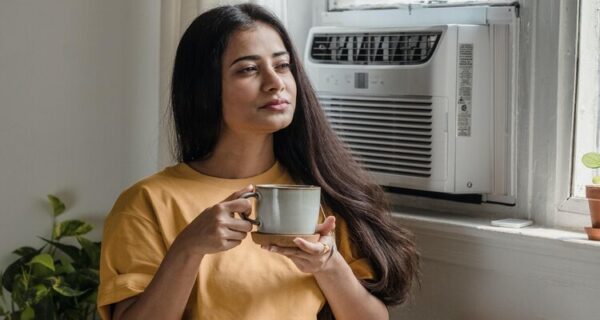 Words of wisdom from my mother-in-law
Like most mothers of her generation, she's a wonderful story-teller.  And we always end up having long conversations on a number of topics that we encounter daily.  From marriage, love, and romance, to inflation and the economy.
One mild winter morning, while having my cup of tea, I asked her, "Mamma, tum kabhi papa ke samne gana gaye ho?" She gave me a look that would make Mike Tyson proud and said, "Na beta, gana nahin khaana bana ke khaati hoon."
She celebrated her marriage anniversary just a month ago. She says, "After almost five decades of marriage, dates don't matter really." I asked her the other day to look back and tell me how she felt as a young bride to leave her cocooned world in Kerala and come to Mumbai and then Ahmedabad to start her life.
She said, "I didn't think so much. Even if I would have kept on thinking, the train still would have arrived in Bombay Central. Too much of thinking spoils the fun of living life and its surprises. You can't always run on a plan or a schedule, so just go with the flow. Standing on the riverbank gets boring after a while. "
Related Reading: 15 Signs Your Mother-In-Law Hates You
She has been always the 'doer' in her marriage. She manages the finances, invests the money wisely (without ever having been a working woman), looks after the needs of her home. And she does it all with a sense of ease. Without complaint. Without making an issue out of it. You see why I love my mother-in-law?
She believes in having a good laugh at the end of the day. I tease her about it and then she says, "Oh, the laughter comes only after having my share of homemade dahi (yoghurt)."
PS – I called her up to tell that I am writing a piece on her. She says, "Well, I hope you are writing only good things about me." I told her, "It's mainly about marriage, relationships." She adds, "Hmmm…most Bollywood marriages are breaking up. So, is this about non-celebrity marriages?" I said, "Wow! Brilliant guess, my rock star." I hope you understand why she's the best thing about my marriage.
FAQs
1. How can I show my love to my mother-in-law?

Well, there's no fixed answer to your question. Different people have different ways of expressing love. But thoughtful gestures like bringing her a cup of tea, or upholding the traditions or rituals she follows can be a start. In my opinion, the little things always trump grand gestures.
2. How do I love my mother-in-law?

Overcoming differences can be a tricky route to navigate. Since you both are individuals with separate mindsets and approaches, you will have to learn how to love her. Begin by respecting her belief system even if it differs from yours. You need not accept it, just be tolerant of it in a healthy manner. Compromise every now and then, while simultaneously explaining your point of view precisely.
3. Do mothers-in-law always cause problems?

Not necessarily. And even when their presence is causing conflict, it is rarely done with a malicious intent. Problems are natural when two different generations interact. Even more so when they share a relationship. A little bit of tussle is to be expected.
My Mother-In-Law Is Spoiling My Life but My Husband Loves Me
An Indian Mother-in-Law And My Decision to Pursue A Career After Marriage
How To Have a Good Relationship With Mother-in-Law