We were a DINKS couple, (Double Income No Kids), carefree youngsters. We were on the brink of promising careers and a blossoming personal relationship.
I bagged a cushy job in a MNC in the city where I would begin to live with my new husband. It was only a coincidence that it ended up being the same company my new husband worked for! We were starting to bond, when my night shifts at work posed a huge obstacle. We would simply long to snatch conversations with each other or just be thrilled to pass each other during work hours across lobbies at the workplace.
Related reading: It took 7 years for me to find acceptance, love and respect in my marriage
The ungodly working hours got to me and my health and we suffered a personal tragedy, having to terminate my pregnancy at six months.
We talked and made an informed decision to move to a different city for a change of scene. My career took a different path in the new city.
Though I studied finance, I chanced upon my true calling – a career in communications –and flourished steadily. We settled down in our new home, new life and respective careers when my husband got an amazing opportunity abroad in finance, his core competence and something he always aspired for.
My husband steadily moved ahead in his career while I struggled to start from scratch in a new country all over AGAIN. While many others would pursue their career living in different cities, we chose to live together as a couple and decided that I would start my career again. It was a mutual decision to do this, not that my husband ever forced me to give up my job or move. We always openly discussed the possibilities and made the decision together. Of course, it helped that he always acknowledged and appreciated the fact that I quit my job to follow him wherever his career took us.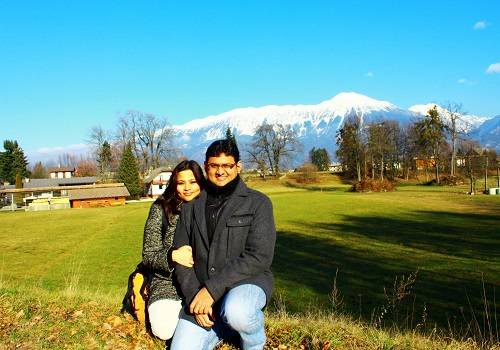 We are parents to a beautiful baby girl now and we have consciously decided that one of us will always be there for her. Especially since we are all getting accustomed to our new surroundings and she is incredibly young. We are not prepared to trust the help or a nanny to take care of her.
I genuinely want to see her growing up, taking her first steps, saying her first words, and contribute towards shaping her as a good human being who looks back at her childhood with fond memories and with a feeling of happiness and security. I have the luxury to prioritise my child over my career. We are blessed in many ways and financially stable to live our life comfortably on my husband's earnings. However, I do struggle to say it out loud even now.
It's definitely not all hunky-dory. I have my moments of disappointment, what-ifs when I see my contemporaries doing very well for themselves professionally while I have not reached my full potential. I feel like I succumbed to the circumstances for the man I love, for our relationship. I hesitate to buy expensive things now that I don't earn as much as I used to. I do have such insecurities, on and off. I talk to my husband when I feel that way. He understands how I feel and tries to reason with me that we chose to do this, as this is the best scenario possible on all fronts. He is a true partner who believes that it is 'our money' and he can focus on his career knowing fully well that his wife did compromise on her career and our child is happy and well taken care of, both physically and emotionally.
Related reading: Is nuclear family the best way to let couple relationships thrive?
I work on freelance assignments and am adamant that I will buy his gifts with the little money I earn. I am sure, I will grow confident and have clarity as time passes by and life seems much clearer, maybe? But for now, I am happy with my decision, my priorities and have even made peace with my insecurities.
<