He loved to shop for vegetables every day
Those were the days when I just got married and was settling down in Bangalore as it was called then. Being from a small town, I was all excited when one evening, my hubby dear said, "Get ready for an outing." I queried, "Are we were going to a movie or to MG Road?" MG road is where youngsters and newly married couples hang out. My hubby, instead of answering, gave a secretive smile. As we stepped out, I noticed my husband carrying a basket. I thought maybe the menfolk carry the baskets in the city when they go out with the family. Little did I know that my husband's destination was the nearby vegetable market!
As we entered the area, we were greeted by the vegetable vendors. It seemed like they missed my hubby all these days, not knowing that he had disappeared to get himself a wife. They got excited hearing my hubby was no longer a bachelor and the purchases would now double.
Related reading: Our love story – From walking out of necessity, we now walk for each other
Food was his heart and soul
Handing the basket to me, my husband started inspecting the vegetables, chatting with the vendors about the day's happenings and vegetable prices. As we moved on, there were calls from all directions asking him to purchase their vegetables and fruits. Soon our basket filled up. After vegetables, it was the turn of fruits. Those were the days when we did not have a refrigerator. Little did I know that this would be our everyday affair. The moment my husband returned from office, he would enter the kitchen and make an inventory of the vegetables and fruits and make a note of what had to be replenished.
Until my marriage, cooking had been an option, not a necessity. I would savour the delicious dishes my mother made, reading a book. Never did I question her about taste or preparation. And appreciation? Never. Filling my stomach was the only priority. Little did I realise that I married a guy whose soul is in the kitchen and the food that is cooking on the stove.
Related reading: Signs that you have a foodie husband
He was a better cook than me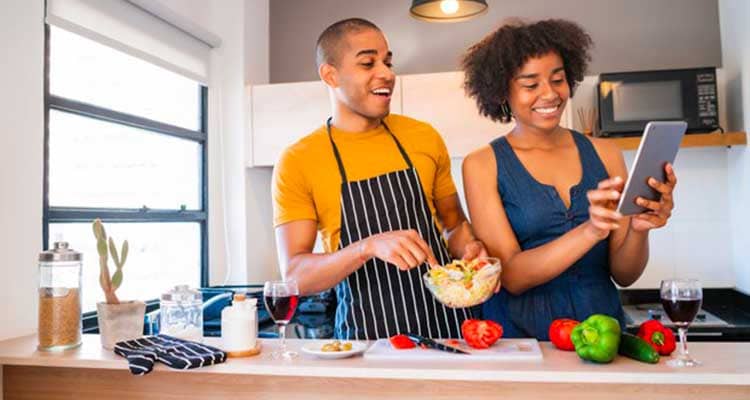 I thought his interest was in eating only. But he proved me wrong. I discovered that he was an excellent cook also. He taught me to make sambar, curries and chutneys which I was not even aware of, having grown up in a small town in North India where most of my friends' staple diet was chapatti and potato curry or rice and dal. I remember the first time I made idlis, his comment was, "The idlis are like stones. If you get angry and throw an idli at me, I may get injured and nobody would believe me."
If you get angry and throw an idli at me, I may get injured and nobody would believe me."
In the beginning, I was indignant when my hubby pointed out the drawbacks in the dishes I cooked. He would very diplomatically say, "I am only giving my feedback and suggestions for improvement." Very early I realised that I must accept the feedback, because his knowledge and expertise in cooking was far superior to mine. "And from did he get this expertise?" I wondered.
A love nurtured in the hostel
When I met my husband's classmates, the secret came out. Their discussion started with the food they enjoyed in the college hostel and ended with remembering the good cook Bala who filled their stomachs with delicious food. Bala would personally make the rounds and urge the hostellers to have their fill. Breakfast, lunch, snacks and dinner would be something the hostellers would look forward to every day after academics. Sunday evenings would be off for Bala and his assistants. My husband and his friends would venture into the town to visit the only restaurant the town boasted.
Completing his engineering, my husband also emerged with a taste for good food and what goes into making it. In his bachelor days, he experimented with cooking and never really had to depend on restaurants or cooks. With his knowledge of cooking, he could survive wherever he was posted, be it Baroda or far-off Norway. And his friends always looked forward to a lunch or dinner invitation.
I've always heard that the way to a man's heart is through his stomach… in our case it's slightly different. But after years of delicious meals cooked and enjoyed, my husband's enthusiasm for good food rubbed off on me.