He is a legendary goalkeeper for Spain's National football team, she is a prominent sports journalist and TV presenter and together they are a gorgeous couple in the world of sports. Casillas played 167 times for Spain and 725 matches for Real Madrid before he joined FC Porto in 2015. The romance of Iker Casillas and Sara Carbonero came into the spotlight when he kissed the reporter on air after winning the 2010 FIFA World Cup against Netherlands. The two made their relationship public thereafter. And since then they have been only giving us couple goals.
Iker Casillas and Sara Carbonero have a fairytale love story
They started dating in 2009.
Made their relationship official after the Fifa World Cup win by Spain in 2010.
They had their first son Martin in 2014.
In 2015 they moved to Porto in Portugal.
In 2016 they married in Madrid.
In the same year their second son Lucas was born.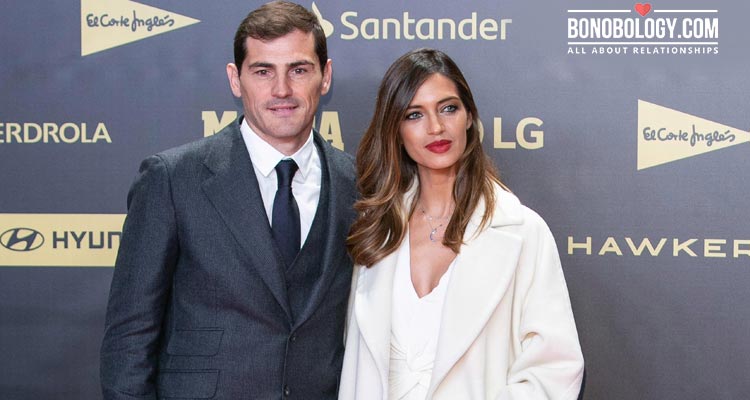 Iker Casillas and Sara have been together for a decade
The two had been dating since 2009, but the on-air peck brought the nature of their relationship out to the world.
Unfortunately, Sara was accused of distracting Casillas, as his mistake cost them a goal. The allegation was ridiculous and untrue and Carbonero's post match interview with Casillas led to questions about her journalistic integrity.
The two have been in a steady relationship since 2009, till Sara gave birth to their first son Martin in January 2014. In July 2015, the couple moved to Porto, in Portugal as Casillas was playing for Futebol Clube do Porto.
The couple got married in 2016
In November 2015, the couple announced that there was going to be another addition to their family. Before the second child was born, the couple married on March 20th 2016 in a secret ceremony, in the Madrid suburb of Boadilla del Monte.
The ceremony was officiated by one of the three notaries in the area and was attended by only two witnesses and their two-year-old son Martin. The couple wanted the ceremony to be an intimate affair, almost like a formality as the two had spent a lot of time together and "didn't need papers to feel that they were committed to each other."
On June 2, 2016, Sara gave birth to the couple's second child, Lucas.
After taking a sabbatical living in Porto with Casillas, Carbonero recently returned to Madrid to continue her career with Deportes Cuatro.
Iker Casillas' heart attack
On May 1st 2019, Iker during training with his current club in Porto suffered an acute myocardial infarction (heart attack) a condition when a part of the heart does not receive adequate blood supply.
The 38-year-old goalkeeper says that he is uncertain about his return to the game and will take time to make his decision to return to the field. His condition was said to be "stable".
As if this big medical emergency was not a hard blow for the family and well-wishers, there was another bad news waiting.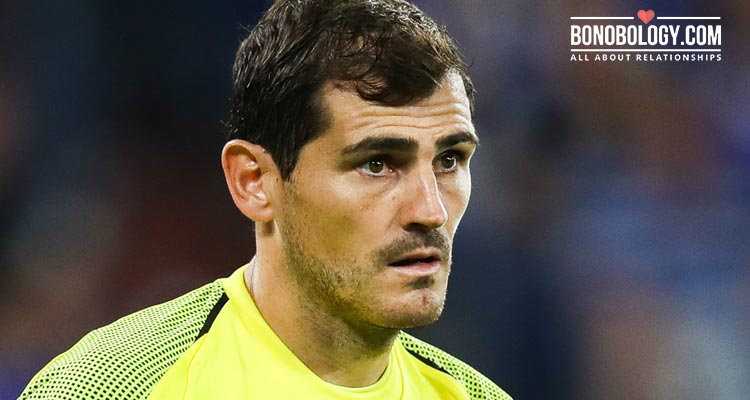 Sara, on her Instagram page told that she was fighting with ovarian cancer, just three weeks after her husband's heart attack.  Carbonero says that the tumour in her ovary was malignant and has been operated on. It is going to be a tough recovery for her but she is glad that they detected it on time.
The journey has been tough for both of them and support from the sports and media fraternity have been pouring in wishing the couple good luck and health. The Twitterati has been sending the family all their support with hashtags like #saracarbonero and #ikercasillas to extend their support to the family.
Iker Casillas also expressed his gratitude and tribute to the medical staff who have been tirelessly working towards his treatment and recovery.
A number of celebrities in the past five years have suffered from medical ailments and are using their popularity on social media platforms to spread awareness about the same.
In Bollywood celeb couples are fighting it out too
When Sonali Bendre was diagnosed with cancer it was husband Goldie Behl who flew her down to the US immediately and was a pillar of strength for her. In the same way Ayushmann Khurrana have been a rock for wife Tahira Kashyap, who underwent a partial mastectomy. Testing times like this test the strength of a marriage. Sara and Iker are going through the same.
We wish them both a speedy recovery and all the good wishes in the world.
https://www.bonobology.com/world-bicycle-day-2019-romance-empowerment-pedal-power-india/