(As told to Joie Bose)
My wife throws things at me and it is not funny
Whenever people talk of domestic violence, they always by default think it's always the women who are subject to it. It doesn't happen like that in my house. I am the Principal of a fairly famous city school and I have a lot of power outside my home. At home, I am completely helpless. However funny it might seem when you hear this, trust me, it is not.
Click here to read about this woman who is a sex addict and how it has ruined their relationship. 
My wife is really violent. She throws her slippers, the remote or even the spatula in her hand while cooking. I have three daughters, and they side with their mother. When I ask her to be not violent, they perceive this as me being dominant. I'm scared of them. My gender is my weakness now.
Click here for 5 signs of emotional abuse you should watch out for. 
Last Friday, I came home a little late. There was a management meeting with the board and we were discussing an increase in fees and salaries. They had ordered dinner and I ate. Unfortunately for me, I had forgotten to let my wife know. I was sweating in fear as I walked up the stairs. When I entered the house, my wife and daughters turned to look at me, turning from the terrible television mega serial they are all addicted to.
Click here to read about how porn saved this marriage when anger threatened it.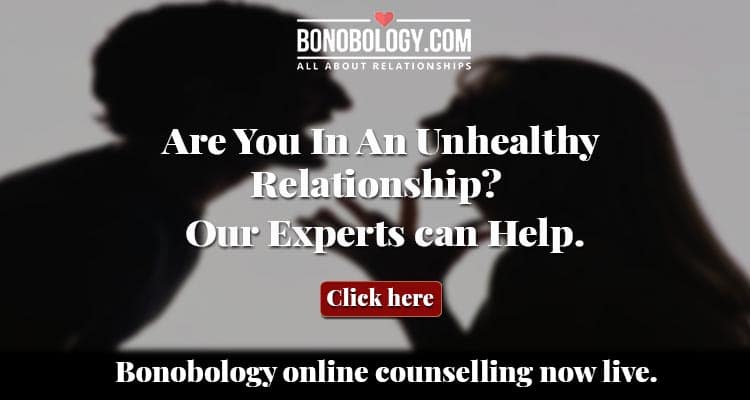 Related reading: Our marriage is being destroyed because my wife is a shopaholic
The inquisition because I was late home
Wife: You ate and came?
Me: Yes. The management had ordered dinner.
Daughter 2: What did you eat, Papa?
Me: Mutton thali.
Wife: Again you didn't let me know? Am I your servant?
Click here to read about this abusive wife who beat her husband up regularly and how he found happiness.
Daughter 1: Papa, you could have let Ma know. She works so hard after you. Did you even get her medicines?
Me: No dear, it was a tough day. Home wasn't in my mind. There was the open house in the morning, and teachers' meeting in the evening followed by the management meeting. Parents were wanting to meet me…
Click here for 11 ways to improve communication in your relationship. 
Daughter 3: Wanting? Who made you Principal? Your English is so pathetic. Say, parents wanted to meet me.
Daughter 1: Papa, that's your job. Tough days come, why do you fuss? If you can't handle this you can stay at home. Ma doesn't need your money to sustain us. So don't trouble yourself if you can't manage.
Me: You don't know anything. So I suggest you don't make statements such as these.
Click here to read about this man who is cheating on his wife emotionally, not physically. 
Wife: What do they not know? That I get 2 lakh as interest every month? That I can hire a cook but I don't, just because you like my cooking?
Me: Your money remains in the account. It's my account that gets diminished. And your cooking is not that great, so do hire a cook.
Wife: You [email protected]$%@%D!!!! (She threw the remote at me.)
Daughter 1: Whenever you come home, you just make the atmosphere so terrible.
Click here for 8 ways to make an angry wife happy. 
Daughter 3: I hope you die soon.
Related reading: Are you a man facing abuse?
Nobody cares about my feelings
No one asks me how my day went. No one cares. Yet I go on doing my duty. My daughters have all been brainwashed and have been turned against me. My wife always talks of how she has sacrificed her career to raise my family, but I wonder what a 10th pass lady could do, career-wise. I wanted her to continue studying, but she never had the brains or the time.
Click here to read about this husband who walked out on wife and kids under the influence of in-laws. 
Her father had a hosiery factory and she gets a cut from there. Her brothers made fun of my education and salary and hence I don't talk to them. The fact that I am a Principal is not something anyone in this family is proud of. My daughters suggested I join that business as well. I don't want to.
Click here to read about this woman who is a shopaholic and ruining their marriage. 
Why do I stay in the marriage?
I came to this city from Allahabad where I grew up when I first got a job as a Geography teacher in 1988. My family is still in Allahabad. They were quite against me getting married to my wife, who was the daughter of my landlord. My father didn't like the fact that these people were businessmen. That was when they stopped talking to me. No one from my family came for my wedding. I was intrigued by my wife's beauty. Forty kilos and 30 years ago, she was stunning.
Click here to read about this woman who was beaten up because she wanted to have an intercaste marriage. 
I have often thought of leaving them, but this would not suit my profile. A Principal's private life is always under the scanner.
Click here for tips on how to cope with divorce as a man. 
I have often thought of leaving them, but this would not suit my profile. A Principal's private life is always under the scanner.
I don't love my wife. I am just besotted by my second daughter, who despite the brainwash, keeps on silently supporting me. Apart from her, I have no one else who is even remotely fond of me. My parents have died. My only sister lives in the US and has no reason to come here. I am not reason enough, you see. That is why I just keep on coming back to this same house, this same wife and this same abuse – year after year. I have bruises on my body, I have bruises in my heart, but I have nowhere else to go.