It was the end of 1998, nearly 3 years of being a miserable widow, juggling 16 hours of work, sun and rain to buy material for the small press my late husband left for me, two small children, vulnerable and lonely, struggling to come to terms with the sudden absence of their father.
It was such a struggle alone
There was neither time nor the inclination to think of sex or romance. Then the dot.com bust happened in 2000, and my small business went to the dogs too. I had to wind up the press, and wondered how I'd feed my family the next day. An atheist, I did not have faith to bolster me, and I broke. It had rained suddenly that night, and all the clothes on the line were soaked and so it would take another day to dry. That was the proverbial last straw… I was painting a large bowl of flowers in the living room of our rented home. The canvas was big enough to hide my face from my kids, and I let myself go and cried buckets into the pounding rain. It had been 3 years that I was on my own. I needed a companion. Desperately.
My friend Kakuli was visiting a family friend and I had tagged along. A retired senior scientist at ISRO, he also dabbled in astrology. A soft spoken man, Debooda lowered his voice even lower and told me I would meet this tall, fair, Hindi speaking man…. but he would be much, much younger than I.
I burst into peals of incredulous laughter, and soon forgot about it.
I was touching 100 kilos, after binging on beer and fried chicken and stress… it could never happen.
Related reading: 10 advantages of dating an older woman. The 5th one is definitely true!
I dreamt of a man
I am a dreamer, and maybe the suggestion had triggered my consciousness, and for nearly a year I had repeat dreams of a guy in blue jeans, I could see only up to the knees with his palm stretched out, as if extending an invitation. In my dreams, I would hug myself and say no, shaking my head.
Since the business had crashed I got myself a job at an IT company. While returning home, I was gently nudged from behind by an ISRO bus and fell in the middle of Old Airport Road. The old bus driver started sobbing and silently folded his palms together in a "plea-namaskaar" as if he was saying, "Please forgive me". I picked myself up, somebody picked up my Kinetic Honda; I got onto the bike and drove myself to Manipal Hospital casualty, and returned home with a plastered arm in a sling. After 3 weeks, my arm was still in a crepe bandage and I was asked to join a team to learn Java programming. It was arranged that one of the guys would drive me to the training centre in Bull Temple Road, Basavanagudi and see that I reach home safely.
Related reading: She was eleven years older than he was. Does love care?
Those jeans and that hand
The first day, I was waiting for my designated driver. Sitting on the bike, I noticed that the Velcro strap of my sandals had come off, and bending to fix it, I saw a pair of suede shoes, blue jeans and a hand stretched out for the keys. I knew, that I knew this man. I looked up, my heart racing and I knew this was he – the one I have been dreaming of – in those lucid dreams, last year.
The Java course was for 3 months and every day we would pass the mosque on the way to Langford town. I believe it's called Arab Lane Masjid. I casually asked him if he was religious; he laughed and answered that he was a confirmed atheist. His name was Husain. He looked like a brown-eyed version of Hrithik Roshan and was 26 years old – he had a grandfather who was a travelling Iranian seafarer and had a family in every port. That evening, when he dropped me off, I invited him home. My mother had graciously offered to help with the kids, who were by then 8 and 6 respectively.
Related reading: How to impress a lady at work?
A hungry young man
Mom offered a plate of mutton cutlets, and we all watched while Husain ate all of them one by one, while the kids waited in silent astonishment; they were expecting to get a crumb at least! He was living alone here while his parents and siblings lived in Mysore. So the children and mom and I had a hearty laugh at his expense.
He was forgiven for not sharing.
We clicked as a family and we roared as a couple. It played on my mind that he was 12 years younger, but his mother once admitted that it ran in their family – men preferring older women. They were never completely OK about it, and when she made him take a kasam to declare what this relationship was. He said, "mohabbat karta hoon usse".
We had the most fabulous adventures, learnt to jive and waltz, participated in theatre, learnt to swim. He taught himself to drive my car, and I taught him to appreciate tantric sex. We delved into spiritual stuff, shamanism, magical passes, meditation, yoga and vipassana. I was on cloud nine. People called me a cougar, a cradle snatcher, a randi.
I cared two hoots.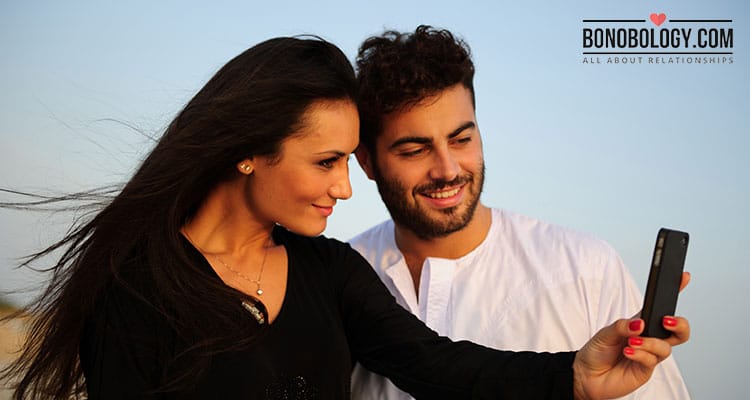 He played the role model father/friend figure for my abandoned kids, something I hoped for with a vengeance. The truth is, I realised that if I couldn't have a man to give my love to, I couldn't love my kids! That seems like an awful paradox.
But there, I said it!
I'm giving him space
For the last 7 years I decided I'd be celibate. Menopause brought a distinct change in my libido, a need for solitude. I also felt that I should let go and clear the space for possible matrimony for him – just in case. My kids are now 27 and 25 years old. Once my son asked him – did you have to fall for this fat cow mother of mine? Husain replied with an amused smile – it's not always about the body. It's a soul connection. He should know – women fall for him like flies on molasses – and he has definitely tasted some of them, along the way!