Question:
Sir,
I've been reading Bonobology for a very long time and today I myself am in a situation that is unpleasant and difficult. I have been married to an educated man for the past 11 years. Since the beginning, he has tried to put me down. He never celebrates my birthday. It's a long story, I don't know how to write everything in one mail. After many problems, I decided to live separately from him. I bought a new house with the help of my parents and taking a loan. Also, I am earning well.
My mother-in-law died a year ago and he didn't call me for her death or besna. So I couldn't go. I was afraid that going uninvited may lead to a scene being created at a solemn time of the death of a family member. He didn't write our son's name in the besna news in the newspaper either.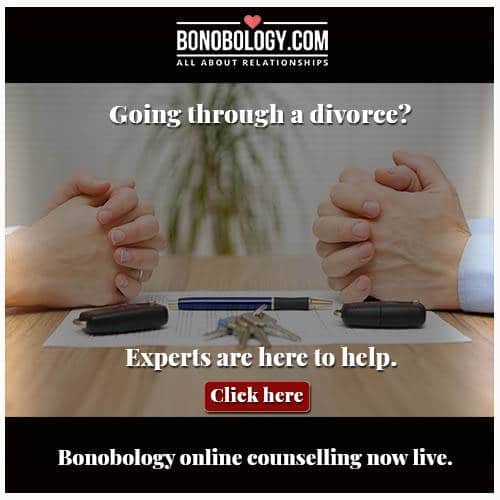 Now he has said that he wants a divorce because I didn't go for my mother-in-law's besana.
I feel very bad thinking of divorce. I am unable to prepare my self for it. He always blames me for everything, especially the broken marriage. These depressing thoughts occupy my head all the time and sometimes I slap my son due to anxiety.
Please help me. What should I do? Please guide me.
Counsellor Deepak says:
Hello ma'am,
Growing up in cultures like ours, sometimes we may internalise the stigma against divorce to a point that we may be willing to go through the unhappiest and most abusive of relationships, and still don't want to go through a divorce. Divorces are tough; I won't deny that, however, sometimes they are necessary. In your case I would like to tell you, regardless of the labels you use, you are divorced from your husband for all intents and purposes. Emotionally your relationship, from what you report, has been over for some time now.
I understand that changing the legal status of the marriage from separated to divorced, is still a huge step, but this step would be made easy if you accept the truth of your situation and your relationship. This is important to resolve for all the parties included, especially your son. HE doesn't deserve to bear the brunt of your choices in life. Imagine the future possibilities that you could open for yourself and your son if you acknowledge that the marriage is over and move on with the divorce.
Having said that, I would highly recommend that you see a professional relationship/marriage counsellor in your city. These things are far too complicated to be entirely resolved in an opinion column.
All the best to you,