Hrithik Roshan is a complete packaged deal. With the smoking hot looks of a Greek God, sizzling dance moves and excellent acting skills, he is rightfully the heartthrob of the nation; and truly one of a kind in Bollywood! We give you interesting facts about Hrithik Roshan that will only make you fall in love with him even more.
Having done such a variety of films, he has given proof of his versatility and carved a niche for himself in the industry. Besides being a great actor, he's the face of all things fitness related and is also parenting two young boys – Hreehan and Hridhaan. But you may not know everything about him. So we give you some lesser-known facts about Hrithik Roshan. Just like his movie Super 30, here are super thirty facts about the man himself.
Did You Know These Interesting 30 Facts About Hrithik Roshan?
Want a bigger sneak peek into this star's life? You know him on screen but you don't really know him as a person yet. We give you some unknown facts about Hrithik Roshan that make him all the more lovable and desirable.
Related Reading: These Top Heroines Prove Age Is Just A Number In Bollywood
Hrithik's official and original surname is not Roshan. It's Nagrath.
The first paycheck that he received after dancing along with Jeetendra in a 1980 movie named Aasha was Rs.100 and the money was spent to buy 10 hot wheel cars
One of the Hrithik Roshan unknown facts is that his nickname 'Duggu' was kept by his grandmother in an attempt to make it rhyme with Rakesh Roshan's nickname 'Guddu'
After his graduation from Sydenham College, his parents wanted him to pursue higher studies in the US
He started off his career in the industry as an assistant director
He assisted his father, Rakesh Roshan, in two of his movies – Karan Arjun and Koyla.
Another one of Hrithik Roshan interesting facts is that the man is so dedicated to his profession that he performed all three stunts (bull chasing, sky diving and underwater diving) himself in Zindagi Milegi Naa Dobara
Hrithik was actually Farhan Akhtar's first choice to play Akshaye Khanna's role of 'Sid' in Dil Chahta Hai as well as Shah Rukh Khan's role in Don. He was offered Swades and also, Rang De Basanti (Siddharth's role)
Many of the interesting facts about Hrithik Roshan have to do with his love interest. Hrithik's first watch, Swatch, was a gift from his then-girlfriend Sussanne Khan.
A huge advocate of a healthy and fit lifestyle, he used to be a smoker. But after reading Allen Carr's Easy Way to Stop Smoking, the Agneepath actor quit smoking. Being one of the most attractive and stylish actors in the industry, Hrithik has also opened his own fashion label brand called HRx.
10 more facts about the Super 30 actor…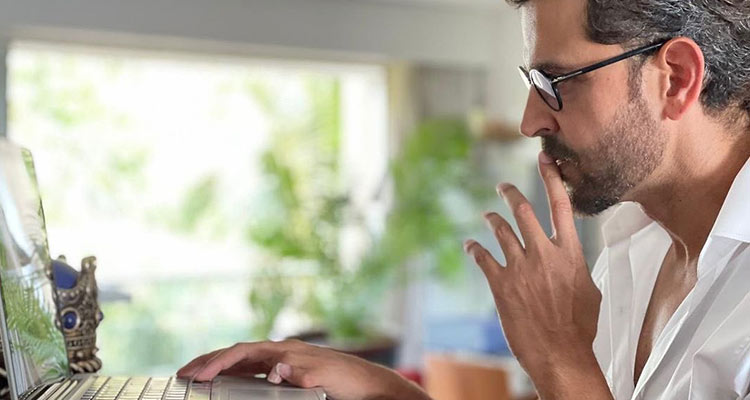 Music is in his blood, what with his grandfather, Roshan, and uncle, Rajesh Roshan both being well-known composers. He also tried his hand at music in a few of his movies – Kites, Zindagi Milegi Naa Dobara, Guzaarish
Hrithik Roshan has been paired with Kareena Kapoor for most of his movies
From learning rollerblading for Dhoom 2, meeting paraplegic patients so as to prepare better for Guzaarish to learning and acing sword fighting for Jodhaa Akbar, he has done all it takes to refine his roles and be a perfectionist
Now, a confident man, as a child he struggled with stammering, which he overcame with the help of a speech therapist
Hrithik is a certified diver
The Krrish actor has an ideal superhero he looks up to and that's… Superman, one of the hottest superheroes!
He was the fifth Indian actor to have his own wax statue installed in the Madame Tussauds Museum after Amitabh Bachchan, Aishwarya Rai, Shah Rukh Khan and Salman Khan
One of the things that put him off really bad is being clicked while he's gorging on his food
Hrithik's dancing idols are Michael Jackson and Shammi Kapoor
Is he a dog person or a cat person? Both! He gifted his sons a pet Beagle named 'Paris'
10 more things about Hrithik Roshan that you will love…
Related Reading: 5 Bollywood Movies Which Show Love In An Arranged Marriage
Born with a double thumb, Hrithik Roshan believes that his deformity is a sign of his good luck
He beat a spinal defect 'Scoliosis' at the age of 21 and then underwent brain surgery after being injured due to a stunt gone wrong while shooting for Bang Bang
Hrithik Roshan is among one of the highest-paid actors in Bollywood
One of the Hrithik Roshan interesting facts is that he has received high praises from The Los Angeles Times for his work in Kites, which wasn't much talked about in India, unfortunately
He is so dedicated to his work that he'd reach Dhoom 2 sets at 5 in the morning and would patiently sit for five to six hours of elaborate prosthetics for his makeover in the movie and then shoot all day long wearing them. So hardworking, right?
Hrithik Roshan is very humble and down-to-earth as well. He always makes enough time to meet his fans
A man as charming as him and also into reading? That's amazing, right? He likes to read books of all genres
As a kid, he used to love cooking some eggs and potato chips for himself.
When in the mood to binge eat, J W Marriot's Spanish restaurant Arola is his go-to place.
Much like the title of his last movie Super 30, the man doesn't look a day older than thirty though he's 47 years old.
5 Bollywood Movies Which Show That A Breakup Isn't Such A Big Deal
Ask Our Expert
You must be Logged in to ask a question.