In a case of blurring the line with real life, Abhimaan takes us to a parallel universe with the hypothetical question – "what if?" What if the wife of a superstar husband becomes more successful eventually? The married couple of Abhimaan is played by real life couple Amitabh Bachchan and Jaya Bachchan nee Bhaduri.
Jaya was the superstar of middle-of-the-road cinema before her superstar husband Amitabh Bachchan could even get his first solo hit.
Amitabh in real life and Subir in reel life dazzle like the sun. No one can be brighter than the sun, but we forget that an eclipse can put a shadow on the sun. Uma became a bigger name than husband Subir in a short time. Like the other men of the 1970s, Subir could not take it when his wife became more successful.
Now we are in a different millennium, but we still wonder, how many husbands will clap sincerely at wives' success? Even if the husband claps sincerely, will the society let him be at peace without taking a jibe at his manhood? Ironically enough, today Amitabh and Jaya's son Abhishek is married to Aishwarya, who is more successful than him. They are happy, but have you read the online jokes at Abhishek's expense?
Related reading: Abhi Ash giving us major couple goals yet again!
Abhimaan: Blurring the line between fact and fiction
Many superstars have come and gone, but no one is bigger than Amitabh Bachchan. Dilip Kumar was a superstar, but then he shared the superstardom with Raj Kapoor and Dev Anand, just the way since the '90s the Khans are sharing superstardom. Rajesh Khanna was the sole superstar of his time, but he could not stay in that position for more than five years. Amitabh not only ruled Bollywood for years, but afterwards he kept on reinventing himself to stay relevant till today.
But when he was struggling to get foothold in the Hindi film industry his wife-to-be Jaya Bhaduri was already an established name in the industry. No one from the fraternity took the tall lanky actor seriously except Jaya. She saw something great hidden inside Amitabh. She believed in him and even did films with him.
Coincidentally when great things happened, that is the first solo hit of Amitabh, Zanjeer, Jaya was literally with him in the film.
After the film they got married and Jaya practically left acting except for a few roles here and there. But suppose she had not left the acting profession after marriage; then how would the dynamics between the two have worked?
Related reading: 7 Indian power couples who redefine relationship goals
A story that might have happened in true life
The film Abhimaan, released just a few months after Zanjeer and starring the newly married real life husband and wife Amitabh and Jaya, treads on this territory, albeit in the fictional world with hypothetical conditions.
Subir, played by Amitabh Bachchan, is a successful and famous singer.  He is a "typical" male – drinker, chain smoker, flirting with "modern girls" but wants to marry a simple and caring girl just like his mother. Once on a visit to his village he meets Uma (Jaya) the "wife material" girl who sings like an angel. Uma is also the "typical" good girl, submissive, traditionally dressed, always in good spirits and saying sorry even when it is not her fault.
Given their "typical" characteristics, the marriage between Subir and Uma is made in heaven, but problems reach paradise when Subir decides to make Uma a professional singer.
The character Brijeshwar Rai played by David sums up the conventional thinking on Subir's decision: "As history is our witness, men can never tolerate when women surpass them."
Being a classical singer, he knows Uma is more talented; hence this will be an issue with Subir.
His rejoinder to his assistant's remark about how Uma being married will very soon forget about singing with her household responsibilities is interesting and food for thought even in our new millennium: "But it is even worse for the relationship if the wife's talent is kept suppressed with household duties and children."
Related reading: A girl doesn't have to stop pursuing her dream after getting married: Mary Kom's love story
When her success overtakes his
His prediction becomes true. Uma starts getting more money, more work and more fame. Subir can't tolerate it and drowns his anger in alcohol.
He goes back to his old lady friend Chitra, who worships him. There is no competition or challenge from her. What more does the male ego need?
Uma, the "typical" bharatiya naari, thinks everything is her fault and flees to her village. That does not affect Subir. She has a miscarriage and she goes into a depression.
It was surprising to see the sensitive and intelligent way mental health issues are handled in the film. Another forward aspect of the film is when Uma mocks how everyone says all problems will be solved after a child comes into a couple's life.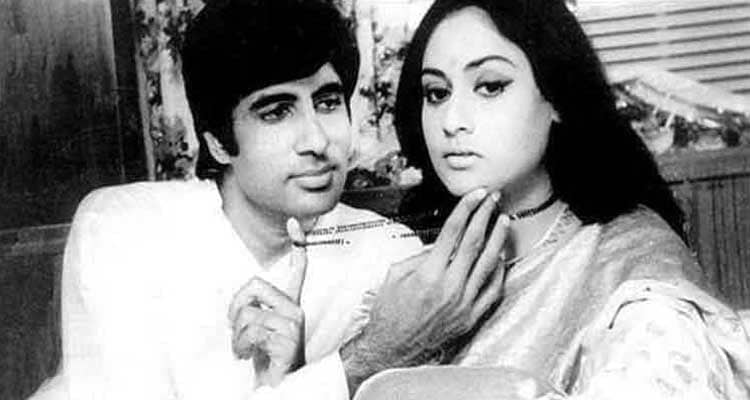 In the end, love and commitment overpower egos.
How much of it was true in real life?
Amitabh's depiction of a chauvinistic and jealous husband is superb. But like the film, in real life too the wife stole the limelight. Jaya Bachchan won the Filmfare Best Actress award. Her husband had to be content with a Best Supporting Actor award for another film.
Jaya was extraordinary as the simple girl then the sad wife and finally as the depressed woman. Every mood of her husband is reflected on her face.
It's a tragedy for the Indian film industry that such a fine actress practically stopped acting at the age of 25. She rejoined the industry in 1998 and has been doing some supporting roles. But we will never stop wondering if leaving acting was her independent decision or like her screen persona Uma she was emotionally forced into leaving her craft.
Here are the actors who have acted with their real life and rumoured partners
The Silsila syndrome: When reel life affairs are unacceptable to Indians