Will Jennifer ever get happiness?
Today we woke up to the news of Jennifer Aniston's marriage breaking down yet again. This triggered another round of the usual reactions she has been getting her whole life.
"Poor Jen, unlucky in love."
"Will Jen ever get happiness?"
Jennifer Aniston instantly became the world's sweetheart when in the year 1994 she started playing the role of Rachel Green in the hit TV show 'Friends'. She was the proverbial 'poor rich girl' who got cheated on by her supposedly soulmate and then never clicked with another man.
This story from the show spilled over to real life when in the year 2005 she and her then husband Brad Pitt announced separation.
Brad and Jen were the golden couple of Hollywood who had a gorgeous fairytale wedding in 2000 after dating for two years. Their life was a happy picture album till 2004 when gossip mill worked overtime to report how Brad wanted children while Jen did not. And then the report came of Brad getting close to his Mr and Mrs Smith co-star Angelina Jolie, already a mother of an adopted boy.
Related reading: 15 cute things a girl does when she really loves you
The couple did not respond to the rumour but the truth of these rumours came out in open when they got separated in 2005. The whole world and their friends joined either of the two groups 'team Jen' or 'team Angelina' and the virtual war between the teams started.
The world cried with Jennifer on her heartbreak while cursing Angelina for breaking a home.
Calling Jennifer "poor Jen", sympathizing or/and pitying her started during this time.
Brad always maintained he never had any relation with Angelina till he got separated from Jennifer. But later in an interview, Angelina mentioned how her relationship with Brad started while filming Mr and Mrs Smith. So the cat was out of the bag. Mr Pitt was cheating on his wife.
This made people madder at Angelina and Brad and sadder for "poor Jen".
The "poor Jen" continued after 2005 too. Because Jennifer dated series of men but all her relationships failed. Meanwhile, Brad went on to have a bunch of kids both biological and adopted, with Angelina.
Jennifer got respite when in 2011 she met Justin Theroux while filming Wanderlust. As a case of history repeating itself, Justin was in a long term relationship when he met Jennifer. There have been conflicted reports whether he broke up with his long time partner Heidi Bivens and then dated Jennifer or was there an overlapping period.
Related reading:  7 positive things to do after break-up
Whatever the case might be but people were really happy for Jennifer. The 'team Jen' finally sighed in relief.
She got married to Justine and tried staying off the grid by not being active on social media. She was busy setting up her home and her career. After the sitcom Friends she is reckoned to be one of the top female Hollywood actors.
As an extension of 'unlucky in love' people and media started speculating a lot about her motherhood. But she is one of the rare public figures who has never shied away from proclaiming she is never going to have a kid. It is hard to digest for most people though, so she is being asked about it a lot.
'Team Jen' on the other hand got the ultimate satisfaction when Brad Pitt got separated from Angelina Jolie.
But meanwhile Jennifer's marriage was under scanner too amid report of Justine cheating on her with ex Heidi. Finally they announced yesterday that they had been separated since late last year.
After going back on "poor Jen" a bit, people in general are hoping Jennifer and her now single ex Brad Pitt hit it off again.
It seems far-fetched the golden couple will ever get back together. But as an eternal optimistic "team Jen" member I would say more impossible things have happened in real life.
Whatever may happen in their relationship area, the truth is Jennifer is not the "poor Jen" she is made out to be. She is doing great in her career. She has a strong mind. She is happy to keep her life private. She has a great support team of dogs and a gang of girlfriends including Friends co-star Courteney Cox.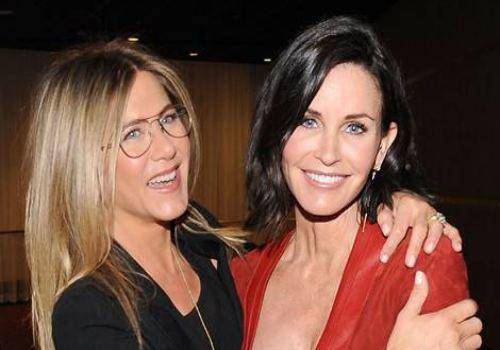 "Poor Jen" is more than "just surviving". Maybe it is the time people and media understand this.