Kishore Kumar is mainly remembered for his all time hit songs especially in movies like Aradhana and Kati Patang. He never had any formal training in music but went on to become a legendary singer in Bollywood whose music will always be evergreen. Kishore Kumar wanted to become a singer but his older brother Ashok Kumar thought he should be an actor. So when he came down to Mumbai from his hometown Khandwa in Madhya Pradesh (a place where a museum is now being built in his memory) he started acting and he was so good at that too, that with every film he made an indelible impression.
His comic timing was unbelievable
Who can forget his comic roles in Padosan and Chalti Ka Naam Gaadi. My favourite film of all time is definitely Padosan.
He did not have the lead role in the film but his personality was so boisterous that everyone else got sidelined. He threw himself with gusto into the role of Guru, a mustachioed and paan spewing director, of a small-time theatre company.
I think in this role he showed us a part of his personality that we never realised existed. He was, in fact, the pivot around whom all the other characters revolved.
His cult song
For me his best number in the film was Meri Pyaari Bindu. His movements and song delivery and expressions were absolutely phenomenal. I think he infected his co-stars by his whacky personality. At that time, Sunil Dutt was always considered a very serious actor especially after Mother India. Saira Banu was considered a pretty bombshell but it was Kishore Kumar's total craziness that set the tone for the film.
Sunil Dutt was realistic as the simpleton, Bhola and Saira Banu was equally convincing as the inconsistent and incompetent heroine.
The film peaks in the song Ek Chatur Naar where the jugalbandi between Kishore Kumar and Mehmood was on display. Mehmood gave us his best performance in this film and particularly in the song. It was an innocent, lighthearted typically Indian film, the likes of which we will never see again.
A murder mystery-cum-comedy
Chalti Ka Naam Gaadi as the name suggests has a car as the main protagonist. Here we were shown for the first time a murder mystery which was also a comedy.
We were also introduced to Kishore Kumar's yodeling skills in the song Paanch Rupaiyaa Baarah Anna.
That is my favourite scene in the film. We have a stunningly beautiful Madhubala in a chiffon sari soaked in the rain on a moonlit night.
Instead of the archetypal handsome hero, we have a buffoon played by Kishore. Yet the real-life and reel-life chemistry works to make this song a super hit. She keeps glowing and looking more beautiful in every frame yet he isn't interested in her beauty. His priorities are in recovering his money and not getting yelled at by his bhaiyya. It's such an unlikely contrast of characters yet it worked to a T! Here was Kishore at his playful best wooing a girl without even meaning to. It was just so incredible.
These two films along with their music exemplify Kishore Kumar's personality. Rooted in Indian culture yet never taking himself seriously. He represented the golden age of Indian cinema. He showcased Indian music and dramatic skills like no other.
Some interesting facts to know about Kishore Kumar 
Kishore Kumar stood for contrasts. While on the one hand he was so comical and funny on the other he could be really sombre and moody and hated interactions with the press. He was very particular about his remuneration but for Satyajit Ray he sang for free. He sang 245 songs in his career of which 92 films were with Rajesh Khanna.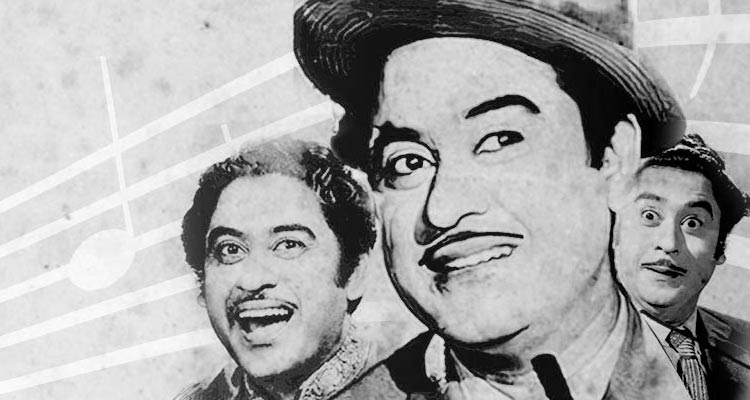 If you want to know about the lesser known facts about the legends life then do take a look at the documentary Zindagi Ek Safar by Sandip Ray. It took Ray 10 years to make the documentary and it is a masterpiece.
Kishore Kumar's relationships
In fact, Kishore Kumar's marriages to – Ruma Guha Thakurta, Madhubala, Yogeeta Bali and Leena Chandavarkar – are often talked about but not the relationships he shared with his colleagues.
One such relationship was with Lata Mangeshkar. Apparently they met for the first time in a Mumbai local train and then got off at the same station and were heading for the same studio. Lata actually had thought this gentleman was following her till she realised that he was also going to the studio for a recording.
Since then they became great friends. Lata and Kishore Kumar were a contrast on stage when he would prance around and she was rather serious.
In fact, for an interview with an international magazine he once said that he would only talk if Lata interviewed him and she did it. In this documentary too, Lata Mangeshkar has interviewed Kishore Kumar.
Kishore Kumar's relationship with Khandwa
Kishore Kumar used to go back to his home in Khandwa as frequently as he could and devoured the local favourite jalebi and milk. His last wish was to be cremated in Khandwa which was done after his demise on October 13, 1987.
This is the first part of the documentary the other parts are also available.
Here are the actors who have acted with their real life and rumoured partners