Are you looking for a fool-proof way of being neighborly, aiming to foster everlasting bonds with newcomers in the neighborhood or even appreciating your longtime friendship in the hood? Well, you have come to the correct place as we are here to help you pick out some great, last-minute gifts for your sweet neighbors. These gifts don't necessarily have to be commemorating some great occasion like Christmas or birthdays. Trust us, if you live in a neighborhood with kind and helpful neighbors, you will always be in the mood and habit to give small gifts to each other as a token of love and appreciation.
But, there are two sides of the same coin – just as much we love showering our neighbors with gifts every now and then, it's equally difficult to come up with creative, ingenious ideas every time. And sometimes, (most times) we end up in situations when we are in dire need of such gifts at the very last moment.
Not to forget, when we are gifting at such frequencies, we need gift ideas that don't burn a hole in our pocket, yet don't seem outright cheap.
Related Reading: 21 Christmas Gifts For Parents [2020]
So, to get rid of all such woes, we have put together a list of gifts that will definitely bring a smile to your neighbor's face, and a helping hand next time you are in need, without breaking your bank. These gifts will check every box on your list, make your neighbors happy, and turn you into your hood's own gifting superstar.
Last Minute Christmas Gift Idea for Neighbors [Inexpensive]
Here are some unique ideas that are sure to come to your rescue when you are in search for some great gifts for your well-deserved neighbors, but have no time whatsoever to rummage around or surf online.
1. Talisman Design Solid Beachwood Measuring Spoons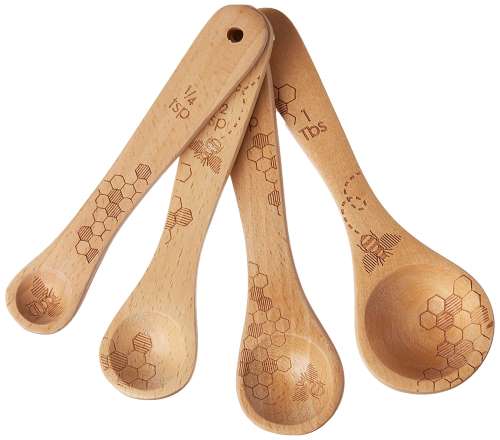 Does your neighbor love to bake treats and send them over? Are you always in awe of his/her kitchen skills. Well, it's time to give them a token of appreciation. This is a very clever and useful gift, and not something so expensive that will make your neighbor feel uncomfortable.

Gift them these talisman designed beech wood set of four measuring spoons from the Talisman Designs Stores with adorable honeybees etched onto them. These spoons are useful for everyday kitchen use and pretty enough to be displayed on any kitchen counter. And you can enjoy all those upcoming baked goodies that are going to come your way.
2.Tea for Two Infuser and Mug Gift Set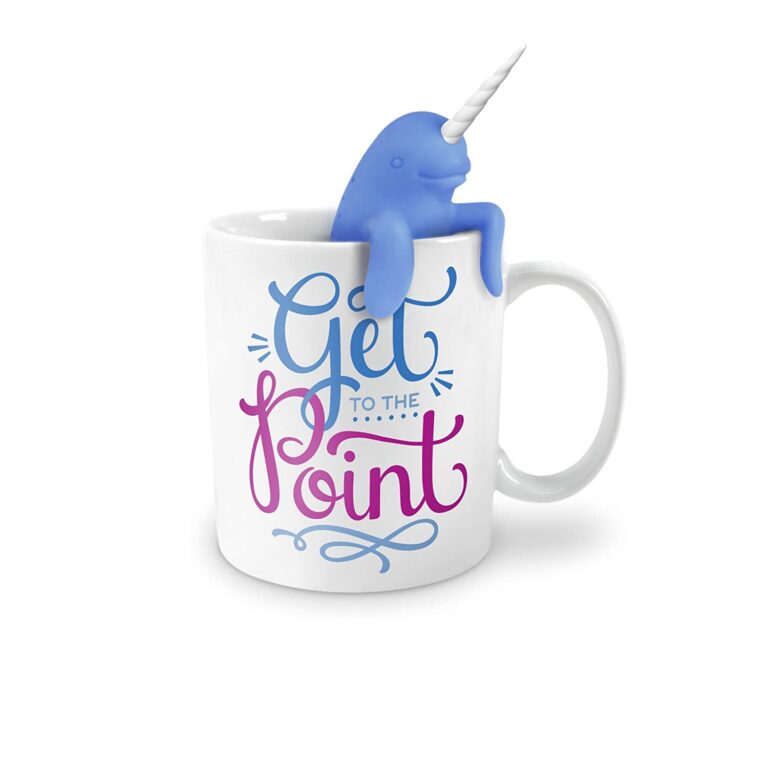 It takes a team of two to make a good cup of brewed tea, just like the unmatchable team of you and your neighbor. This gift is a great idea if your neighbor enjoys tea, coffee and cute marine animals, like Narwhals! This thoughtful gift can help them enjoy their tea-time with loved ones.
This gift set from Fred and Friend's Store includes an infuser and a coordinated mug, making for a quirky gift set. You could also go that extra mile, and add that bonus pack of your neighbor's favorite tea or coffee along with the set. He/she can use it for putting instant coffee or aromatic spices into the infuser.
3. Set of Assorted Potted Faux Succulents
Succulents are trending high right now, and as they are such low-maintenance plants, people love them all the more. But, does your neighbor have no green thumb whatsoever, and may end up killing a succulent too? Well, not to worry as these fake ones are perfect for him/her and anyone would hardly know it.
Related Reading: 21 Gifts For Your Co-Workers | Gift Like Star Performer [2020]

This 6 pieces assorted set of potted faux succulents from Supla make for a great gift for such a neighbor and come in cute gray pulp pots which are quite strong and look like clay. Your neighbor can easily enjoy the look of fresh plants in any part of the house without the hassle of over/under watering.
4. Quoted Kitchen Tea Towel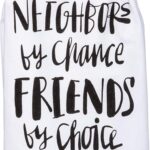 Were you looking for such a gift that is bound to make a Cheshire smile come up on your neighbor's face instantly? Well this 100% cotton tea towel with the sweet quote of "Neighbors by Chance, Friends by Choice" helps to perfectly express how you feel about your favorite homies.
So, get this sassy and heartwarming kitchen towel from Primitives by Kathy and be the reason they would smile all of a sudden on some bleak afternoon as they toil over the kitchen stove for hours. You could even create your own kitchen bundle gift set and include some homemade bread or fresh-made cookies to go with it.
5. Coaster Set With Cactus Flowerpot Shaped Holder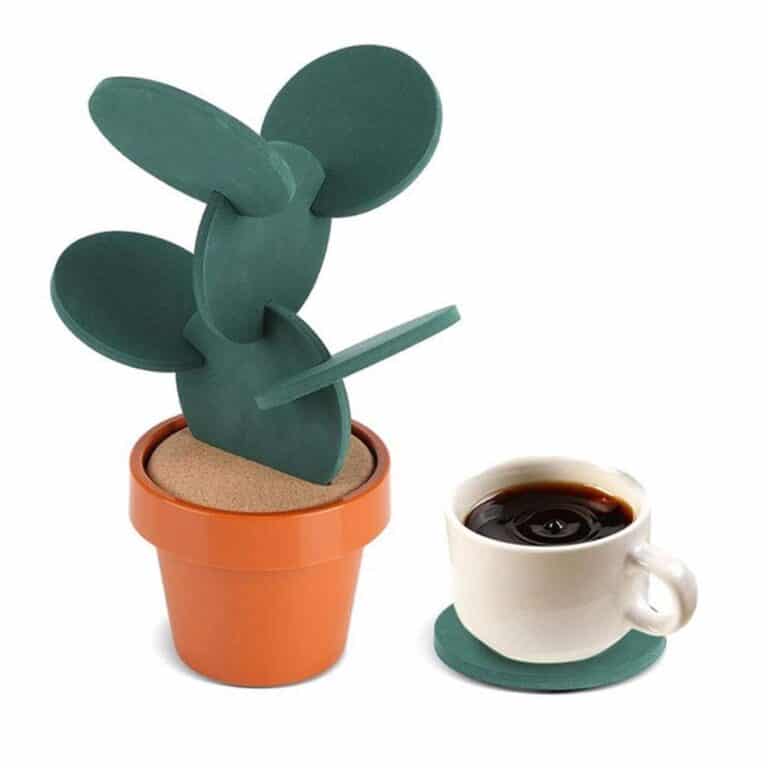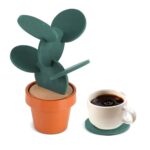 This funny yet useful gift idea is perfect for that neighbor who loves to host parties and is always on the lookout for quirky, eye-catching party props. This set of stackable six heat and water-resistant coasters can be stacked into a fun cactus shape when not in use.

So, gift your neighbor this cute cactus coaster set from Buery and they will love it, more so if they love to grow cacti and succulents or maybe miss a childhood spent in a desert environment. And the best part is that this functional gift helps to save some serious space and is compatible with most cups, mugs and glasses.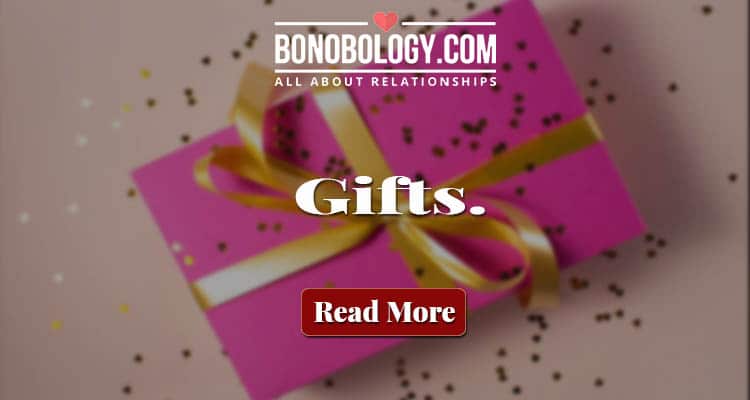 6. Buery Cactus Coasters With Flowerpot Holder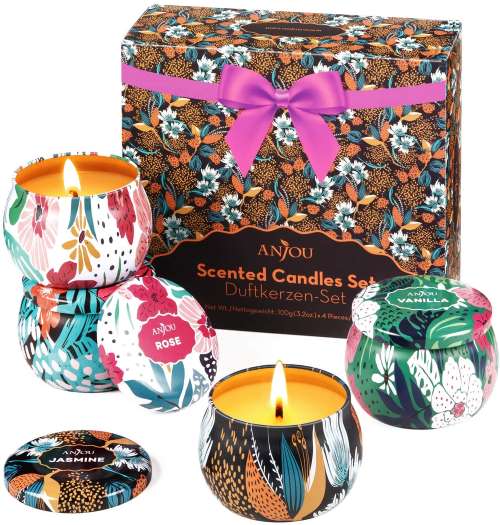 Everybody on the face of this planet, especially in the current times, need help with stress relief. And that's exactly what these scented candles are meant for. These candles smell as great as they look and infused with aromatherapy scents like lavender, rose, jasmine and vanilla will help your neighbor unwind after a long stressful day.

This set of 4 scented candles from Anjou come in such beautiful tins with lids that can be re-used later on. These candles are perfect for creating stress-free atmosphere for relaxation and you can either gift all four to your favorite neighbor or split among friends if you are on a tight budget. A perfect gift for a friendly neighbor.
7. Waterfall Soap Saver Soap Dish
Do you want to gift something useful to your neighbor, but at the same time something super affordable and easy on the pocket? Well, we have just the thing for you. This creative soap dish helps to keep the soap dish clean and not let any soap residue get accumulated on the dish.
Related Reading: 21st Birthday Gift Ideas [Choices That Matter] | Oct. 2020

This soap dish from Evelots is perfect for all those neighbors who just moved in. Now, no more flat soap dishes filled with soapy gunk and a complete savior for all those who hate using soft, mushy soaps. These soap dishes come in sets and take care of all your bathroom soap and kitchen soap/scrubby needs.
8. Indoor Herb Garden Starter Kit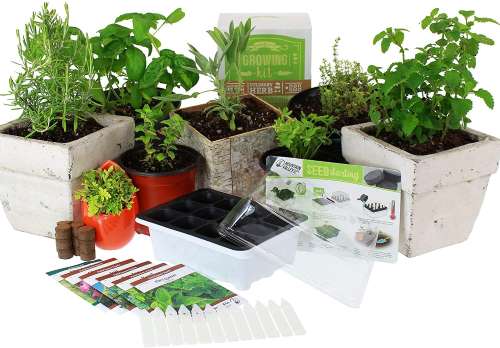 For neighbors who are really particular about their food and who love to prepare their meals at home, especially in the given scenario, there could be nothing better than growing your own herbs at home to spice up any home-cooked dish. Along with amp-ing up the flavor, there are numerous health benefits to this.

This cute little herb garden starter kit from Mountain Valley is a perfect gift for your neighbor and has everything from basil, dill, parsley, chives, oregano etc. complete with a drip tray. This kit will help your sweet little neighbor create their own tiny kitchen garden, even if they are short on space.
9. Travelling Neighborhood Plate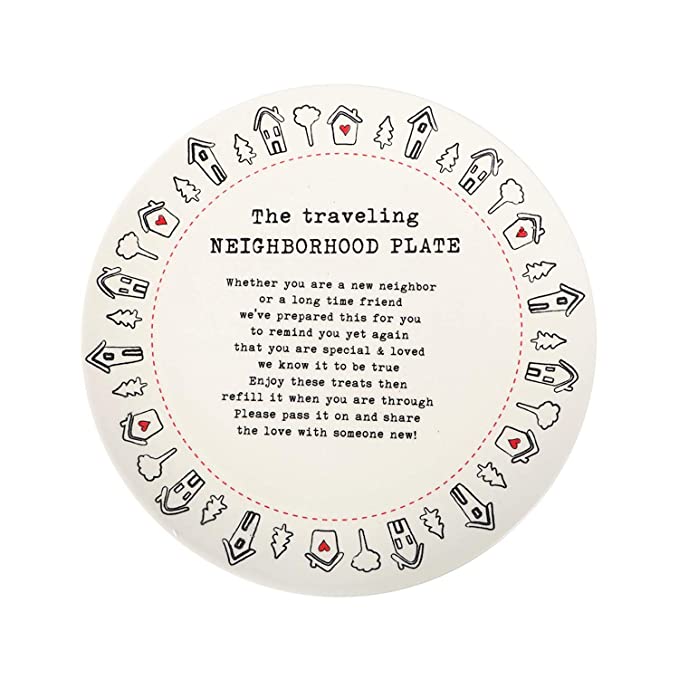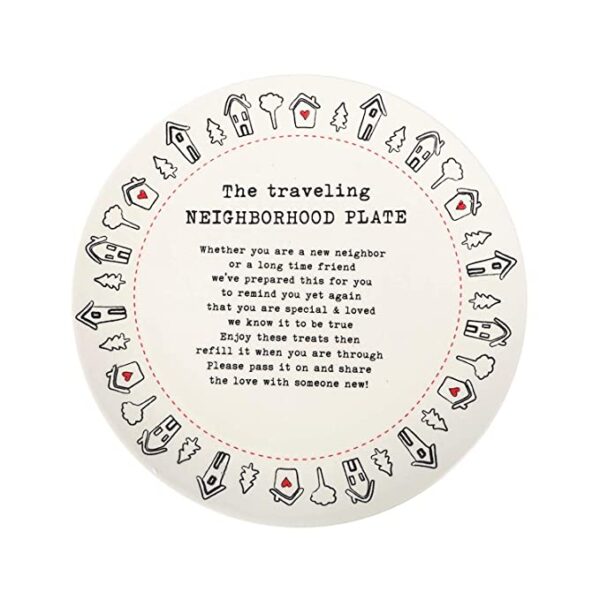 Are you a part of the tradition of welcoming newcomers to the neighborhood by passing on some home-baked goodness just like us? Then you must be acquainted with the problem of them feeling the need to return your dish/platter. This gift takes care of this problem once and for all.

This travelling neighborhood plate from DEI can be loaded up with kitchen treats for your neighbor and then passed onto the next new neighbor by them. So, this pretty plate will travel around the neighborhood and ensure to keep up this lovely sentiment. Isn't that a lovely thought? And it's a perfect way to meet and make new friends. 
10. Bob Ross Chia Pet
We love Bob Ross, and if your neighbor is on the same team as us, we are pretty sure he/she will love this gift too. This cute and quirky take on the classic chia pet concept with a Bob Ross planter is going to make your neighbor laugh their heads off. This chia pet depicts Bob having his iconic wild, bushy (literally) chia head of hair.

So, get this great Bob Ross chia pet from Chia Store for your neighbor and within few weeks, your neighbors will have their own fresh supply of yummy sprouts ready to be included in salads and sandwiches. And the best part is that these pottery plants can be washed and re-planted indefinitely keeping your Bob Ross immortal forever.
11. Beanie-Tail Knit Cap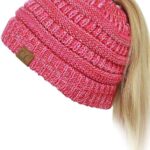 Is your neighbor famous for sporting that high ponytail always and has seemed to make that hairstyle a trademark for herself? Well, we don't blame her if she feels bad about not being able to keep up to her signature look, during those chilly, autumn morning neighborhood walks as she has to struggle getting all her hair under a hat.

This knitted beanie-tail from CC has a convenient opening for the ponytail to come through and will keep your neighbor's whole head warm just like a hat. This is a stellar gift idea and we are pretty sure she will love it, especially since it comes in a variety of colors, perfect for camping, outdoor activities etc.
Gifting Tips And Tricks
Mostly, we tend to rush to find gifts for our friends, family, romantic workers, or even co-workers, but we tend to overlook our poor own neighbors, until the very last moment. But this should not be the case as our neighbors are the ones who could come to our rescue at various situations, like helping with our dog walking, babysitting, watering our plants when we are away on vacation etc.
Related Reading: 21 Graduation Gifts for Her [Suits The Occasion] | Oct.2020
This is the reason we should always appreciate our neighbors and now, you have a great list compiled with some last-minute gift ideas that are sure to save the day. Along with that, do follow these valuable tips and tricks:
Don't get too personal: Whenever you are choosing a gift for your neighbor, make sure to not cross the line. Judge how personal you can get as per your bond and gift accordingly. Don't get unnecessarily personal and make the other person uncomfortable
Do repeat gifting each year: Now, the truth is if you have started the tradition of gifting your neighbor, you should continue with a gift every year that follows. No matter big or small, choosing to remember to gift something to your neighbor is going to be highly appreciated
Don't give gifts that can go wrong: So, before choosing a gift, know for sure that it would be appreciated by your neighbor. Don't end up giving a bottle of wine to a neighbor, who does not drink, or food or snack items which have common allergens like peanuts, or gluten-containing items to gluten-intolerant neighbors etc. Go for more generic and safer options which can be enjoyed by all.
So, whether you are super-close with your neighbors, or trying to change the fact that you don't get along too well with them, these gift options are the perfect opportunity to help cement what might become a life-long friendship. All of them are easily available on Amazon, Etsy or Target at just a click away. So, read through this ultimate gift-guide and keep your hood in utmost peace and harmony.
21 Best Romantic Gifts For Couples | [Cute and Cozy At The Same Time] | 2020
21 Amazing Gift Ideas To Impress Your Crush Who Is A Big Instagram Influencer