How many of us have bumped fortuitously into just the one 'made for us'? How often have you heard of macho men saving damsels in distress? And heard lovers singing on roads, in parks? All of this is shown repeatedly in our Bollywood movies, raising our own romantic expectations. And when our romantic expectations are not met by our partners we feel dejected and disheartened. Our relationships suffer.
A team at Heriot Watt University in Edinburgh conducted research into how rom-com creates unrealistic expectations. Kimberly Johnson, part of this team, says, "Films do capture the excitement of new relationships but they also wrongly suggest that trust and committed love exist from the moment people meet, whereas these are qualities that normally take years to develop."
Chitra Nair, consultant: "I got married to my boyfriend of 7 years and during our relationship we have been very clear right from the start about our expectations from each other. So even after marriage there have been no silly expectations. We had always decided that we would give space to each other, let each other grow professionally and personally."
Not having unrealistic expectations does not mean the giving up of hope. You have every right to have some hopes and expectations from your partner. All you need is a balance.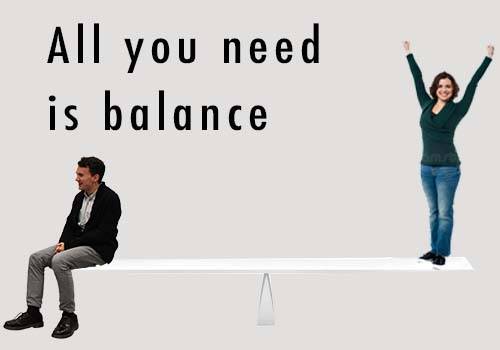 Sonia Talreja, fashion designer: "I am single. But I know the difference between reality and dreams. Of course, I have certain expectations from my partner but I do not want him to fulfill it at the cost of individual responsibilities. The more grounded we are – the better life is for us."
Whether love marriage or arranged, you cannot deny responsibilities. They are key to your relationship.
Rajsi Kaul Prajapati, homemaker: "I have been brought up in a very broad minded family. My husband and I live in joint family and hardly get time for each other. I always expect some more time alone with him whereas he likes to be with his family too. When he has some time we sit with the family, laugh over old memories, discuss serious matters. Then we go for a walk, just the two of us."
Related reading: Six ways couples can achieve work-life balance
Your husband is not a superman.
Darshana Sharma,  teacher: "Girls always want someone who can save and protect them in  extreme situations. Just as it happens in films. They are so engrossed in that thought that they ignore other cares and concerns. My husband and I are very practical. I knew him before marriage, which helped me a lot in understanding his family, situations, and to adjust my expectations."
Nor does every marriage turn into a Cinderella story, where your prince charming is at your command. The less you expect the better understanding you have.
Stuti Shah Seth, writer: "I never had any filmy expectations. Spending maximum time with each other was the only romantic notion I had. With marriage, we both had many new roles to play. It disheartened us initially, but eventually our core need for each other helped us work out solutions."
Expressions are not just emotional or physical. There are many ways through which you can communicate. One of them is talking. Just talk with your partner and you will be surprised to know their new side.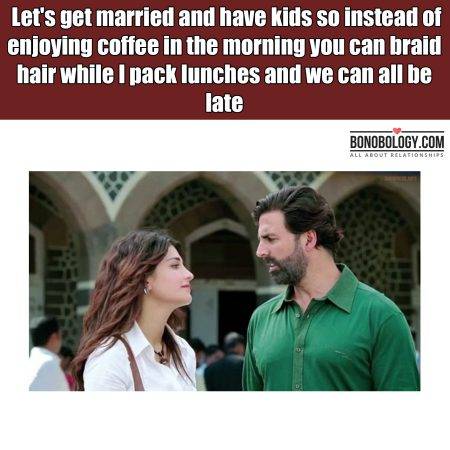 Dr. Puneet Aggarwal, Lecturer in Physiology and relationship writer: "I won't say women have unrealistic expectations. It's every woman's right to live in a fairy tale. But that phase normally lasts less than what we see in movies, or read in novels. The issue of unrealistic expectations arises because Indian women fail to communicate well with their partners. They just expect that they should be read and understood, which should not be so."
Rashida Poonawala, life coach: "The answer is simple, see the magic and romance in the reality. Do not expect him to be anything other than what he is. Accept it, and love it! The key is to open up the channels of communication that the façade of romance closes. Anything unrealistic can spoil reality. So just be real. If you like something, tell him. He is not going to know unless you tell him. Likewise, if something is bothering you, voice it out. Love is not all-knowing, all-seeing. It is an emotion. Let us not make it into something it is not."
Rashminder Kaur, reiki teacher & counsellor: "Due to the conditioned patterns in our society, which are based on gender biased roles, people do not get to explore their inner male or female. Men are not allowed to process their emotions and women are not allowed to experience their power and strength. This leads to very polarized roles in marriages and this causes severe dependency issues and this is what kills the romance."
Related reading: Has fight for gender equality affected man-woman interaction in relationships?
She adds: "Our desires are masked by the entertainment we take in. We need to understand that it does not help to get identified with such stories…we can enjoy them, we can watch such movies and have fun but to believe in the world that the story shows can mislead us."
Yes, we all love films. But it is always better to let the fantasy world end as the film ends. After all, I bet, even the film star's real-world love lives would be different from what they project in films.