(As told to Pabla Iraz)
(Names changed to protect identities)
Even in 21st century India people think hard before moving into a live-in relationship. Particularly if you aren't in metros like Mumbai or Bangalore.
Even in a city like Hyderabad, if you decide to live in, getting a good place to stay together is tough, as people look at you as if you are a highway robber and owners with a closed mind won't rent you an apartment. After searching for about 15 days we finally managed to get a passable flat and moved in together. The owner told us not to tell neighbours that we weren't married.
Related reading: Love, live-in and lying to parents
Initially I had cold feet and was anxious about shaking things up, as our relation was new.
When you don't live with a person you just get to see a part of him, but when you move in together it's altogether a different ball of wax.
You come to know every single detail about the person and you can either get on like a house on fire or be put off. You have to bear the melancholy moments, mood swings, annoying habits. You are trying to talk and he or she is tuned out, staring at the TV, computer or phone. Then there's the piles of clothing on the floor. ("But they aren't dirty!") Not eating any vegetables except potato is one of the annoying habits I'm used to now.
The year I lived with Avinash changed me. Change is good, it breathes new life into you. I used to go to zillions of parties, work overtime as I was a workaholic, and hang out with friends, but after we started staying together I tried finishing my work on time, as I wanted to be with him. He became my best friend and a partner with whom I could share anything and everything without thinking twice; his friends became my friends; and after office we loved to spend time together; even just sitting on the terrace and chatting for hours on end in the moonlight. I was so content with him that I didn't regret spending less time with my friends, at work or in dynamite parties. It didn't really feel like a sacrifice. Waking up beside him, having dinner with him gave me joy. Being a part of his gloom when he had a heavy heart, cheering him up in his dismals gave me happiness; the moments when we made fun of each other were the small tiny things I found my love in. He was no longer just a boyfriend but was turning into more than that.
We accepted each other with our flaws; and respected and understood one another; talked out our worries and sorted them out. We were like friends in need; we were like lovers deep in love and equally content in bed; we used to try varied styles and positions to keep the spice up. So it was a perfect blend of friendship, emotion, love, lust and respect.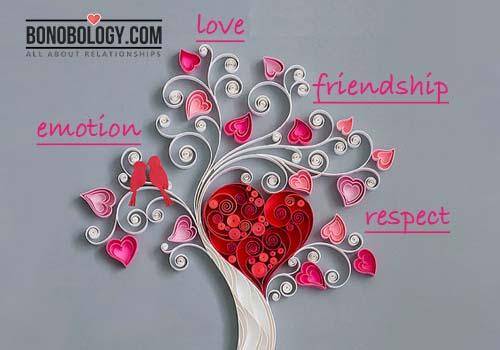 In live-in there's always a chance that small fights can turn into big arguments as it's a human tendency to take for granted and fail to appreciate someone close. Your friends could start telling you that you've changed; only some real friends will understand you and support you as they are happy to see you becoming mature and taking life seriously. But between those disagreements you actually realise the worth of your beloved. It's really important for both of us to make small sacrifices for each other to be a happy couple in a happy relation and it's equally important to understand each other.
Living with a person 24/7 might be a snapshot of your future married life and if staying together for a year made us fall in love even more, I'm sure we are made for each other.
Time flies; he had to move to Bangalore for work and all those moments full of joy came to an end; emptiness surrounded me; and it was the same pain I was scared of before getting into live in; when I came back home after office now I don't see that smiling face waiting for me; I don't have someone whom I can count on to serve me dinner if I'm not well or someone just to hug me and be with me when I'm low.
It was a gorgeous phase that strengthened our relation, and helped me to be more patient and understanding. I just want to tell Avinash that even if he's in another city momentarily I love him to the moon and back and that one year will always be always close to my heart and whenever I think about it in future it will be a beautiful trip down memory lane.
I was good enough to live with but not to marry for this mama's boy
This is the reason why couples are getting into swinging for sex