I have been with a girl for the last 3 years. This was known to my parents and they were okay about our love marriage plans, but her parents were not aware of it. Eventually, she told her parents and they met me and approved me.
And then her parents met my parents, but the meeting didn't go well. 
All hell broke loose after the parents met
My parents told her parents a few things which I felt were inappropriate or might have hurt them.
They said:
1) They are moving forward with the love marriage because of majboori.
2) A girl has to adjust in another family, also in these inter-caste settings the girl has to make some serious adjustments.
3) My parents did hold that ego of ladke wala. Her parents came to my home and they didn't have to go to their home for talks.
My girlfriend is now not sure of our love marriage
And now she thinks that my parents are just typical orthodox people and she will have a very hard time adjusting in my family. Also, she is curious about what went wrong because my parents were okay with our relationship for the past 3 years and then all of a sudden they behaved the way they did.
To me, my parents say that we were wrong and are willing to go to their place and talk to them again. Her parents have left it to her to decide.
She is prejudiced that my parents would never treat her right. I am in a tough situation right now because of lack of communication between us. Whenever I try to contact her, she tells me it's better to maintain a distance till all this is sorted out. But how it will be sorted out if we don't talk or communicate?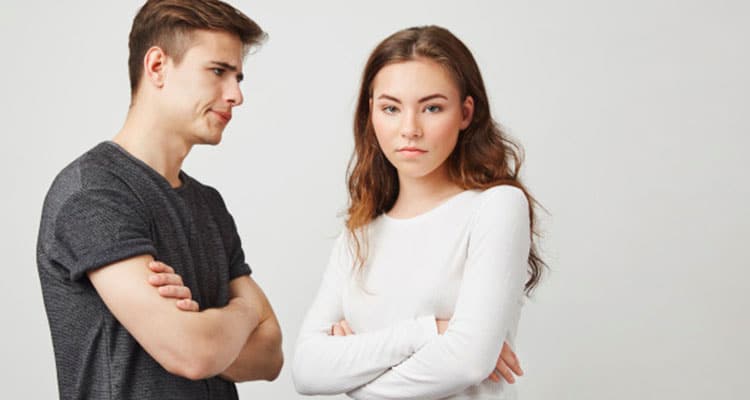 She tells me that her parents have nothing against me but they are too apprehensive about my parents.
Should I ask my parents to go and talk to her or her parents?
Should I take it as destiny's decision and give up?
Or, should I fight right till the end and hope things would get better?
Personally, I want to give this relationship a chance and want to fight for it.
We are both doctors and in our late 20s
I am having the hardest time of my life. We both are paediatricians (the girl and me). We have seen things and faced things in life, both of us are touching 30 and to face such a situation at this stage of life is so disheartening.
I don't know what to do. Please help me. 
Dear Man-In-A-Tight Spot
I'm sorry to hear that you have to face this hurdle in your relationship. It is common for things to get a little tough when the relationship progresses from one stage to another. Until now it was you and her in your little world and even though your parents were aware, things had not reached a formal level.
As more and more people get involved in the relationship between two people, more things have to be balanced. Treat this as a new stage in your relationship.
This is a test of your relationship
Of course, with many people come many opinions and it requires more patience and balance. But this is a true test of your relationship. Also, both of you need to try and understand that the parents are of another generation and see things in a particular way. It is not possible and rather foolish to expect them to change in a few days. The only way it can be done is with patience and love and by giving them a chance to get to know you.
Your girl has to be open-minded
You can talk to your girl and tell her that she doesn't have to necessarily change herself. But she has to come into the marriage with an open mind and give your parents a chance to get to know her for the person that she is. Just because they expect her to be a certain way, she doesn't have to be. But at the same time she doesn't need to rebel just for the sake of it. She can still be respectful and patient and show them her way of living with love and very soon they will come around. This applies to you too, as a son-in-law.
Benefits of love marriage
You both have to remember that if you two are strong, you will not face any hurdle and that love comes first, whether it is between you two or for the family. With love and patience, every battle can be won. I wish you all the best!
Regards
https://www.bonobology.com/in-search-of-mrms-right-again-and-again/
The most common reasons for breakups
My Boyfriend Is Marrying Someone Else And I Am Feeling Broken