If you love me, set me free… everywhere
As a couple, we may be interested in opposite things. He loves movies, I love books, he loves technology and I am still trying to figure out the basics of the television remote. Believe me, this is just the tip of the iceberg as far as interests in opposites go. However, when it comes to shopping, we both are addicts. This is the only area where we do not criticise the other, because we know we both share this affliction and perhaps the adage that people who live in glass houses should not throw stones works the best for us.
Nevertheless, if you were hoping for a romantic story of how to shop together, like a couple in love, then sorry to burst your bubble. We will not be found in malls cruising the floors with our arms linked with each other, matching step for step and participating in each other's shopping. In fact, we know our tastes do not match, ergo we refrain from giving each other our exact thoughts on the choice of purchase.
However, we were not like this always.
Related reading: The secret of how retail therapy helps couples stay in love
When we were young we shopped together
During the first flush of romance, when we were the classic examples of a just-married-and-very-much-in-love couple, we took our roles as shopping consultant to the better half with a high degree of seriousness. He had a say in every purchase I made and I may be held responsible for gently nudging him towards flashy, bright solids and bold checks in the face of gently beckoning greys and blues. And would you believe it if I told you that I dragged him for jewellery shopping, even luring him with intelligently phrased words like investment, future and safety net?
With time, we have learnt to dress for ourselves and not for the pleasure or by the opinion of the other.
With time, we have learnt to dress for ourselves and not for the pleasure or by the opinion of the other.
Oh, do not mistake me. We do appreciate each other and love it when the other takes the effort to look presentable, but we have decided that forever being guided by the spouse's choice in matters of personal grooming is not the kind of forever we have in mind.
How not to shop together
I do not criticise his umpteenth dull grey shirt much as I would like to and he refrains from commenting on the sundry blues and blacks that I tend to buy. Though we are opinionated creatures and have an unsolicited comment for everything that passes by, in this matter we hold our judgement and trust the other. I no longer go through every shopping option with a fine-toothed comb and advise the husband on the choice of stripes or otherwise. In return, I do him a favour by not dragging him into my shopping expeditions, which are far too many, to be honest.
In the early years of our marriage, we could be spotted in exhibitions examining every shop in detail, even bumping into familiar couples who were setting up house like us. We discussed in depth the merits of adorning our hitherto plain walls with paintin
gs and empty shelves with artefacts and examined every piece using the four-eye principle. Only when both of us agreed did the piece change hands from the eager seller to the argumentative buyers amidst audible sighs of relief from the seller.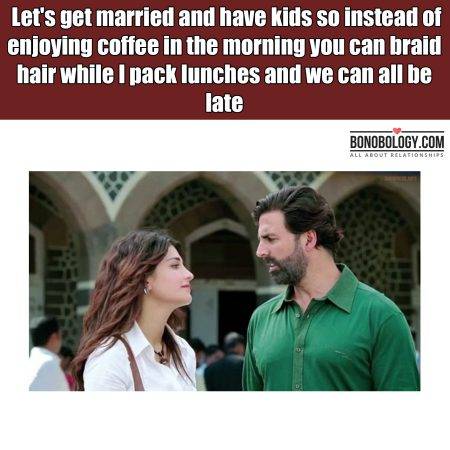 Related reading: Your shared space can turn your marriage around
Now we follow our separate interests
Now, I take pains to avoid him or any other form of company during my visits to exhibitions, because when it comes to shopping, I love the solitude and independence to walk away when I am not interested in the wares. If by chance the husband evinces an interest to come, I delegate to his artistic eye the complicated task of comparing and selecting from several appealing options of lampshades or sundry items of décor. I stick to the more mundane bedsheet, fabric and sari shopping and slowly slip away to the said exhibits, leaving the spouse to take care of the artistic stuff.
The husband doesn't hesitate to step out of the house in the face of mild protests to go houseplant shopping, because I have greater duties to perform – like supervise the children on the eve of the exams. I marvel at the fact that nothing comes in the way of him and his duty to set the garden in order, even the children's exams and then shake myself and focus on the task on hand. Until I am disturbed by a video call during which the husband walks me through the nursery to help him identify the right plants for the garden. I sigh with pleasure remembered from the days when we did houseplant shopping together and proceed to advise him on the choice of plants.
Related reading: 15 clever ways of saving money as a couple
He buys what he likes, I buy what I want
Form being the lovey-dovey couple of yesteryears, our protocol in shopping malls today is to separate the moment we set foot inside the cool interiors. Figuratively and literally, we set each other free, just like the adage goes. He proceeds to his men's wear, shoes and electronics and I zone into the feminine equivalent of the same, substituting electronics with handbags and décor. In matters of common interests like home décor, I deign to seek his opinion after I have eliminated the obvious no-nos, but in everything else, I call him only when in doubt. For all practical purposes, we believe this is for the best, because we can achieve everything in less time when not encumbered by a bored spouse.
For all practical purposes, we believe this is for the best, because we can achieve everything in less time when not encumbered by a bored spouse.
We love our me-time in the malls, but always come back to each other for a coffee and snacks date. Just the two of us, freshly replete with the shopping we have done, the checklists we have crossed and thereby rejuvenated by the alone time. We exchange notes, give each other a sneak peak of our shopping, seek rushed perfunctory opinions, knowing fully well that it no longer matters, and then go on to enjoy a reviving coffee and delicious snacks.