Cooking together can be exciting and a lot of fun. Especially if you are doing it over the weekend when you have some respite from the daily routine. But in the hot sizzling summer months even the most enthusiastic home cooks dread standing next to hot cooking surfaces. So, here are some super fresh and summer recipes with mangoes that can be done away from the kitchen in the cool comfort of the dining or family room. (So here are few recipes from our 'Cooking away from the Kitchen' collection.)
Mangoes are the best seasonal fruits
We strongly believe in eating seasonal and as much as possible local food. Which would make mangoes the perfect main ingredient for these recipes!
India has over 250 varieties of mangoes (as per Google ), of which 30 are most popular. So it is very easy to find a good local variety of mango for these recipes.
Needless to say the health benefits of Indian mangoes are immense.
So collect all the ingredients, take a chopping board, some good knives, mixing bowls and find a comfortable surface to get started with your partner. Good music and glass of good wine always helps set the mood. When you are done with these must-try mango recipes it will not only leave you licking your fingers, but it's great for your mood and you will feel so good about your together-time spent experimenting with the magic fruit. Just go to our Instagram page for more ideas.
Must-try recipes with mangoes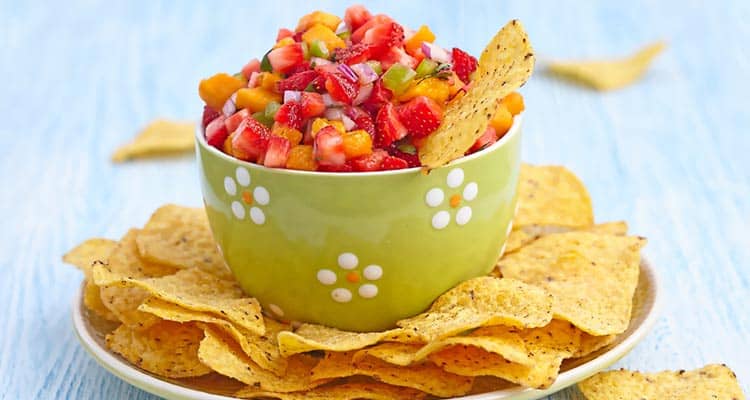 Mango Salsa
Ingredients
2-3 ripe mangoes (any local variety will do, but Alphanso or Kesar are my favourites)
1 small red bell pepper
1 small onion
1 full jalapeno or 5-6 pre-cut pieces (as per the spice level desired)
3 tbsp chopped cilantro
1 lemon
Salt
Method
Peel and cut mangoes in small cubes (approx. ¼ inch).
Chop bell pepper and onions (approx. half of the mango cubes).
Chop jalapeno and cilantro very fine.
In a mixing bowl mix all of these. Squeeze lemon juice and sprinkle couple of pinch of salt in it. Mix it all very gently with a wooden spoon. Delicious mango salsa is ready to be enjoyed with your favourite variety of salsa chips!!
Protein Punch: Sprouted Mung & Raw Mango salad
Ingredients
1 cup sprouted mung
½ cup raw mango peeled and shredded
½ cup red cabbage long finely chopped
¼ cup roasted crushed peanuts
¼ cup finely chopped basil leaves
¼ cup finely shredded fresh coconut
2 green chillies very finely chopped
1 tbsp thin ginger
½ lemon
2 tbsp honey
Salt (to taste)
Optional:
Grilled chicken pieces
Method
Mix all the above ingredients in a bowl. Save half of the crushed peanuts for garnish.  Refrigerate for half hour.
At the time of serving mix it all again, so that the juice released from raw mango gets incorporated. Garnish with the remaining peanuts. This is an excellent accompaniment with any rice and curry.
Mango Chaat
Ingredients
2 ripe mangoes
½ cup pomegranate
1 finely chopped tomato
½ finely chopped onion
2 tbsp chopped cilantro leaves
2 tbsp chopped mint
1 tbsp chaat masala
¼ tsp red chillies powder
1 tbsp lemon juice
Salt
Method
Mix all the above ingredients gently. Spread it on crispy mini khakhara or fill in chaat baskets. Sprinkle a pinch of additional chaat masala on it and consume immediately.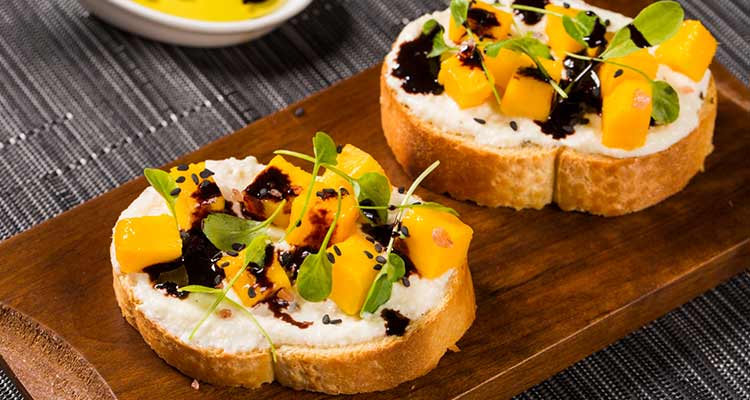 Mango Bruschetta
Ingredients 
2 diced ripe mangoes
1 finely chopped tomatoes
½ finely chopped onion
2 tbsp chopped basil leaves
2 tbsp chopped mint
1 tbsp pine nuts
For dressing:
1 tbsp olive oil
1 tbsp balsamic vinegar
¼ tsp black pepper powder
¼ tsp Salt (or to taste)
Method
Put all the ingredients of the dressing in a clean glass bottle. Shake it well till it looks homogenous.
Mix mango, tomato, onion, basil, mint and pine nuts in a mixing bowl. Add the dressing and mix it gently so that mango dices don't break.
Keep refrigerated for 15 min.
At the time of serving, spread a spoon full on small pre-toasted breads.