Growing together as a couple strengthens the bond in ways that nothing else does. While marriage does and is supposed to have its fair share of magical moments, it is mostly about learning how to grow as a couple and face the challenges that life throws at you. Together.
Marriage Is All About Growing Up Together
Marriage is all about growing together in a relationship and helping each other get through the ups and downs of life, and make it out (somewhat) sane. So if it's been a while since you've made a romantic gesture for him or done something intimate together, it's not all that unusual, as long as you're growing together as a couple and standing by each other.
What is love?
'What is love?', I've often wondered. Surely, it is not just the candle night dinners or the greeting cards that sell over the first fortnight of chilly Februaries. It is profound, much more profound than that. It is perhaps the strongest emotion we human beings are capable of.
It can change the life that you lead, and it can change the person that you are. It is important to know how every love story is immortal in its own way, even if it does not result in a forever. You are never the same person before and after it.
They say that humans originally had four arms, four legs, and a single head made of two faces. They were complete in themselves. But the gods felt threatened. They split humans in half. But then, each human would then only have one set of genitalia and would forever long for his/her other half; the other half of his/her soul. So, by mistake, the gods had created love!
Related Reading: 21 Controversial Relationship Questions On Dating And Marriage
The romcoms are all a lie
It is said that when two soul mates find each other, there is an unspoken understanding of one another, that they feel unified and would lie with each other in unity and would know no greater joy than that and live happily ever after.
This is exactly the same concept used in Disney fairy tales, of having someone marked for you, and until you see signs that you've found your soulmate, your life is incomplete.
For a long time, I too believed in it. I'd imagined someone up there, possibly in a silk robe and long, white, flowing beard, who manufactures handcrafted hearts. But before he sends them down, he playfully tears them into two halves and floats them in the air. For the entire lifetime of these two souls, their sole task is therefore to find out the displaced other half, and in union shall they be complete.
I found my first love
I met a boy and fell in love at 18. We traveled the same route as is commonly traveled by one and all. We professed our love to each other when the time came, shy and yet eager. We marked the first days together, or everything from the first movie to the first boat ride. To the first day we kissed. And made out. And told our parents. And fixed the date. And gotten married, eventually.
Fifteen years have passed since that first of the firsts happened. We've spent endless days of anger and dismay. We've spent endless nights of candlelight and whispers. We've grown apart, and become closer. Almost in a cycle. And in the process, we've learnt how to grow together in a relationship and fall more in love everyday.
What growing together really means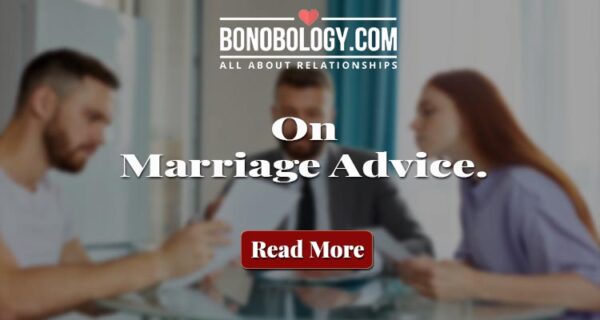 Now I know at every step of our lives together how the myths and magic are really, well, just myths. How matches really are not quite made in Heaven but right here, on the dry, coarse earth. Now I know how a marriage needs to be, to match up to its demands and desires, to its fame, fortune and fate. Couples growing together is not an easy happily ever after, ever.
Girls are not made to sit pretty in nice, rich clothes playing the damsel in distress. Girls come back bitter and drained out from work, just as boys do. They fight over the chores, and how the other is lazy or irresponsible. They fight over what each other's parents said six months ago, and how they hadn't turned up somewhere that the other has wished they did. Arguing or just talking it out is one of the relationship qualities that are a must for a happy life.
They fight it out at the kitchen, over the dining table, in the bed. They realize that agreeing upon their political orientations and religious beliefs, and sharing intense likes or dislikes over movies and storybooks do not make their marriage. That marriages are made of real lives, and real lives rub each other into bruises.
They become lonely, detached, dismayed. They work their way through the dense forests, amidst the hungry, sly foxes. There are digressions, detours. There is despair and even doom. And yet, if they wish, they can get up, rub the dust off their knees, and move on. That's what growing up together means- not leaving each other's side during it all.
They can stay or they can quit. But they know now, and remember, that they cannot take things for granted. They walk a long, long way, and then they finally come home. To themselves. And so have I done, too. Growing up married, I learnt from an early age that a relationship is no easy feat.
Related Reading: Seven things that keep a relationship going
My heart no longer beats to the rhythm of a Disney tune. My heart is sturdier and stronger than that. More than that, it is complete. We have both come of age. We've grown up together, and to this day we are still growing together as a couple. I hope we never stop loving, learning and growing!
Rebuild Your Marriage During A Separation With These 13 Tips
Love After Marriage – 9 Ways It Is Different From Love Before Marriage