Everyone wants a fairy-tale wedding on their Big Day. It's something everyone looks forward to, simply because of all it symbolizes — a promise of a lifetime of love, a promise of happiness, and all the other singles in the crowd sighing and hoping to be as happy as the couple of the moment on their fairy-tale wedding day.
What I came to learn was that it doesn't take all the riches in the world to have the best wedding in the world. It doesn't take the most exotic destination, nor does it require the most expensive band or caterers. All it takes is the perfect partner, loving friends and family, and a happy heart.
Thankfully, when I married my best friend, I got just that. Read on to find out how my marriage became the stuff of dreams simply because my darling husband made it so much better.
Yes, I Married My Best Friend
I have been absorbing loads of information about luxury wedding trends and the so-called 'luxury weddings' since I was 16. Vogue and Elle fed me enough stereotypes that shaped my outlook towards dreaming up my very own 'fairy-tale' wedding. Nowhere in those magazines do you ever find something telling you to get married to your best friend.
Cocktails at a luxury villa, wedding on the beach, and a reception at a majestic palace always played out in my head whenever I thought about how my dream wedding. But the truth is, this fairy-tale bubble burst the day I met the love of my life.
Marrying my best friend was indeed the best decision I ever made. It made me realize that the strongest of bonds are often right in front of you, waiting for you to take note. Thankfully, I saw signs he wanted to marry me.
Related Reading: 10 Useful Tips For Dating Your Best Friend
My idea of a fairy-tale wedding
What does a fairy-tale wedding mean to you? For me, a fairy-tale wedding meant happiness. The happiness of tying the knot with the one that I loved, with my parents right next to me bestowing abundant blessings on the two us; the happiness of a promise that will keep me close to him for the rest of our lives; the happiness of starting my own family and nurturing it in my own little ways.
When the time arrived, I didn't care about the venue or the color of my bridal gown; I didn't care about the jewelry or the fancy trousseau. With friends and family who truly care for me, I knew it'd take a disaster for my wedding to go awry. But I was still expecting the worst because that's what you're supposed to do, right?
All I wanted was a wedding wherein I would laugh a lot, dance like there's no tomorrow, hug my new set of parents and look the beautiful. I was marrying my best friend, It was all I could've asked for. And this meant 'fairy-tale' to me. Guess what, that's exactly how my wedding was.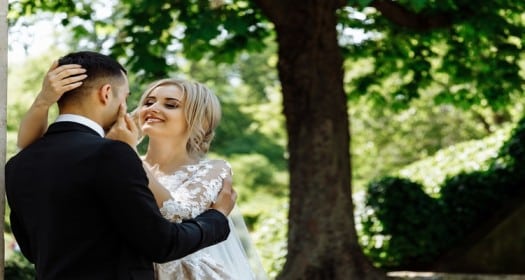 My fairy-tale wedding was coming true
I wore a traditional wedding dress, handpicked by my Ma; it was eggshell white, and I loved it. I wore minimal jewelry and my makeup was subtle too. But I looked beautiful. My friends from all corners of the country made it to my hometown. Laughter was plentiful and so was the excitement. Friends of my handsome groom later told me that he couldn't stop smiling all the way to the venue.
As is custom, the bride and groom cannot see each other before the wedding. I was always a rebel and my groom was never fond of rules either. That's one of the benefits of being married to your best friend, you know each other so well. He somehow managed to sneak into my chamber, and he whistled as loudly as he could. Of course, he drew attention.
But that's okay; it was his way of telling me how pretty I looked, his way of showing a romantic gesture. I was carried to the chapel by my brothers and friends. I was expected to be coy and demure, but on the way to the altar, I lost the plot and screamed, "Let's do this shit, guys," which was captured on camera by my darling Ma-in-law (we laughed about it later).
Related Reading: 10 Signs My Best Friend Is My Soulmate
The Feeling Of A Fairy-Tale Wedding
As we officially saw each other at
the altar, we couldn't contain our joy. The sound of nervous laughter, the smell of flowers, the sight of my mom smiling at me, the heavily decorated altar, and the sight of everyone who mattered standing right in front of us became little chapters of my fairy tale wedding. It dawned on me that by the end of it all I'd be able to say "today I married my best friend".
Ours wedding ceremony seemed to last forever. We had what seemed like the most devout priest ever! I swear to God, I didn't pay attention to what he was saying even for a second. Not a single prayer fell on my ears before it was time for the vows. I just nurtured one promise and I kept repeating that over and over again in my mind – "I will always love you."
I guess he didn't pay attention either to what the priest was saying either. Soon after, the priest said, "by the power vested in me, I now pronounce you husband and wife". Those words sounded so unfamiliar; I felt my stomach sink as I saw my parents staring at the two of us with tear-filled eyes.
I married my best friend and my life is better than ever
My parents were happy for me, but I could understand their tears since they now had to say goodbye to their daughter. I was ready to start a new chapter of my life, with my darling husband. My fairy-tale wedding was perfect in all ways, but it still was hard to hold back the tears once I looked at my parents.
I wanted to go up to my parents and hug them both. Somehow I kept a wide smile on my face, but that smile was awkwardly accompanied by brimming eyes. I tried hard not to blink. But eventually, the tears rolled down my face. Somehow, my beloved husband realized what I was feeling and squeezed my hand tightly. That was enough to convince me that I had a fairy-tale wedding because I married my best friend.
He leaned in and whispered to me, "Smile, please. You have two sets of parents now, which means pampering just got doubled. By the way, hello, wifey!" His words comforted me so much; I burst into laughter because 'wifey' sounded so weird and strange and wonderful all at once, coming from him. Being married to your best friend means you'll never have a dull moment in your house.
To all those looking to spend big bucks in search of your fairy tale, all you have to do to achieve it is get married to your best friend. When you're with someone who you can trust and connect with so well, the decorations, the minute details, the things that seem so important to other people, will make you indifferent towards them. At the end of the day, you'll blissfully be able to say, "Today, I married my best friend."
1. Is it okay to marry your best friend?
If you're considering marrying your best friend because you have feelings for them, it could be one of the best decisions you ever make! Marrying your best friend means you're marrying someone who knows you the best and you both trust each other with everything you have.
2. Can you marry your friend platonically?
Sure, you can marry your friend platonically, but there's risk involved. You can't just say you both are friends and married, that may be grounds for marriage fraud and get you in trouble with the law. To be married, you two must consider each other lovers in the eyes of the government.
3. How often do best friends end up together?
In a study with 1900 people, 68% people said their romantic relationship started with friendship. Best friends do end up with each other fairly often, and they end up getting married as well.
13 Reasons Why My Husband Is My Best Friend
5 Ways To Tell Your Best Friend That You Are Falling In Love With Him
Can A Girl Have A Guy Best Friend And A Boyfriend?