Married Superwomen is a support group for married Indian women to vent their joys and sorrows and share their queries with other women. We talked to the admin of the group, Malavikka Sridharan, to learn more about why she started this group and more. This group has over 5000 women who actively ask questions and participate in discussions to help each other out.
Why did you choose writing as a profession? What was your inspiration?
As a child, the hard-core subjects never interested me. But whenever it came to English lessons, I would put in extra effort. This is when I realised writing was my cup of tea. I was inspired by Wordsworth and began writing poems when I was 8 years old. We had a school magazine that students were asked to contribute to once a year. My English teachers always set standards too high so that I never once got published. This increased my thirst to be a published writer.
The year I graduated school (2008), my first short story was published in a book through a contest that received thousands of entries from all over the world. I was the youngest author to be featured among the top 50. This is when I felt confident about the writer in me. But like all other parents, mine too had enrolled me in engineering, because they were sceptical about any other course. Once I got into engineering, I reaffirmed my connection with writing, as my heart kept yearning. At that point, all I wanted in life was to become a journalist and put my potential to full use. So, I did a Masters in Communication and achieved my destiny. My first job as a reporter at Deccan Chronicle gave me valuable experience.
Tell us about your married life. Was yours an arranged marriage or love marriage?
Mine was an arranged marriage. I confess I was not confident about it, as it involved marrying a stranger. My first experience with the groom search turned out awry. The guy's family pretended to be something that they were not. I used my journalistic skills to unearth the truth. I understood that asking the right
questions can help you find the right partner. Now I urge all single women to first fix on their choice of groom exactly and phrase the right questions to spot your Prince Charming. Whenever someone calls me lucky to have the ideal husband, I feel miffed, because I had put in the efforts to choose the right guy. Also, some stereotypes that society creates for the chores of husband and wife keep constantly pulling down gender equality. Nevertheless, it only takes some effort to reinstate your stand and stand for your values.
Some of the questions I asked my groom-to-be on the first day I spoke to him were:

What is your idea of chauvinism? (A subtle way of finding out if he is chauvinistic. Indirectly asking him, "Are you a male chauvinist?")

What is your idea of feminism? (This helps in finding out his attitude to women.)

What do you think about gender equality? (Since I wanted an equal partner, I wanted to find out if he supported my ideology.)

Would you share household chores? (To confirm if he meant what he said.)
As a journalist, work must have been hectic. How did your husband support you in your hectic schedule?
My husband married me for the kind of person I am. He loves the fact that I am a journalist. In fact, he loves every other hobby of mine like nail art, blogging and novel writing, more than I do. Whenever I feel that life takes a toll and some things seem impossible after marriage, he stands by and pushes me to get to my goals. He makes an extra effort to encourage me to pursue my interests, which makes our relationship special.
As for the hectic schedule, we share our chores equally. There are times when my husband's working days get longer than expected, which leaves me alone. He feels my emotions and bribes me with some actions that make me feel loved and comfortable. One can overcome any problem in life with love. When my work gets more, my husband empathises. He too indulges in his favourite hobbies and gives me the space I require.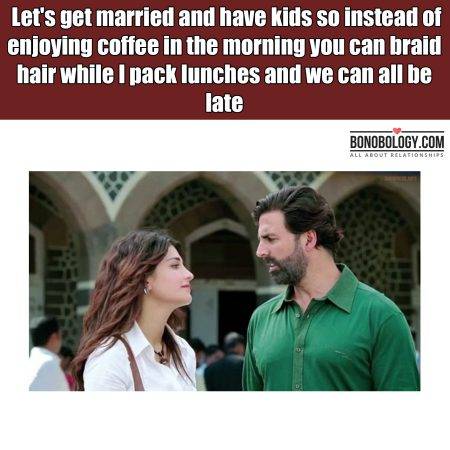 Related reading: 9 things about the female orgasm you didn't know that you didn't know
How do you describe a Superwoman?
Every married woman is a superwoman. It takes a special effort to push oneself out of complacency and adapt to another's lifestyle. The willingness to tackle new tasks necessary after marriage itself makes a woman a superwoman. The kind of transformation a woman undergoes from single to married is incredible and requires a superhuman effort.
Related reading: 15 changes that happen in a woman's life after marriage
What prompted you to set up a group only for married women?
After marriage, I had hundreds of queries. I was shy to ask it to my acquaintances lest they judged me. I felt embarrassed about my weaknesses. Psychologist Dr Mini Rao advised new moms in an article I read that networking was one of the ways to grapple with their hardships. This helped me connect the concept with post marriage quandaries. I felt that there were thousands of married women out there who experienced similar situations and badly needed an outlet. I searched Facebook for such groups, but could not find even one. So I decided to be the first to start it. Initially, it was difficult to convince people about the motives of the group, but eventually when they understood the purpose and how helpful it was, it became easier to achieve the collective goals to empower married women.
Related reading: 23 little things to make your marriage stronger every day
What are the top 3 topics discussed in your group?
Relationships, health, and sex are the top three topics discussed.
Do women today have an identity issue in their life?
Women face an identity issue when they themselves don't know who they are. Even though one is powerful, realising that one is powerful actually helps in materialising the power. Most women are talented and multitask, but most of them are also submissive to stereotypes. For instance, I have heard some say that women are born to suffer and that they will get used to the suffering over time. Change must begin within. When one person stands for their values, it becomes easier for the progeny to fight for their rights. After all, the life of today's generation is the fruit of the ancestors' hard work towards empowerment. A journey of thousand miles begins with the first step.
Can you share some anecdotes about the interaction with your group's members?
Managing a group of thousands of members might seem awesome, but leadership comes with a lot of experience and understanding. When I started this group, I wanted to put together strangers who don't know anything about one another's background so there is no judgement when someone seeks to vent or a solution to problems. As more people joined in, I brought in a rule that if an existing member wasn't comfortable with adding someone, the new person would be removed. Since it was social media, my intention was misinterpreted and I had to face censure for being upfront. I accepted the reactions and learnt from it. But over time, as I kept the purpose of my group intact without deviating or mimicking the activities of other groups, members became aware and understood me eventually. Now, people end up deactivating their accounts because the group is too addictive!
Married life is not a bed of roses, but with effort it can definitely turn into one. You become what you choose to be. One ideology I spread in the group is that whenever you feel small, do something big – make someone else feeling small feel big! This is what I did when I started Married Superwomen. Now, I feel empowered.