Strings of deep orange hued marigold lined the bare white walls of the compound. The large courtyard was filled with hundreds of people dressed in the best finery. This was the 'special' lot, because they had direct access to Babaji – a spiritual leader from the North of India. Lesser mortals had to wait in long queues outside, to catch a glimpse of a man they believed in so ardently. It's his birthday today and there couldn't have been a more auspicious day to seal the union of two 'believing' souls. Six couples will be engaged today with Babaji's distinctive blessings, and tomorrow, they will join 74 others to get married in a samuhik vivah – a mass marriage programme at an open ground, exclusively for Babaji's believers.
In the icy chill of February, I watch the whole revelry with much awe. Happy parents and siblings, and excited friends and relatives – all gathered to celebrate the biggest day of the couple's lives. My best friend's fiancé is the 'Dubai wali party' and they have extra special treatment from Babaji's personal entourage. They are known to host beautiful samagams in the Gulf city and they take care of babaji and his family's every small need when he is there.
A match made in heaven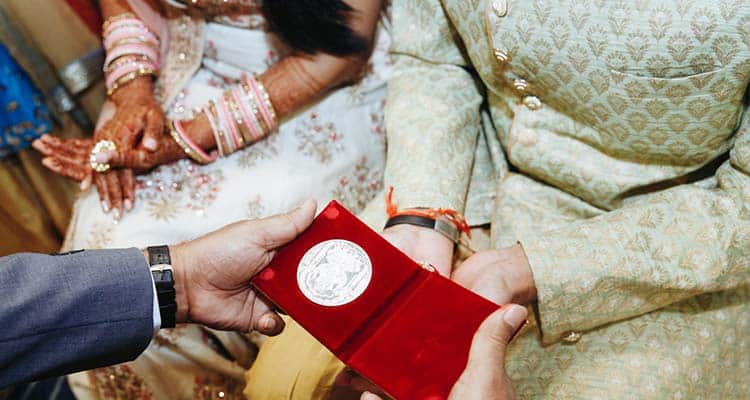 It was the first time I saw the 'boy'. Dressed in a shining white sherwani, he looked everything that a girl could dream of. Tall, sharp and handsome – he seemed straight out of a romcom poster. I'm told he has been married once but the girl had 'some problems with the guy' and so she left. Seriously? Who would have a problem with a hunk like that? Her loss – I was quick to judge.
So why was my best friend marrying a divorcé who she barely had the time to get to know? A strong believer in love and its shindig, I never once thought she would settle for an arranged marriage. Never thought I would get a call about a wedding in the next four days with a man she had never seen before. I'm told Mataji had proposed the alliance. The wife of a strong spiritual leader, she has a personal repute and is known for her astuteness and grace. She suggested the two families meet, talk and see if it worked. Somehow, it had worked. My friend was the lucky one – blessed and fortunate to be married to someone Mataji had handpicked. A dream come true!
Related reading: These 9 rules for a happy marriage will make you go "That's it?"
A fairy-tale wedding?
I kept wondering if her faith in her spiritual guru was stronger than what she believed in her heart all her life. True love, et al.? Did it mean nothing? Or then maybe this was her true love – her key to a happily ever after!
My best buddy looked beautiful – every bit the pretty bride I had imagined her to be. The ring ceremony was solemnised and the two looked happy – at least I can say for sure that Reema looked happy. Friends and family tried to pull the couple's leg, making lame shaadi jokes and everyone looked happy for the couple. Soon, one after another, the floodlights began to go off. There was a nip in the air and the dim fairy lights made the dreamy picture look ethereal. By now, everyone was tired, and tomorrow was a big day.
Off to her new home
After her not-so-big-fat-Indian-wedding, Reema had to join her new family in Dubai. In less than a week, it was time for a new life, a new city and a whole new world. She was excited – I checked – she really was happy within. I was happy for her.
When I spoke to her a month later, she was confused. She couldn't adjust. A free bird all her life, she had trouble living in a golden cage. Her new life involved being dolled up all the time to either arrange or attend satsangs and samagams. "This seva (service with devotion) is the crux of life," explained her new mother. At first, it felt novel, but with time, it began to feel fake. And when she wasn't allowed to change the settings of her bedroom's private bathroom – it felt surreal. Driven around only by Mr. Husband, it all felt like a trap.
Related reading: Why marriage is like a blind man's elephant
Then what happened?
One fine day, after being dropped off at the fitness center, she took a cab to the airport and flew back to India in her tracksuit. Just like that. She had had enough. A month after the divorce was finalised, when I went to see her at her mum's, her eyes were still red from all the crying but she was getting ready to go for a samagam. "You've got to be kidding me," I said. "After all that you've been through because of Mataji, are you even serious?," I asked.
"How can I let a bad decision allow me to forget all that I have learnt spiritually – those teachings that have enlightened me? What I went through was due to my karma and not Mataji. If not her, someone else would have suggested the proposal," she said, trying to hide her tears behind a smile.
And that moment I realised – Faith, as they say, is a twisted little desire!