Even after the cards had been sent out, Simran could not get over the printer's cheek.
"He printed marriage instead of wedding! How could he after the number of times I told him!" Simran wailed. "Get over it!" her mother chided the 29-year-old. With a week to go for the wedding and three hundred things that she should have done yesterday, the printer's devil was the last thing on her mind.
As Mrs Kapoor walked out muttering to herself, the bride-to-be took stock of the situation. To be honest, the lettering on the card was the least of her worries. The last six months that had been a roller coaster ride and she was still on it.
When Anoop, a true blue Syrian Catholic Christian from Kerala met Simran, a high-spirited PR consultant from a Sikh family in Delhi, the chemistry was palpable. A torrid romance later, they decided they were ready for a long-term commitment.
Related reading: Does love conquer all – Marriage across religions
"She won't understand our culture, she doesn't even know our language," his mother objected.
"Think about your poor mother, who will marry your sister?" his aunt added. Anoop was having none of it. "It's her or no one," he told his mother.
The next few months were pure torture for Simran. Caught between love for his girlfriend and mother, Anoop had become withdrawn, curt and at times downright rude. Simran was not sure if she could take it any longer.
But after a four-month impasse, love for her son prevailed and Anoop's mother relented. However, she had one condition: the wedding was to be in Kerala, at the family church, replete with all the trappings of a Syrian Catholic wedding.
Even though she had given her consent, Simran was riddled with doubt and anxiety.
"Will they overcome their prejudices?" she wondered.
By the time Anoop had given her a Syrian Catholic wedding 101, she decided that there would be no white gown, no wedding march and no soulful vows. Things came to a head when she discovered that the ceremony would be conducted in Malayalam.
"At least ask the priest to conduct the ceremony in English!" she implored over the phone.
"We'll see," Anoop replied, signalling the matter closed.
Another fight ensued and by the time she put the phone down, Simran wondered if she was making a huge mistake. First his family's resistance and now he seemed to be toeing their line. But try as she might she couldn't muster up the courage to act on her impulse to bolt. She loved Anoop too much to let go.
Three days before the wedding, the Kapoors landed in Kochi airport and were welcomed by torrential showers. Simran wondered if it was an omen.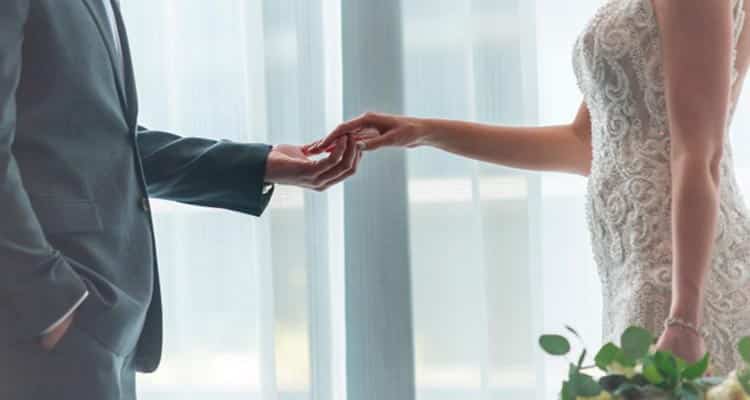 D-day dawned gloomy, followed by another bout of heavy rains. Simran looked at the weather and then at her heavy white bridal sari.
This is not what she had envisioned her wedding day to be. Tears fell silently as she got dressed.
Anoop and his family were waiting for them as she approached the venue. One look at his handsome form and nervous smile, she knew she had made the right decision. As they entered the church, the choir struck a beautiful melody welcoming them to the next chapter of their lives.
Once they reached the altar, the priest spoke. He welcomed the congregation (Simran guessed) in Malayalam and then said, "Today's ceremony will be conducted in English for the benefit of the bride and guests…"
Simran's face lit up with joy. As she looked at Anoop, he gave her his typical lopsided smile and winked. The sun was shining, at least in her heart.
After the ceremony it was time to enter her new home. Her mother-in-law stood at the threshold surrounded by relatives. At the entrance, a quick prayer and gift of the rosary later a lit candle was put into Simran's hand.
Related reading: My mother-in-law rejected me, but that's not my loss
"What do I do now?" Simran panicked, looking to Anoop for help.
There was a gentle touch on her elbow. "One step at a time, and every time with the right foot," Simran's mother-in-law guided her, giving her a reassuring smile.
"Thank you…" she mumbled, overwhelmed.
"Welcome home, mole (daughter)," her mother-in-law said as she welcomed her new daughter home, enveloping her in a warm embrace, just as she was 25 years ago by Anoop's grandmother.
7 GIFs that are perfect reactions to every mom-in-law's advice ever!