My husband and I dated for 6 years and then we decided to get married but his parents were not happy about the marriage. When I got pregnant my mother-in-law gave me pills so that I would have a miscarriage. But I didn't take it. My mother-in-law is spoiling my life.
My mother-in-law is spoiling my life and I am helpless…
I am dealing with a toxic mother-in-law and because of her, we are going through so much of grief. My mother-in-law hates me. She kept interfering and manipulating my husband and he initially believed her. Things became worse when I gave birth to a girl. My scheming mother-in-law got more furious and challenged me that she would get rid of me so that she could marry off her son again.

After that, my husband and I lived separately for around one and a half years. But he came back to me and we lived together in a rented house for a month. My mother-in-law played a game, emotionally blackmailed him saying how everyone was talking that he was a bad son and living with me in a rented place and not looking after his parents.
The toxic, scheming mother-in-law was again successful in breaking us apart and he went back. We love each other a lot and that's why he kept trying. After two months he came back saying he wanted to live with me and he lied to his family that he got transferred to another city and was living alone there.
But now after 6 months of living together, his family came to know about us. He has left me again under family pressure. I don't know what to do. My husband and I want this relationship but his family's interference and mother-in-law's manipulations have ruined everything. My mother-in-law has been successful in spoiling my life.
Please help me.
Dear Lady
This is indeed a tough situation for you to not be able to live with your husband. But here are a few pointers for you to gain clarity on the issue at hand.
Marriage takes courage and commitment
While it takes love to nurture a marriage, it takes courage and commitment to make decisions. Your husband seems to lack both so far. You need to understand this clearly. If he has to live with you, he has to choose you and that too boldly.
External pressure is taking its toll on your relationship
There is a difference between love and fear. Your husband seems to be harbouring some fear or discomfort due to which he keeps going back to his family. Is it property? Emotional blackmail or some other threat that is working on him negatively? Please talk to him and find out.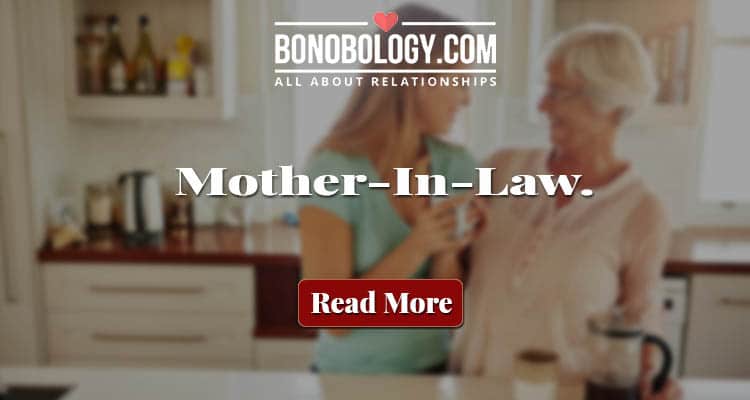 What do you want from your life?
Unless your husband breaks free from his fears and restrictions he might be unable to give you a stable life. Are you ready for this or do you want a stable relationship? You need to talk to him to come to a decision else this can spoil your peace and health.
Whatever the outcome of the talk is, please remember to think about what it is that you want. Also, make decisions based on what is rather than what it could be.
Hope this helps. Good luck.
Best
Kavita Panyam
7 GIFs that are perfect reactions to every mom-in-law's advice ever!

https://www.bonobology.com/understand-happily-single/