When it rains, you need a hot drink
It's been raining cats and dogs since last night. Only two days have passed since we returned to Kolkata. After holidaying for close to two months in my hometown, amidst fun and chatter with my joint family members, the emptiness of this flat was haunting for my two-year-old son. Yet the rain-soaked morning looked beautiful. I woke up to the smell of moist soil, sound of continued drizzling and breeze whistling. All that was needed to make it perfect was a cup of freshly brewed strong coffee.
Related reading: Five romantic things you can do with your spouse while it is raining outside
My husband, a doctor by profession, was already drinking his second cup of green tea. He asked me what topic I was planning to cover next in my blog, deliberately trying to delay my trip to the kitchen. He has always been amused by my coffee obsession. Asking him to wait, I literally ran towards the kitchen. I love my coffee the sugary-milky way. The new bottle of unopened Nescafe was lying in the top cabinet of my kitchen. That aroma of coffee beans has always been enough to get me through the day. Strangely, I realised, that it also reminded me of my mother-in-law.
Related reading: Incredible story of how she managed to balance her family and her in-laws
Always a coffee gal
Growing up, coffee was considered a luxury in middle-class families, an item worth purchasing only when winter finally arrived. The tropical weather and Bengali household shaped me into an obsessive tea drinker initially. But my heart always belonged to Nescafe. During winter break, most of my lazy afternoons were spent sipping coffee on the quilt laid out on the scrubbed portico floor while reading a book by Satyajit Ray or Sunil Gangopadhyay.
Related reading: 10 books that couples can read together
Having spent half of my life away from home for higher studies and work in cities ranging from Delhi to Bangalore, I had realised that coffee was a necessity for me. When T (my husband) and I got married, he was well aware of the fact that coffee was more than an emotion for me. Despite his apathy towards the beverage, he would get me coffee powder from various cities just to see me jump with joy.
Related reading: Our relationships are as complicated as our coffees these days!
My in-laws drank tea
The winter of 2015 found me spending a considerable amount of time at my in-laws' place. At the risk of stereotyping, most joint family setups leave very little scope for individual likings and choices. At my in-laws', everyone loved tea. Winter had started announcing its arrival and I was already missing my coffee. One evening I found a gift-wrapped box on the table. It had a message – Your happiness means the world to me. I was overjoyed to find a jar of Nescafe and milk powder packets. He was equally confused about taking up this matter without confronting the elders. Ever so thoughtful and caring, he couldn't see me suffer as well. This was the best solution he could come up with.
Related reading: When my loving husband stood by me in a dirty hospital
Surprisingly, no one seemed to have a problem with my caffeine obsession. The hurdle existed in my mind and in my preconceived notions. My mother-in-law, without any fuss whatsoever, tweaked the age-old goings-on of the kitchen. Figuring out my preference for coffee the milky way, she increased the number of milk packets purchased. I started asking her to share a cup of coffee with me. Sometimes she would smile and tell me to make an extra cup for my father-in-law. I was developing the impression that she wasn't fond of caffeine.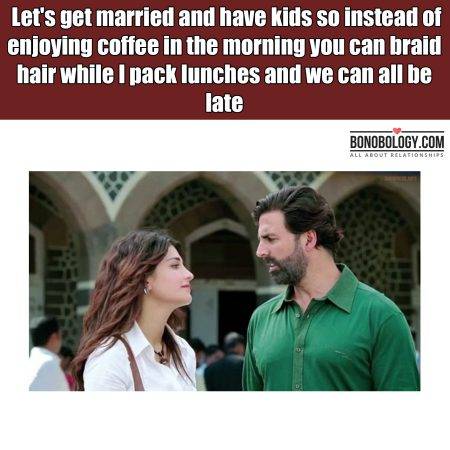 Related reading: 7 GIFs that are perfect reactions to every mom-in-law's advice ever!
When the ice broke
On one of the biting cold evenings in January 2016, she coyly asked me to count her in for coffee. She asked for it the next day too, blaming it on the freezing cold weather. A few days later, no questions were asked. The evening ritual meant making three cups of coffee. My relation with my husband was almost perfect now that she was on my side. Her support made my life comfortable in the house with hardly any reason for conflict between T and me. I was grateful to her for raising T to be quite a sensible and sensitive individual.
It was now time to move back to Kolkata. T was insistent that I get back to the life that I had worked really hard to create. In December of 2016, during one of our telephonic conversations, my mother-in-law casually mentioned how much she missed having me around drinking coffee with her. It took me a while to figure out that she actually liked coffee and loved me. Married into a joint family, being the first daughter-in-law of her generation, catering to the responsibilities of a huge household, she had been accustomed to give up her happiness, her choice and her likes for the sake of her family. But she was also determined not to let her daughter-in-law forget her preferences.
Related reading: 10 things you will relate to if you have an Indian MIL
Now she's my best friend
In the process of rediscovering her love for coffee together, I had discovered my first friend in that house. T was thrilled to see the growing bond between us. Quite reticent by nature, it amused him to see us talk to each other daily for hours together.
This winter, I have a lot of plans for her. I intend to take introduce her to some new varieties of coffee delights, like cappuccino and Irish coffee. I'm going to spend a little more time with her to soak up her experiences, know her better and help her figure out her likes and dislikes. As I sip my coffee, I smile at T, thinking about the unspoken subtle relationship between his Ma and me. There's love, there's respect, there's the eventual, inevitable future of handing over responsibilities, but the strongest feeling is that of having each other's back as aides for individual survival in this journey of keeping the family together. She's my shield, my saviour, my friend – just that I call her Ma. She's my darling mother-in-law.
Save<Save<