Our family revolved around my mother
I have always known my mother to be a caring person – she raised three kids, managed three successful wedding ceremonies and survived a whole lot of hell. Naturally as a kid, my sister and I were brought up under the strict rules of the household which was taken care of, you guessed it right – by my mother.
Don't get me wrong, I love my mother but she had this habit of trying to control everything. She has been in charge of the household and juggling between work and home was not an easy task; more so in those days. But she did it right. My father had always been a patient man and stepped aside when my mother took up the reins. So we had to follow our mother's orders because she knew what was right for us.
We all have the voice in our head, possibly the conscience, telling us what all to do and what not to do. For me, while growing up, it was my mother. And I found listening to her did yield good results. I topped the school during the board exams, I got into a good college and I opted to continue with academics (she had made me do my Masters instead of getting a job right after college) which has landed me a great job at a college.
The feuds after my marriage
My mother liked the person I married. I had known my wife since college and my mother approved of that. Since we stay in the same city, and since my sister got married and moved away to Pune, I decided to stay back, live with my parents and take care of my parents. My wife did not object to anything. We had a big house, had a household caretaker. Our house had more rooms than the occupants, so living here is comfortable and my wife loved her new home.
Read more: Mother in law doesn't want me and husband can't leave her
There were times when we used to have minor feuds over having a child. One day I came home to a heated conversation between my wife and my mother.
Mother: It is about time.
Wife: We have been married for six months now. I want to get settled in a nice job first.
Mother: It never is the right time for your generation. I had two kids when I was your age.
Wife: You lived in a different age, Maa.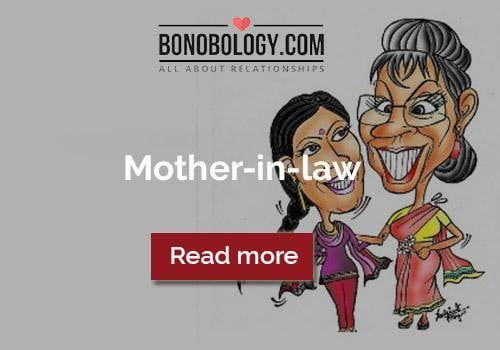 Mother: None of you is getting younger. And we want to see the grandkids before we die.
Wife: I am not bearing kids just so you get to see your grandkids before you die.
There was an angry retort after this. I did not have to intervene. The matter slowly died out. It came up again during dinner a few weeks later.
And this is just a minor example. My wife, Rani, had bought new furniture for our bedroom. She came back from office one day to find the furniture readjusted. My mother, in her wisdom, had placed the bed near the wall. My wife wanted the bed near the window. I tried talking to my mother about it but she did not really want to listen to me.
My wife rarely complained about little things that bothered her and it bothered me as well. My mother dictated we should not eat out so much and how I should not have many female friends after marriage. She complained about how my wife had male friends which was not good. And the kitchen was the common fighting arena. No matter what my wife and I prepared, she did not like. She even told us what to cook and whenever there was crisis in the kitchen, she did not stop even for once to blame Rani. Even when Rani tried her best to make something to please maa (even though Rani will never admit it), she would find fault with it. Constructive criticism is fine but forever criticising is not constructive.
Up until the birth of our first child, things were fine
But over the years, her wanting to control every aspect of my married life was making us agitated. My father would intervene but to no use. She named the child after her grandmother; which Rani did not have a problem with. Then she started demanding we take her to a child specialist because she was not talking much. Every little ailment got her worried and my wife did not have any say in her own child's matters.
My mother meddled in every little thing- what clothes should she wear, when should she start eating solid food, when should she sleep. It was like she could not let go off the reins for even a minute. My wife never really argued much, juggling between work and home was tough enough. My mother also suggested my wife should stay home with the baby but never let her take any decision. She used to be like "I will feed her. Why don't you go do your work?"
The emotional toil we were going through was too much. It was my sister who suggested we move out. So we moved out of the house. But I made sure we stay 15 minutes away from my parents, so I can fulfil my role of being a good son too.