Life in a joint family
Living in a joint family seems like a nightmare to most people. However, for many people in India it is still very much a reality. In such a case what do we do? Do we give up on surviving without ever getting the peace of mind? Do we sacrifice our privacy for the sake of others? Is there going to be no sex life for us ever? The truth is distant from all this.
Growing up in a joint family has meant that I kind of cherish it and hate it at the same time. The bubble that joint families create can indeed be claustrophobic but, it is also the space where simple pleasures sprout from
For the newly-weds who worry about being trapped in a joint family, here are a few unexpected pleasures that you are sure to enjoy.
Read more: Funny (but unfortunately true) things about making out in a joint family
1. A quality sex life
It's difficult to have a sex life in a joint family which makes the little moments you get that much better. I have known many people who have spent hours making out in silence because they loved the pleasure of the little nook.
Remember, your significant other will be peppered with advice and so will you, so sex often turns into a fun affair rather than a sordid duty. There are so many more experiences to share every night when they come to bed and you have them all for yourselves.
A slight kiss at the right moment matters more than the turbid sex affair in a huge palace at times.
Read more: 7 ways working women living in a joint family balance their roles
2. The best people to nurse you
One of the simplest pleasures of life I had while growing up was the chicken soup that my mami would make me whenever I fell sick. Joint families stick together, so, if you have the flu and the world is going to pieces, you will always have some relative coming around to talk with you and bring you treats.
Joint families also mean you can bribe kids with the best chocolates and sweets, for staying around you when you are feeling down. Heck, even while living alone, I hated falling sick because I didn't have the help of the tens of nurses I had back then.
3. The kisses in the kitchen
I know, I know, Hrithik Roshan did it in that one advertisement. While growing up, one of my favourite memories was how my uncle would sneak into the kitchen the moment he got back from office and steal a kiss from his wife. That to me was what true love looked like.
There's nothing more joyous than a "Ei dushtu" from your loved one as you sneak into the kitchen and kiss her when your mother cannot see you, or when you steal a kiss right after Sasurji goes to sleep.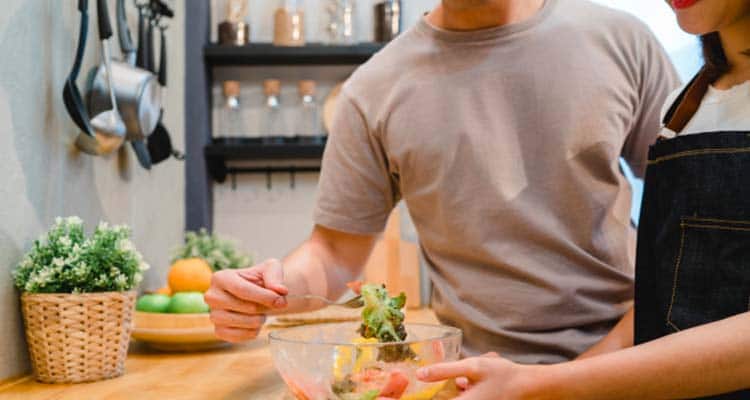 4. The food
The television series all show horrid mothers-in-law who want you to be the one to cook food. In joint families that is not so. More often than not, you would probably end up tasting five types of cuisines a day prepared by all your different relatives even if you just want to laze around.
Also, there is much fun cooking in a joint kitchen, because of the ease of it all. You don't have to watch the oven when you rush to the toilet, you don't have to worry about bed tea and breakfast on most of the days.
5. The all-around love
Whether it's your nanad coming around every night at 7 to watch her favourite series with you and complaining about how stupid your hubby is, or your sasurji being overly protective of you when you slip even a little bit, joint families are forged in care. The love makes relationships last. Don't believe me? Ask the numerous couples celebrating golden anniversaries while living in joint families. The fact that you always have a shoulder to cry on and an ear to rant to is heavenly for us isolated, modern individuals.
Joint families may not be the easiest to handle, but, they can be a source of absolute joy when it comes around to it. So, go ahead, take the plunge, you might not have the most golden love life, but, you are sure to have fun.