Q: I am engaged to a boy who has lived in a joint family all his life. They have spent their lives in a one room-kitchen sort of a flat and shared a toilet with their neighbours. My fiance is very comfortable with this set-up and wants to continue living in this house. But I don't think I can handle it. I have lived in a small apartment too, but I would want some privacy after marriage. Is it wrong for me to think this way? How do I convince my fiance to look for an alternative?
Answer: Dear Nilima, a lot of our happiness as material creatures, rightfully, depends on the kind of home we live in. To call the house we live in, a home, is dependent on the many subjective experiences we have had since childhood leading up to our present thought processes around what a home should be like.
However, you need to realize that all of us have gone through this same process with different outcomes, in our individual lives. Your fiancé has gone through his own experiences of developing his own idea of what a comfortable home looks like.
Having said that, the fact remains that both of you want to make a life together and home with each other. Both of you would have to be committed to coming to a mutual ground that seems acceptable to both, not only in terms of whether to live in his house as a joint family set-up or get a bigger house after marriage with or without his family moving in too. What is essential, is to be able to communicate about these important things before marriage and take steps to achieve those mutually agreed-on goals before you seal the things a bit more with the stamp of marriage.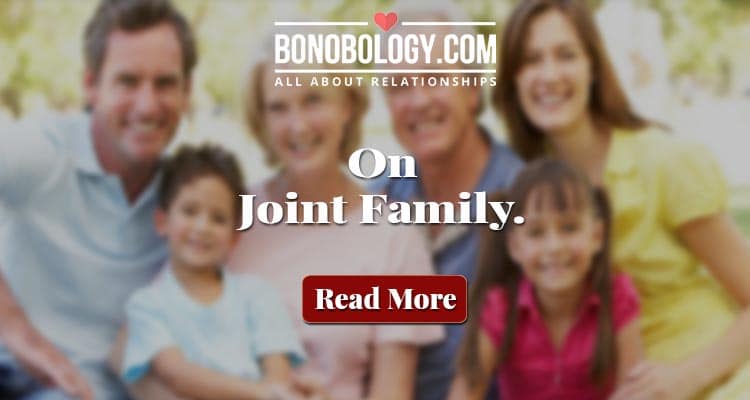 Couple counselling may help a lot, if you guys find that a relatively objective party can help negotiate the tricky lanes of vested interest that we all have, and are not aware of, as human beings. The idea that will help you both the most in making your way through this really important decision, is to realize that subjective realities are as real as gravity in the matters of the heart and the other name of love is to respect the subjective truths of the other, without always feeling compelled to agree. All the best.
This couple may be different but their communication strategy is unique
How to hint to your spouse that you want sex in a joint family setup