As told to Joie Bose
(Previously, we carried the husband's point of view, and his explanation of how much he loves his wife.)
I got married when I was young, to my friend. We used to talk for hours, and I used to share everything with him. It seemed like I was moving in with a friend, initially. But it was only after we got married that it struck me that we were married.
What I feared about marriage
Marriage? I had always hated that thing. That thing was what made my mother suffer. That was the thing that made my father suffer. I could never understand that and trust me, I was always scared. I was scared that my marriage would make me suffer and I began preparing myself for the suffering.
My father had often cheated on my mother. He had girlfriends. Well, not one particular one who he loved, but many. It was more about everything else other than love. About ego satisfaction. It was about getting the work done. It was about just passing the time. I remember once my father had an affair with a servant. When he was caught almost red-handed, he denied it. He gave lame excuses. But the shock of that is terrible for a 16-year-old girl. The shock doubled ten years later when I caught him with my mother's best friend.
An unequal alliance
My mother's family was richer than my father's and my mother was more educated than my father. It was not that my mother rubbed this in, but he suffered from an inferiority complex. Perhaps my mother was not able to establish solidly enough that money or pedigree failed in front of an honest heart and this caused a lot of tension between the two. They were always fighting. And my mother was perpetually sad. I remember seeing her swollen face every afternoon when I came home from school. She didn't deserve this.
And I would hold my father responsible for her tears. To add to our woes, there were lots of loans that we had to repay. My mother would save a penny here and save a penny there. She would take a bus instead of taking a taxi. Walk a bit instead of taking a rickshaw. She would sacrifice a lot. It was terrible to see her suffer.
Related reading: Why her mother never left her father but committed suicide instead
The love was good but…
However, my mother and my father had had a rip-roaring love story, where they had eloped to get married. Their love story was very filmy with them coming from different castes and from different class, but they had overcome all the social barriers to be together and I was born, their much loved only child. And their story made me have the impression that love was a beautiful thing, but marriage was not. Marriage ruined things. This conception spilled over into my life.
Without realising this, I began awaiting doom in my marriage. We had kids, but I was terrified they would like me less than their father and I never scolded them. I didn't control them at all. I was always scared of people stopping loving, as my parents had stopped loving each other.
Afraid of desertion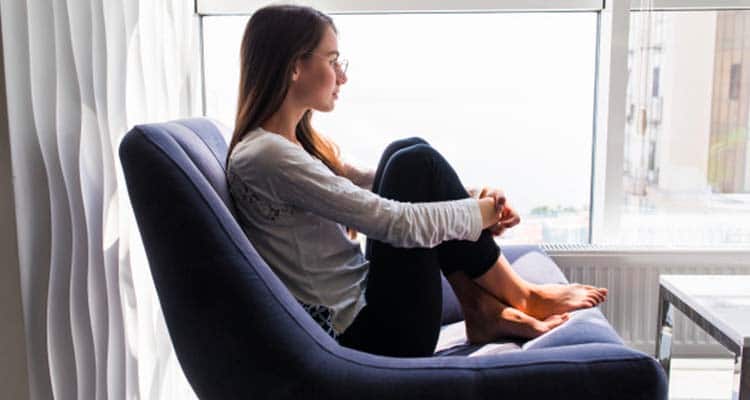 I was working in a newspaper house but I quit my job. I had stopped loving my job. You don't stay if you stop loving something, you go. I couldn't tell this to my parents, so I said this to myself. So, I quit my job and didn't look for a job elsewhere, either. I just gave up. Deep down, I feared that my husband too would cheat on me, as my father cheated on my mother and that he would stop loving me.
I stopped my entire life, just to prepare myself for this. And this happened over a decade.
Did I look for help? Yes. I got myself enrolled into an Art of Living class but I didn't learn anything for I couldn't really concentrate on anything they said. Nothing made me happy.
One day, I had sent my kids to my parents' house when my in-laws were on vacation. My husband had called, and had asked me to make mutton. Suddenly I felt as if this weight was on me. As if, if I couldn't make the mutton he would go away. Or worse, he would stop loving me. And before he could harm me, I had to harm myself. It was then I tried to slit my veins. I was unsuccessful and hence I ended up taking all the tablets that were in the house. I had to die immediately. What happened next, I don't remember, but I felt at peace on one hand, and dizzy on the other. I woke up with a headache and a stomach ache in the hospital.
Related reading: I was so depressed I tried to commit suicide
There was an explanation
My doctor explained to me that I was suffering from clinical depression and that it was a disease. He told me that I need not fear my husband leaving me for all men are not the same. I meet him regularly and I confess all that I feel to him. He tells me what is right and what is wrong. It was he who explained to me why I felt what I felt and it was he who helped me figure out how my parents' relationship affected my perceptions. I have also been taking medicines regularly. I feel secure when my husband is around, for he is a friend. Now I don't fear him going away so much.
I am almost 50, but we are quite a rare sight. We still go out on dates and I dress up when we do. My ankles tingle when he smiles and my heart starts beating faster.
It is not that I don't feel suicidal nowadays, but it's less. When I do, I call my husband. I perhaps call him a bit too much, but he doesn't mind. I hold on to my life dearly now, and do all I can to hold on, for age is not making my love wither, age is making it stronger. Every human being is not the same. All love is not the same. Every life is not the same. Every story is not the same.
I wish we had never got married but remained lovers
5 naughty texts to send to your husband to make him come home asap