It's not retail therapy if you have kids
Whoever said that shopping is a therapeutic experience clearly didn't have kids. I will challenge that person openly if he/she still continues to say so after having children and going out shopping with them! Every time I shop for my children, I must make them try their clothes on for the fitting and boy that's nothing less than a circus in a tiny trial room. I share my experience and open up with you guys, hoping you will empathise with me.
Shopping for children's clothes is a long complicated experience: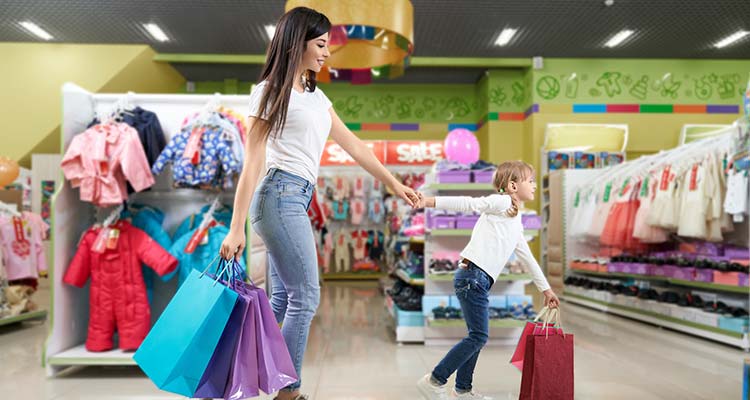 First decide with your husband at home on what to buy, as we always have opposite choices on that. Like just the last time, I was scanning lovely jumpsuits for my daughter and turned to show my husband who was beaming holding a floral dress!
Drive kids to a 'happening mall' while they sit quietly only until you are out of your society's main gate.
As you drive a few hundred metres you hear constant nagging on how much they are starving (even when you make their tummy full with their favourite pasta before the expedition) and you are asked to stopto pick up the snacks that will curb their hunger (chips!)
After you reach the destination, you make them put their shoes back on and set their clothes (put the zip on, stiffen the collar, comb the hair, etc.). They look like they survived a hurricane in the back seat of the car.
In the meantime, Daddy Dear notes down the parking lot number, since the chances of remaining sane and not getting lost after the shopping experience are bleak!
As we enter, the wheeled trolley becomes the commute for my kids and I dread the idea of apologising for every prey they hit while riding it in high spirits!
Related reading: Here's how husbands can navigate through sticky situations in their marriage
Both Daddy Dear and I keep one eye on the kids, while the other eye scans the clothes.
The rule is that Daddy never goes in the fitting room for trials, as he has a more important task at hand: to check out more stuff in case the clothes don't fit or look good, and I'm left at the mercy of my kids in a tiny room where any possible movement hurts my elbows from hitting them on the sides.
I wonder why these fitting rooms have mirrors on all sides. I mean, one is just fine to see the view. I'm overwhelmed every time I see myself from each angle in the mirror and my diet plan gets stricter in the mind. Damn those extra cheese pizzas!
Visiting restrooms is the routine when you visit the malls. So, just to make sure I'm not taking a secret nap in there, I've been checked on multiple times by my kids standing outside the door and knocking on it. I ignore the looks of other ladies and head out as if there is an emergency outside the restroom.
After the stamina- and patience draining experience, just when I want to sit to grab a bite at Burger King, I am reminded of my self-examination in the fitting room, but what the hell! I can still eat and I know I must run after the kids, so the calories will burn in no time.
On the way back home, the kids are sleeping and finally Daddy and I get to talk about more profound stuff, like "Are your legs hurting?" or "Will there be a traffic jam at the next signal" and to "Check the route on Google maps!"