Two years ago as I sat waiting in my office car, I had the nibble of an idea, and I typed it into my Blackberry immediately, building up a plot. I was wary, distressed and disarrayed from a tough day at work, and also from a life not very meaningful any longer. I had given up on myself. I had become lonely, closed and numb. I didn't feel like going back home, and knew that feeling would stick with me through the night, the next morning and the next. That day, I was writing about dreams, and about parallel planes of reality. It was a story of a lady and her world of magic realism. I finished it, and quickly forgot about it.
About a year ago, my husband asked me suddenly if I remembered that story. He said he wanted to make it into a short film of about half an hour. I could help with the script. I wasn't sure if it'd be such a great idea, but we decided to give it a try. But how? Wouldn't it take quite a bit of money? We dissolved some fixed deposits, and some good friends pitched in, too.
The challenge came when it came to the script. My story, my baby, I kept insisting, finding fault with every dialogue he wrote. My film, my way, he stayed his ground. My perceptions of how the people in my story ate, slept and talked, of what they felt and did, was far removed from his conceptions. On a screen you 'show' and not 'tell'.
"How much can you leave unsaid for the actors to enact?" I kept asking.
"How much more you have to be in your face?" he would counter.
"But what if the message is not loud and clear?" I would carry on.
"Where is the space for the audience to imagine and to interpret?" he would retort.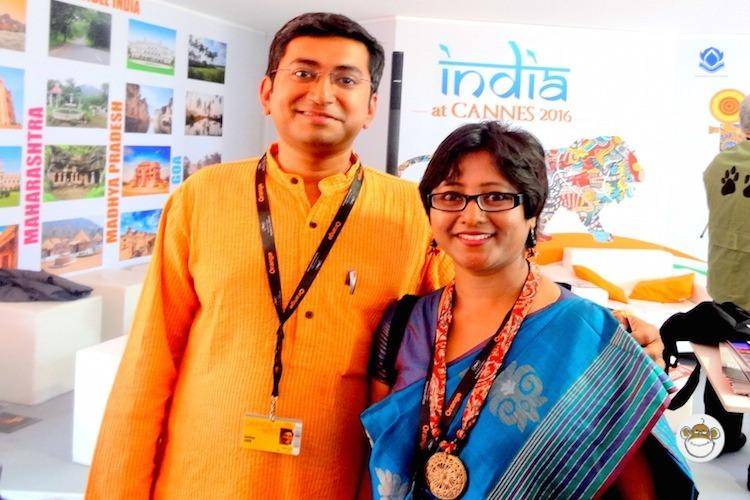 We'd have agreed to disagree had it been elsewhere, but here we had to reach a mutual ground. The equations between the characters grew real, and so did the mutual understanding between us about the story. There were points of discord, but then there was also letting go and trusting so that we gave each other space to interpret the story in our own ways. The art of portraying real blood and flesh characters was a long and deep learning process, both as people as well as partners in the project.
And then, in December last year, we got leave approval from office. And sooner than we knew, we found ourselves in our beloved city of Kolkata, looking up locations, seeking help and advice, and more than anything, volunteers. Some volunteered their apartment, some their office, and some, their café shop. Some, even a hospital! That is how things work, if you really, really want them to… Trust me!
Four hectic days of shooting later, we went into rounds of iterative postproduction, quite a few visits to the sound studios for the song recordings to background scores, to voice dubs. Some more deposits were dissolved.
And then one fine morning my husband woke me up to read an email. "Monsieur"…  the mail began. And then it went on to tell us that our film had been selected for screening at the Cannes Film Festival in May 2016. "See you in Cannes!" the mail ended, leaving us dumbfounded, shell-shocked at the other end of the globe.
Related reading: Best love stories ever
The two of us checked the official link again and again throughout the next few days. We had to pinch ourselves hard to believe, but believe we did. We're just back from a month-long tour, after long walks upon red carpets, exciting screenings of our film and a vacation to 14 cities across three countries in Europe! It's just a beginning, we both know.
I no longer feel a drag when I go to office and when I come back home. I feel happy and potent. And I feel strangely at peace with my melancholy. For whatever is missing in life comes back in the shape of a gift too, I now know. I love my solitude that can give birth to art. I love the inspiration that I can draw from myself when I give myself my time. And I feel rich and fulfilled.
Dreams do come true, you see! A dream of a story, and a story of a dream.