In an age of crumbling relationships and this new trend of open marriages, 45-year-old Prakash Mehta's (name changed on request) story will change the way we all look at marriage and fidelity. Belonging to a traditional business family, Prakash met his wife Simmi, at his uncle's place when he was 25. He had returned after completing his mechanical engineering from the US. Hopeful of starting his business venture in Mumbai, his father's death pushed him into the hardware business.
"Marriage was the last thing on my mind. Also, in US, I had many girlfriends and I longed for the freedom to be able to do what I wanted. Suddenly in the middle of the chaos, I had to meet a girl in front of her parivaar. I wasn't prepared for the new relationship and my frustration with not being able to achieve what I set out with on a professional level, cast a shadow. She seemed ordinary, and barely exchanged a few words. My mother and sister approved of her docile nature and convinced me that since our finances were not in order, this was the perfect match."
"It was more a business deal. Her father, also into the same trade had promised financial support. I remember asking her what she expected from me, as a husband to which she replied, 'loyalty.' In a way, that word defined us for the next twenty years and the marriage became a conditioned habit."
"We had a daughter. We had sex once or twice a month. Simmi put on lots of weight and joined the kitty party circle. My mother expired when my daughter was ten. I slogged to bring back a sense of equilibrium to the business, travelling across India. Our relationship stable, but boring."

Prakash's life changed when his 40th birthday coincided with a conference in Georgia, USA. "I hadn't ever gone back to the US, and my heart longed to return."
He met Maureen on the flight, the woman he was once deeply in love with. "She sat next to me, and we got chatting. She was more or less the same age as I was, and represented a company in Chennai. She was a Hindu who had fallen in love with a Muslim boy while studying engineering and converted to marry him. They had no children. After the flight landed, we realised while still chatting that we were both parts of the same conference. Last month her spouse had expired and now she had no choice but to take over the business.
Related reading: Testing times bring out the best in relationships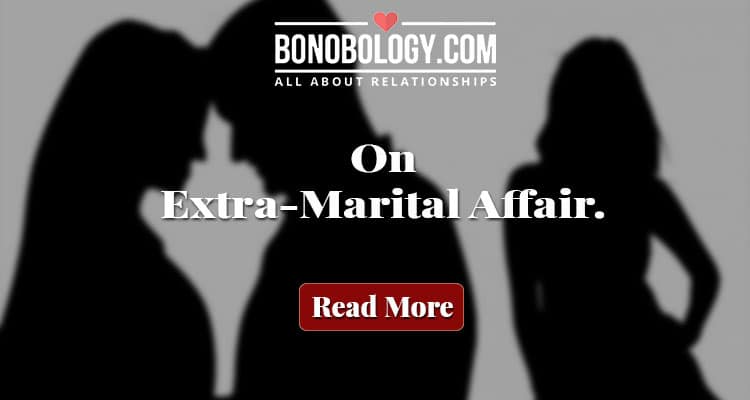 "I don't know why I asked her out for dinner. It felt intimate. Maureen agreed to meet and post-dinner we just couldn't keep our eyes and hands off each other. I felt like a teenager again. Maureen was bold. We spent the night together – talking, touching, drinking wine, and fell asleep in each other's arms. What made our attraction more potent was that it was a fleeting one – Maureen knew I had a wife and daughter and she wasn't the type to ask for more. We made love recklessly. I can't remember being this alive, ever."

"I told Maureen how unfulfilled I was. She told me how hers had been more or less the same, and how her husband abused her, accusing her of being a cursed childless woman and having affairs."
"I feel weirdly like him now. Maybe, he was sad too, inside," she had mused.
"Maureen was clear she wasn't looking for complications and wanted to pursue a career in academics again. When she dropped me off, I felt like I was leaving a part of me behind."
"Returning back, Simmi was soon diagnosed with breast cancer. As her treatments and surgery happened, I blamed myself. Finally, when her chemo ended, one night, putting her to sleep, I confessed about the US trip. Simmi kissed my forehead and said a certain Maureen called once on the landline. I was shocked. I had written to Maureen once, and probably she'd got my number from the business card attached.
"For all these years I have lived a lie, I had to sleep beside a man who never knew me and I have many regrets. Prakash is a good, kind man and he needs you to see him as not just a provider, but as a lover. Men too need tenderness and are vulnerable," Maureen had said to my wife. "I broke down."
Maureen and Prakash have never communicated. His mails to her, thanking her for breaking the silence to Simmi, went unanswered.
"My affair taught me what I wanted as a man and was missing. Our marriage lacked soul and was more of a business deal. I hadn't ever given Simmi the keys to my heart. Today, I can look her in the eye."
Why both men and women must be generous in sex
Here's how to flirt when you're already married
Twelve signs that you are in a happy, healthy relationship