"Here, we must run as fast as we can, just to stay in place. And if you wish to go anywhere you must run twice as fast as that." ― Lewis Carroll, Alice in Wonderland
… and that is why change is necessary, change is progress and it is the only constant.
At Bonobology, we channel our energies towards documenting couple relationships as they exist among Indians across the globe. It is our ongoing endeavour that in doing so, we continue to bring to our readers, the best content in the most user friendly manner. Our transformation and move to WordPress is a step forward in the same direction. You will find that our new look is not just sleek but also simpler and more fun!
Let us take you step by step and introduce you to the features on our new homepage.

Facebook, Twitter, Instagram, G+, LinkedIn and Pinterest. Follow us on the platform of your preference or better still, follow us on all of them! Never miss a story again!
B: Our new logo: You must recall that we monkeyed around for a bit
, and now have settled with this chic new design
. A lovable double shaded heart has placed itself on top, signifying love and everything that surrounds it. Did you notice our new tag line – 'All about relationships'?
C:  Your space: Here you can 'log in' to your profile or 'register' with us. (Already registered at the old site? We shall email you about how to login on our new site!)
Have a story to share? Submit here. Want to figure out what Bonobology is and who is part of the team working backstage? You've come to the right place. Click on 'About Us' and get acquainted. Want to contact us, you got it! Just hit 'Contact Us'and fill in the form that comes.
D: The black menu bar has eight clickable menu buttons on it. They are explained below.
Home: brings us to the home page
Categories: shows us the main categories that our stories are slotted under
Humour: The 'one' category that has earned its spot on the bar, by itself for its unique quality to make the readers smile!
Counselling: Read here, the counselling advice given by our panel of experts to the questions sent in to them. Also, one can directly write to our counsellors by going to the 'consult counsellor' tab.
Confessions: Takes us to the confessions page. Read the sinful, happy, guilty confessions that were left as the writers got the load off their chests! All anonymously.
Discussions: Takes us to the Community Discussions started by our members.
Blogs: takes us to the blogs uploaded directly by users.
Icon of magnifying glass: type in the name of story, category, tags or author name to find the stories that you want to read.
 Our new homepage layout – Showcasing the latest: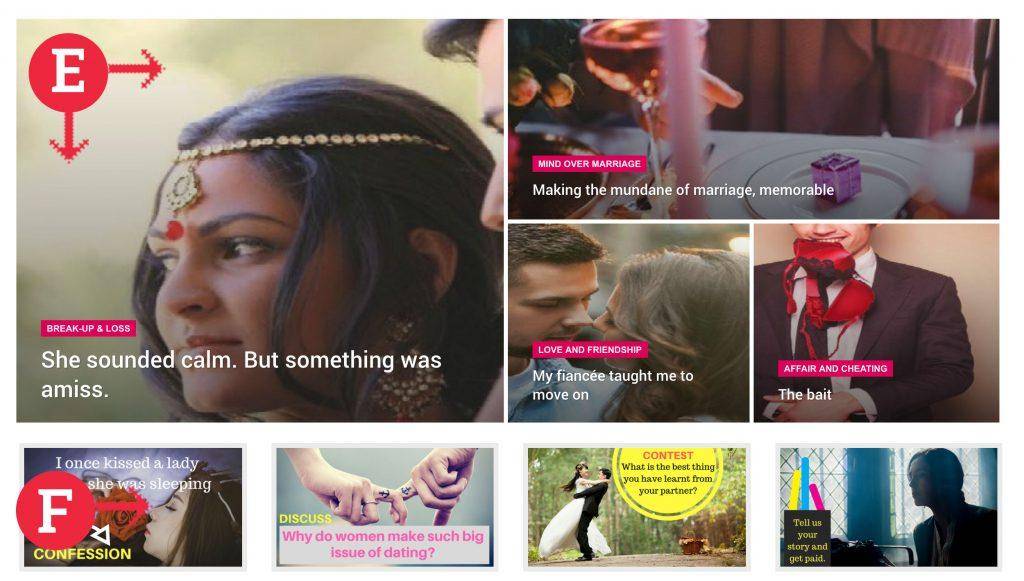 E: These four tiles carry the latest four stories published by us.
F: The interactive section has four tiles, one each for: Confessions, Discussions, Ongoing contests and 'submit your story'.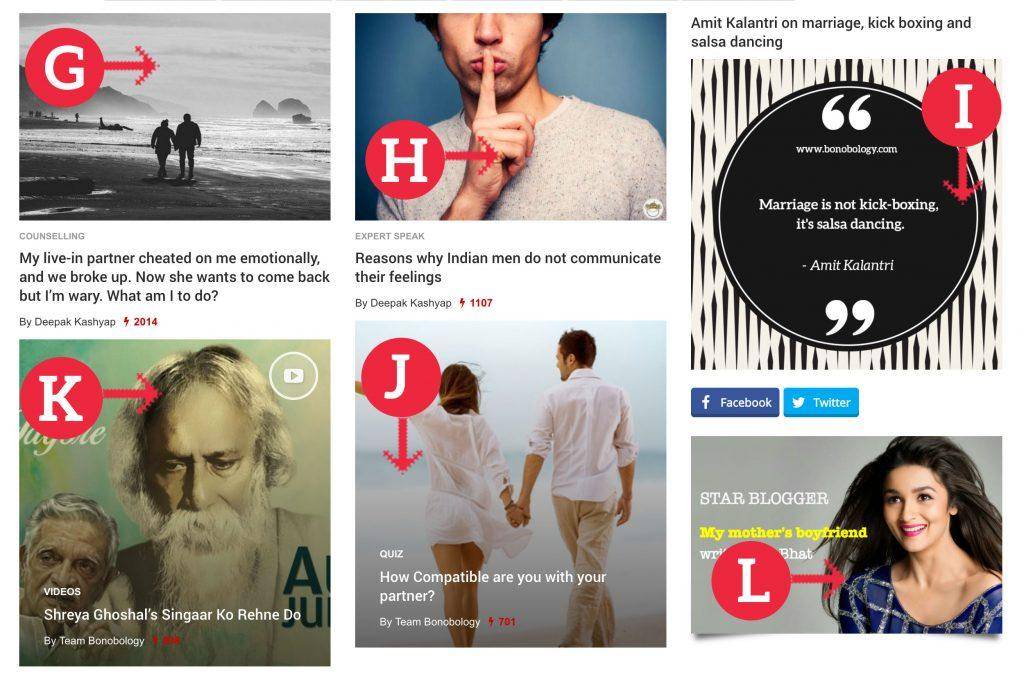 G: Counselling: Read here, the valuable counselling advice given by our panel of experts to the questions sent in to them.
H: Expert Speak: You will find in this section insightful articles and advice on relationships, written by various members of our panel of experts.
I: Quotes on love from people across the world and some from our contributors
J: Quiz – these are light hearted and fun quizzes based on couple relationships. Find out, 'how compatible you and your partner are' right now! There will be a new one each week!
K: Videos – specially selected from hundreds of videos on couple relationships. Advice on love from Oprah? A humorous video on 'how to seduce your man'? A short film or couple interview? Soulful music? Keep an eye on this spot to find out what we have kept in store for you.
L: Star Blogger – fresh blogs find their way into our blog space daily! We cannot let them go by unnoticed. We celebrate and showcase the best and most innovative blog entries twice a week so that no one misses these pieces either!
Our new homepage layout – Recent Stories & Humour
M: Did you miss a story? Were you away for a few days? No worries! You can find them here.
N: Humour: Read here, the latest additions to the humour section of our stories. Smile, chuckle or laugh out loud as our various contributors take you through the funny side of their relationship experiences.
O: Top Stories from our Top Sections – Find here, the most popular stories from our top performing sections that week. Also, the latest three blog entries are showcased here.
And there! That's the A to O about our site and new look! The digital world is dynamic and ever evolving. The words, 'change is the only constant' could not have been truer for any other space! As we see our efforts take form today we look forward to lots of engagement from you, our valued reader and contributor. Keep reading us and writing for us. To answer any doubts and queries that you may still have, feel free to write in to us, we will be happy to help you.
Have a great day!
Aarti Pathak, (Edit team)