You're in love. You've been in a steady relationship with the one you love and everything is going so well that you're ready to tie the knot and make things official. However, there is one problem: your family is never going to agree to this match. Now, you're facing a seemingly insurmountable dilemma: what to do if parents are against love marriage?
If you love them and have always sought their support in all your endeavors, marrying someone your parents don't approve of is heartbreaking. But unless you can convince parents for a love marriage, you have to make the difficult choice between them and the love of your life. What's it going to be?
When Parents Are Against Love Marriage
If you're at a loss at what to do if parents are against love marriage, welcome to the club of a confused young generation that doesn't know whether to comply with the traditions and conservative norms or break free from social norms in India and live on their own terms.
For most, a love marriage with parents' support seems like a Utopian dream. It can take months of pleading, begging, praying to get their consent and support, and by the end of it all, efforts don't seem worthwhile at all. Here's the story of a friend who experienced it first-hand:
She fell in love
I knew her initial loneliness and homesickness in France (where she was studying) had been put to an end when her weepy Skype calls to me steadily declined and her Facebook timeline filled up with 'love quotes'. She had fallen in love with an Indian classmate there. It was a happy time and no one cared about the differences in their religion.
Back in India, she was eager to tell her family about this beautiful new development in her life. Her siblings already knew and were excited but the elders had to be informed. Since she always had a close relationship with them, their approval was important to her.
Related Reading: Are You Falling In Love Too Fast? 8 Reasons You Should Slow Down
What would people think?
Hailing from a joint family where she was pampered, loved and always supported, she thought her love would be accepted. She was expecting some resistance and understood that she needed to give the family time to accept her choice, but she wasn't prepared for the emotional trauma that was in store for her.
Overnight 'her happiness' became secondary to what 'people would think'. The whole thing felt like a nightmare. She was confused and thought, "I am old enough to live alone in a different country, take critical decisions in office – but still not allowed to marry the man I love." At that point, convincing parents for a love marriage didn't seem plausible.
Many reasons were given to her as to why this marriage must not happen – different castes, communities, festivals, customs and various other things that could create difficulties in her life. Her father stopped talking to her just because she didn't want to have the most common of the many types of marriages in India – an arranged marriage.
The decision to send her to France was regretted and openly cursed. She was blamed for spoiling the family name and compared with cousins who were happily married in their own caste. Soon, she was labeled as the black sheep of the family.
Her family made her miserable
Her boyfriend stood by her throughout and assured her warmly that they'd fight it out till the end. The idea of marrying someone your parents don't approve of didn't appeal to either of them. He did everything in his control to change their mind.
He even came over to meet the family, to speak with them and convince them, but nothing positive transpired from it. As things deteriorated, she began to feel suffocated in her own house. Her phone was taken away. She was forced to quit her job and made to endure the guilt of her parents' daily misery.
No one can see their parents cry and it hurts more if it is you who made them cry. So one day she broke down, accepted their decision and gave up on her love.
She realized she would have fight for her love
Her boyfriend was devastated, but he knew how the situation had escalated at her home, how upset her family was and how guilty she felt for causing all the trauma around her. So he accepted her decision. But it wasn't easy for either of them.
That decision nearly broke her. Her appetite decreased, she lost all interest in social outings and hobbies. She avoided nosy relatives and rejected all marriage proposals. We didn't see her smile. Eight months passed.
Finally, her brother and sister-in-law decided enough was enough and took matters into their own hands. They would try to convince the family daily that it is not a bad alliance. They wanted what was best for their sister – a love marriage with parents' support so that everyone involved could live happily.
At the same time they explained to my friend, "If you had the courage to fall in love, you must have the strength to fight for it too" and then they planned a short and secret meeting with her boyfriend.
Related Reading: 15 Signs You Had Toxic Parents And You Never Knew It
It was the two of them against the world
Seeing each other after so long brought their suppressed love and emotions flooding back. The next moment they were in each other's arms with tears streaming down their cheeks. That's when it hit her, the wasted past eight months, the crying in self-pity wasn't going to help. She must fight for her love and life.
Great change takes time, but it could be one tiny moment that triggers it. She began to work hard and find ways to convince parents for inter-caste marriage to make them gently see that cultural changes are not all that hard to manage. She gave examples of her friends, and read stories online about people who were leading happy lives even after an inter-caste marriage.
She was still refusing to meet any other boys in spite of family pressure. Meanwhile, her brother did some out-of-the-box thinking and did a fabulous job of continually reminding everyone that she was not getting any younger! After that, it was just a matter of time before everyone got on board.
They, finally, got married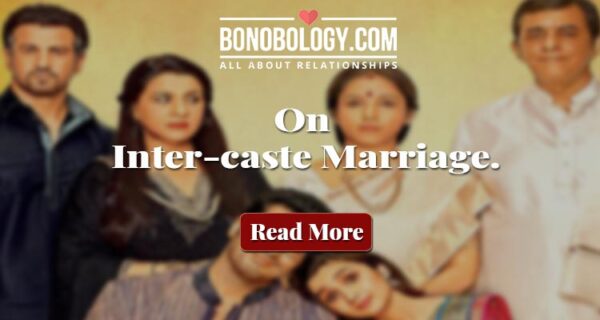 What's more important to Indian families than marrying within the caste? Having children. When this fact was brought to their attention, it didn't take long to convince parents for a love marriage.
The wedding was a small, family ceremony, but to her, it was a dream wedding, as she was getting married to the one she loved. Even then, her parents weren't too pleased with the idea of their daughter's marriage outside the community. It has been 5 years since their marriage, and they still treat their son-in-law as an outsider in the family.
There are so many who give up on their love and lead a life of compromise. It really is sad when people don't know what to do when parents are against love marriage. The harsh choice between love and family leaves people devastated and lonely, with no future to look forward to. How long will our society keep going on like this?
My Girlfriend Is Beaten Up Because We Want To Have An Inter-Caste Marriage