Yes, you read that right. Gone are the days when you had to find the perfect shade of bright red or crimson for your wedding lehenga. Pink is the new red in 2021 and some of the most stunning brides are here to prove it to you with their gorgeous pink bridal lehengas!
This feminine and subtle shade is now making its way to celebrity weddings and many women are now getting in on the trend. With time, women are starting to redefine tradition and fashion in a way that suits present needs.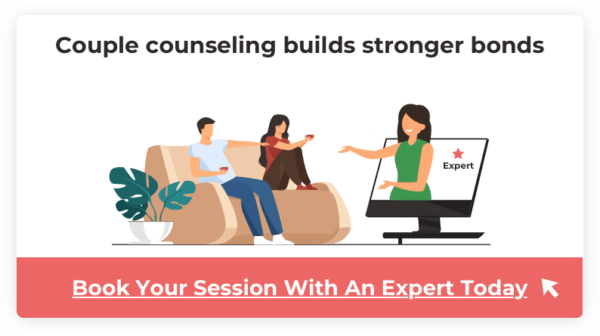 Pink Bridal Lehenga For D-day
Lately, we have seen a lot of celebrities taking the road to marriage and flooding Instagram with pictures of exquisite wedding locations, dreamy ceremonies and a generous dose of mush. But last year also saw a rise of pink bridal lehengas for celebrity brides, giving us the perfect wedding fashion goal to chase. You can certainly add this to your list of women's fashion tips and trends 2021.
In the past few years, pastel shades have made a comeback not just on the runway, but also in celebrity weddings. From beige to silver and from cream to ivory – Indian bridal fashion is breaking the norm of wearing red, gold and blue and shifting toward more experimental colors.
Pink in particular has become the most preferred color for brides, and for good reason. From a rani pink bridal lehenga color to light pink bridal lehenga, the assortment of shades is endless.
It's hard to go wrong with a pink bridal lehenga because the color suits most Indian skin tones. For D-day, all brides want a color that is feminine and striking. And no other color strikes that rare balance better than pink. As the old adage says, a woman is always "Pretty in pink".
Pink is the new red and we will show you how. Check out these spectacular brides to know what we are getting at. Here are some celebrity brides in pink lehengas who pulled off the color with poise and charm.
1. Anushka Sharma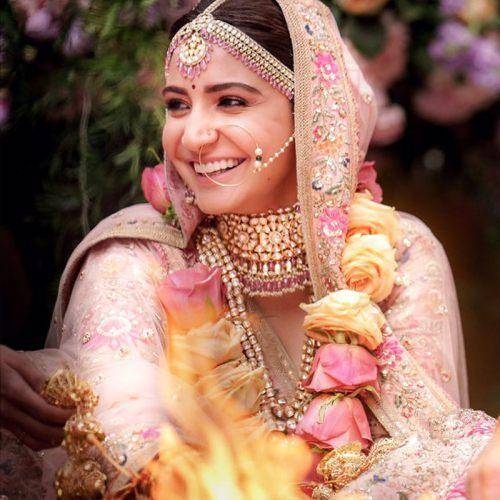 Let's start with the most dazzling bride we can think of. Anushka Sharma and Virat Kohli tied the knot under the Tuscan sun and created a complete social media frenzy with their adorable pictures from the private ceremony.
Anushka wore a dreamy English pink rose lehenga by Sabyasachi Mukherji for the wedding, teamed with a stunning diamond and pearl choker set with a maangtika and a beautiful nose ring. Her whole bridal ensemble is every girl's dream.
Related Reading: Adorable pics of Virat-Anushka
2. Smriti Khanna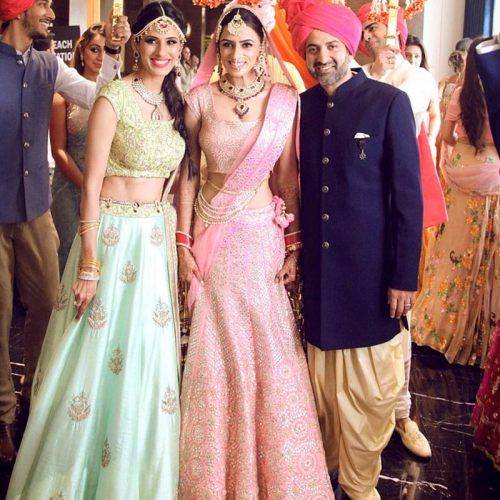 Meri Ashiqui Tumse Hi fame couple Smriti Khanna and Gautam Gupta were completely dazzling on their wedding day. For the wedding, Smriti too ditched the red and chose a light pink bridal lehenga which was beautifully embellished. One of the most beautiful celebrity brides in pink lehengas, she certainly had all heads in the room turned toward her.
For the ensemble she wore a traditional Kundan set, maangtika, jhoomar and kamarbandh. Her bridal fashion looked as grand as the ceremony itself!
3. Bharti Singh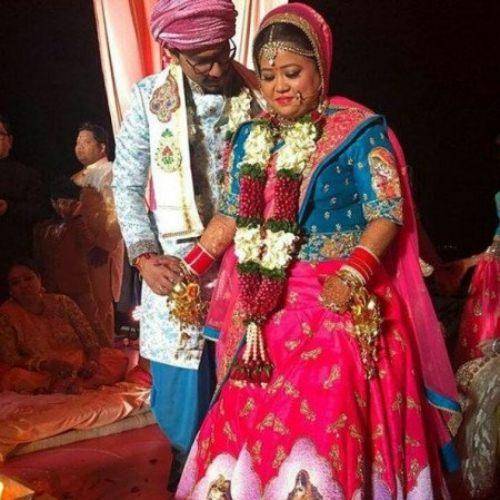 The queen of laughter has not only broken the norms of showbiz by carving her own place in the male-dominated space of Indian comedy and defied body shaming and image issues on national television, but also stayed true to her norm-defying streak on her big day. Her wedding day attire was absolutely remarkable.
For the bridal lehenga, Bharti chose a stunning rani pink bridal lehenga teamed with blue choli and a Swarovski embroidered pink dupatta designed by Adhya. The lehenga had bootis all over and printed portrait designs on the lehenga and choli to represent 'a bride's story'. Wow! Pink bridal lehengas can also tell stories!
Related Reading: 10 famous celebrity same sex couples
4. Alesia Raut
Waaris actor Siddhaanth Surryavanshi and supermodel Alesia Raut got married in Mumbai, and followed up the quiet ceremony with a massive celebration.
Alesia wore a richly pink colored bridal lehenga teamed with a blue choli. The bridal outfit had golden zari work on the choli and golden embroidery on the lehenga. For the ensemble, she chose a traditional gold choker and maangtika set and white flowers for her bridal bun.
5. Hunar Hale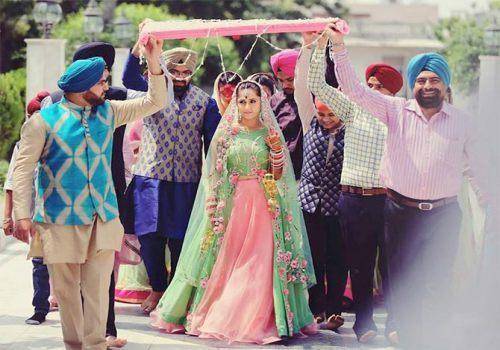 Another television celebrity, Hunar Hale of Chhal fame, got married to Mayank Gandhi in a traditional Gurudwara wedding. On her wedding day, she chose a pink and pastel green lehenga with a center slit and floral embroidery. With silvery Kundan maangtika and a nose ring and subtle bridal makeup, she looked like a dream!
After looking at these stunning ladies, one really can say that pink is the new red. This color has taken designers and brides by storm and is here to stay. Which pink bridal lehenga was your favorite? Let us know in the comments below.
21 Wedding Gift Ideas For Couple Already Living Together | 2020
Paying For The Wedding – What's The Norm?
Find Out Who Is More Fashion Conscious- You Or Your Partner?