Quotes on relationships are all the rage these days. They explain the emotions we feel for our SO in a way that is both beautiful and inspiring. Love is always changing people turning them into better versions of themselves. It's true that sometimes it seems complicated but, in the end, the relationship is worth the effort.
If you're looking for some help to verbalize your feelings about your relationship then what's better than a quote. They're short and sweet and they get the message across. The best part is, you put them on cards and they will make a small gesture perfect.
So, here are 101 quotes on relationships that you can use for the appropriate situations:
1. Cute Relationship Quotes
The first this that comes to mind when you see a couple on a romantic date is, "Aww, they're so cute together!!" Now that's a #RelationshipGoal right there. So here are a few quotes on relationships that can sum up that charming cuteness:
1) "We come to love not by finding a perfect person, but by learning to see an imperfect person perfectly." — Keen, To Love and Be Loved
2) "My heart made it's choice, and it chose you." ― Colleen Hoover, Maybe Someday
3) "You can talk with someone for years, every day, and still, it won't mean as much as what you can have when you sit in front of someone, not saying a word, yet you feel that person with your heart, you feel like you have known the person for forever." — C. JoyBell C.
Related Reading: 10 Beautiful Quotes that Define A Happy Marriage
4) "Love that stammers, that stutters, is apt to be the love that loves best." — Gabriela Mistral
5) "I love you without knowing how, or when, or from where,
I love you directly without problems or pride:
I love you like this because I don't know any other way to love,
except in this form in which I am not nor are you,
so close that your hand upon my chest is mine,
so close that your eyes close with my dreams." — Pablo Neruda, 100 Love Sonnets
6) "Never above you. Never below you. Always beside you." — Walter Winchel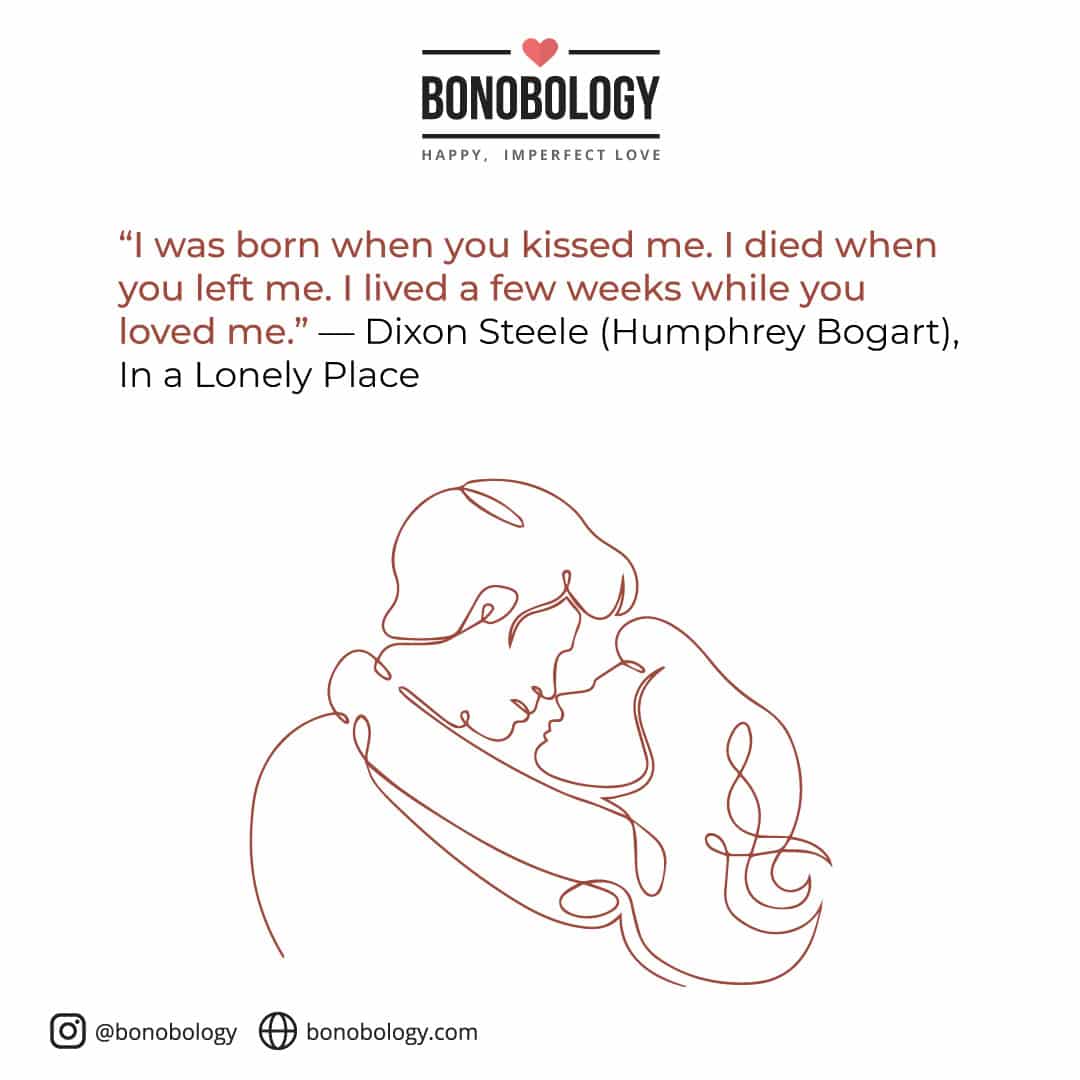 7) "I was born when you kissed me. I died when you left me. I lived a few weeks while you loved me." — Dixon Steele (played by Humphrey Bogart), In a Lonely Place
8) "I love her, and that's the beginning and end of everything." — F. Scott Fitzgerald, Dear Scott, Dearest Zelda: The Love Letters of F. Scott and Zelda Fitzgerald
9) "When someone loves you, the way they talk about you is different. You feel safe and comfortable." ― Jess C. Scott, The Intern
10) "There is no remedy for love but to love more." — Henry David Thoreau
11) "Three words. Eight letters. Say it, and I'm yours." — Blair Waldorf (played by Leighton Meester), Gossip Girl
2. Long-Distance Relationship Quotes
As we've all heard long-distance relationships can be tough. They can really test the limits of your loyalty and trust. We understand that it is a very confusing time for you so here are a few quotes that might help you figure out what to do to help make #LongDistanceRelationshipsWork: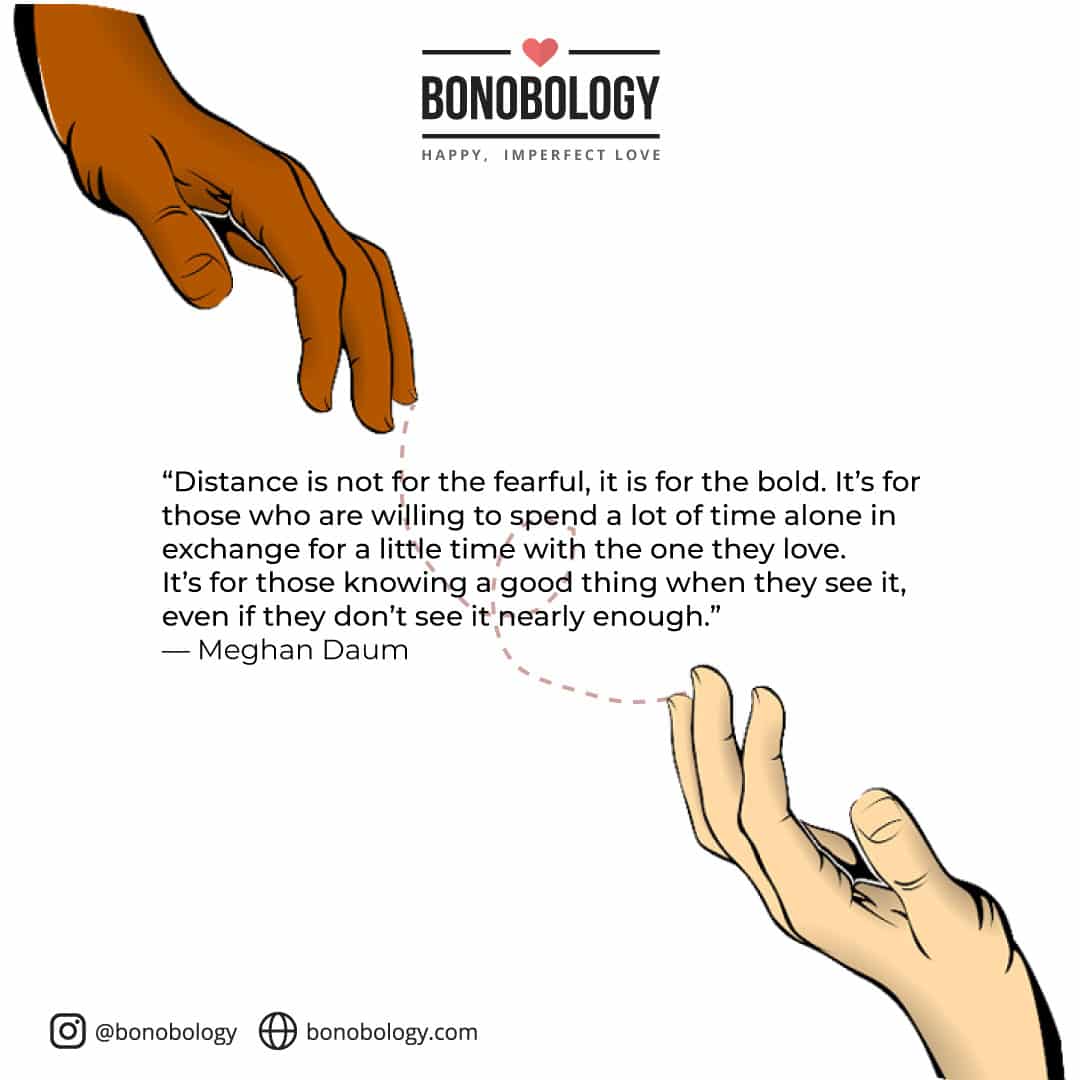 12) "Distance is not for the fearful, it is for the bold. It's for those who are willing to spend a lot of time alone in exchange for a little time with the one they love. It's for those knowing a good thing when they see it, even if they don't see it nearly enough." — Meghan Daum
13) "Assumptions are the termites of relationships." — Henry Winkler
14) "The scariest thing about distance is you don't know if they'll miss you or forget about you." — Nicholas Sparks, The Notebook
15) "The pain of parting is nothing to the joy of meeting again." — Charles Dickens, The Life and Adventures of Nicholas Nickleby
16) "Sometimes two people have to fall apart to realize how much they need to fall back together." – Colleen Hoover, This Girl
17) "There are no goodbyes for us. Wherever you are, you will always be in my heart." — Mahatma Gandhi
18) "I believe that two people are connected at the heart, and it doesn't matter what you do, or who you are or where you live; there are no boundaries or barriers if two people are destined to be together." — Julia Roberts
19) "Being deeply loved by someone gives you strength, while loving someone deeply gives you courage." — Lao Tzu
20) "We were together even when we were apart." — Shannon A. Thompson, Death Before Daylight
21) "It feels good to think about you when I'm warm in bed. I feel as if you're curled up there beside me, fast asleep. And I think how great it would be if it were true." — Haruki Murakami, Norwegian Wood
22) "But I must admit, I miss you quite terribly. The world is too quiet without you nearby." — Lemony Snicket, The Beatrice Letters
23) "Waiting does not bother me, nor does the distance that is cropping up between us. All I want is a true commitment and to know that your heart will never change." — Ting Stores
3. Inspirational Relationship Quotes
Successful relationships are what make new people believe in love. But you can never have success without a little failure. These quotes will keep you from giving up on being happy and help you believe that there is still hope. Get ready for some #Realtionshipadvice:
24) "When you stop expecting people to be perfect, you can like them for who they are." ― Donald Miller, A Million Miles in a Thousand Years: What I Learned While Editing My Life
25) "I've been fighting to be who I am all my life. What's the point of being who I am, if I can't have the person who was worth all the fighting for?"
― Stephanie Lennox, I Don't Remember You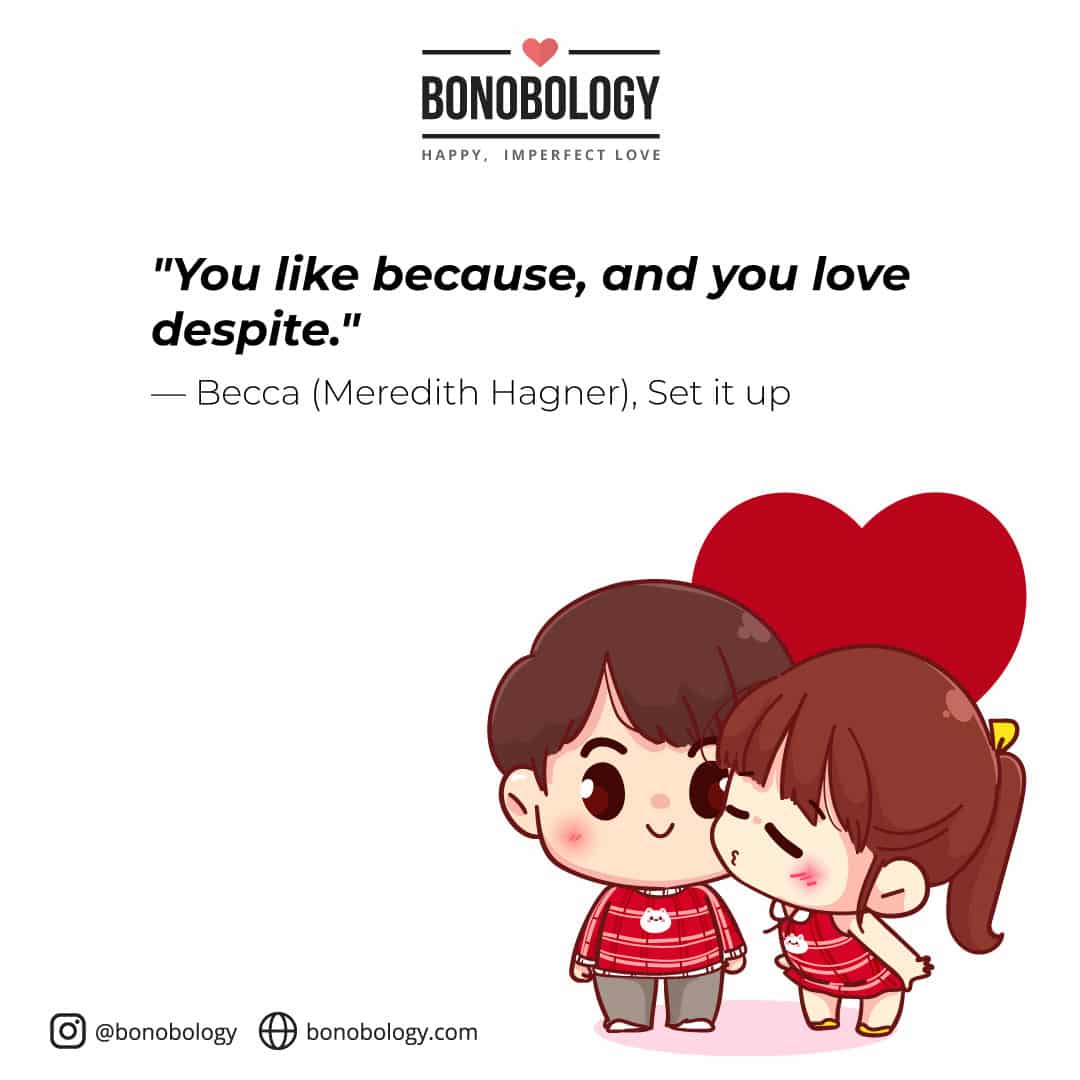 26) "You like because, and you love despite." — Becca (played by Meredith Hagner), Set It Up
27) "Trouble is part of your life, and if you don't share it, you don't give the person who loves you enough chance to love you enough." — Dinah Shore
28) "The best and most beautiful things in the world cannot be seen or even heard, but must be felt with the heart." — Helen Keller
29) "To get the full value of joy, you must have someone to divide it with." — Mark Twain
30) "Okay, life's a fact, people do fall in love, people do belong to each other, because that's the only chance anybody's got for real happiness." — Paul Varjak (played by George Peppard), Breakfast at Tiffany's
31) "The meeting of two personalities is like the contact of two chemical substances: if there is any reaction, both are transformed." — Carl Jung
Related Reading: 12 Ways To Fix A Strained Relationship
32) "I've learned that people will forget what you said, people will forget what you did, but people will never forget how you made them feel." — Maya Angelou
33) "Love does not begin and end the way we seem to think it does. Love is a battle, love is a war; love is a growing up." — James Baldwin
34) "You open your heart knowing that there's a chance it may be broken one day and in opening your heart, you experience a love and joy that you never dreamed possible. You find that being vulnerable is the only way to allow your heart to feel true pleasure that's so real it scares you." — Bob Marley
35) "Love is never lost. If not reciprocated, it will flow back and soften and purify the heart." — Washington Irving
4. Heart Touching Relationship Quotes
Love is all about the grand romantic gestures that can touch your heart and make you swoon. Here are a few quotes on relationships that will melt your heart and give you #SeriousFeels:
36) "All at once everything is different / Now that I see you." — Lyrics from "I See the Light", Tangled
37) "… When I look at you, I can feel it. And… and I look, and I… and I'm home." — Dory, Finding Nemo
38) "But for now, let me say…without hope or agenda…to me, you are perfect. And my wasted heart will love you." — Mark (played by Andrew Lincoln), Love Actually
39) "If I had a flower for every time I thought of you… I could walk through my garden forever." — Alfred Tennyson
40) "Love cures people – both the ones who give it and the ones who receive it." — Karl Menninger
41) "It is not time or opportunity that is to determine intimacy; it is disposition alone. Seven years would be insufficient to make some people acquainted with each other, and seven days are more than enough for others." — Jane Austen, Sense & Sensibility
42) "It was almost as if she had willed him into existence, into standing before her at the precise moment she was willing to accommodate him, arriving not a minute too early or too late." — Roy L. Pickering Jr., Matters of Convenience
43) "For the two of us, home isn't a place. It is a person. And we are finally home."
― Stephanie Perkins, Anna and the French Kiss
44) "Love sought is good, but given unsought, is better." — William Shakespeare, Twelfth Night
45) "Me? I'm scared of everything. I'm scared of what I saw, I'm scared of what I did, of who I am, and most of all I'm scared of walking out of this room and never feeling the rest of my whole life the way, I feel when I'm with you." — Baby (played by Jennifer Grey), Dirty Dancing
5. Strong Relationship Quotes
Relationships take work and effort. When you give someone your heart, you are opening yourself to getting hurt too. It takes strength to get over the hurt while choosing to stay takes courage. Here are some quotes on relationships that will help you stay strong and go the distance #StillWorthIt: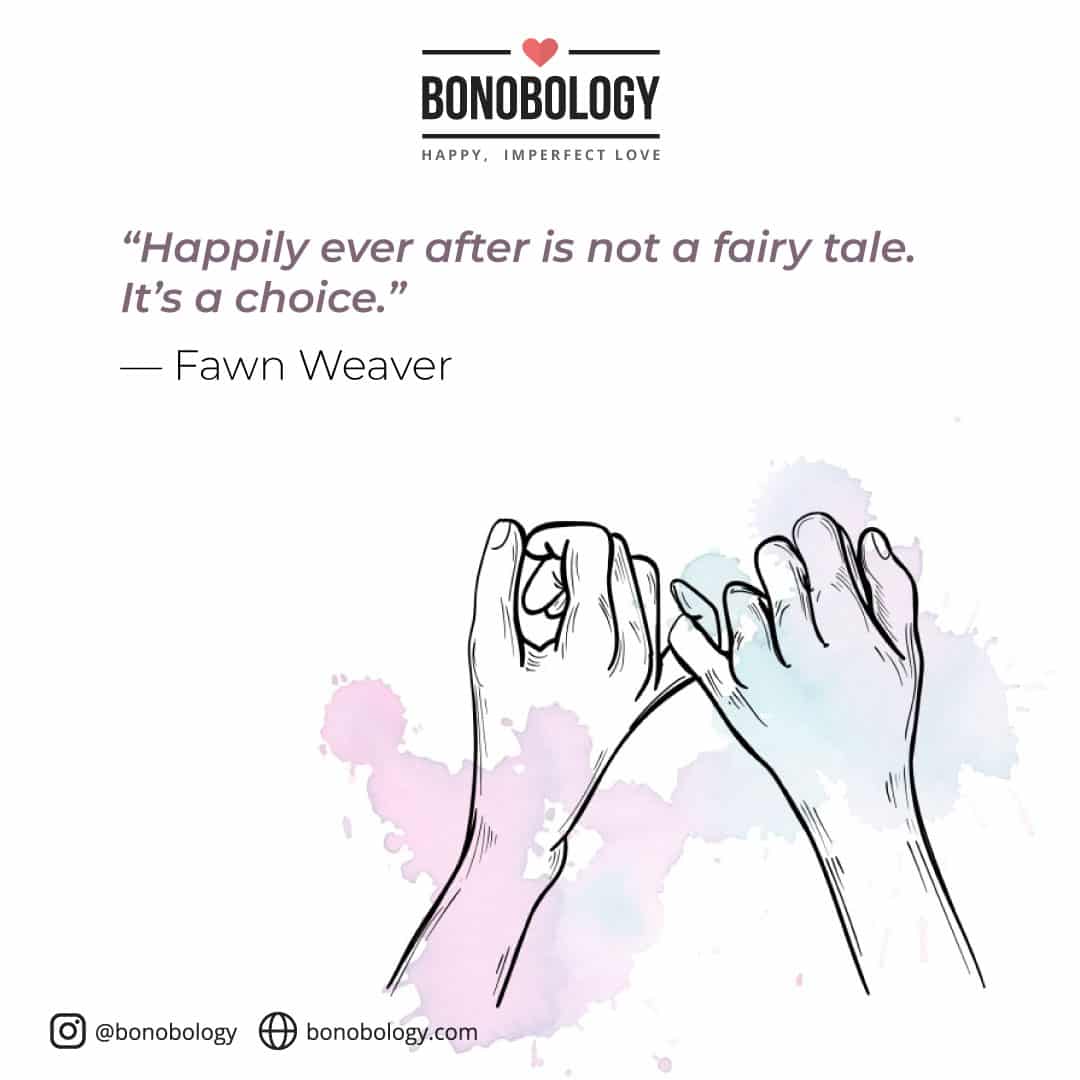 46) "Happily ever after is not a fairy tale. It's a choice." — Fawn Weaver
47) "Never let a problem to be solved, become more important than a person to be loved." — Thomas S. Monson #GoingTheDistance
48) "Problems in relationships occur because each person is concentrating on what is missing in the other person." — Wayne W. Dyer
Related Reading: 25 Most Common Relationship Problems
49) "A successful marriage requires falling in love many times, always with the same person." — Mignon McLaughlin
50) "To know when to go away and when to come closer is the key to any lasting relationship." — Doménico Cieri Estrada
51) "To say that one waits a lifetime for his soulmate to come around is a paradox. People eventually get sick of waiting, take a chance on someone, and by the art of commitment become soulmates, which takes a lifetime to perfect." — Criss Jami, Venus in Arms
52) "Truth is everybody is going to hurt you: you just gotta find the ones worth suffering for." — Bob Marley
53) "We've got this gift of love, but love is like a precious plant. You can't just accept it and leave it in the cupboard or just think it's going to get on by itself. You've got to keep watering it. You've got to really look after it and nurture it." — John Lennon
54) "Love is an endless act of forgiveness. Forgiveness is me giving up the right to hurt you for hurting me." — Beyoncé (originally said by Reinhold Niebuhr) #GoingTheDistance
55) "I'm not telling you it is going to be easy, I am telling you it is going to be worth it." — Art Williams #StillWorthIt
56) "Every couple needs to argue now and then. Just to prove that the relationship is strong enough to survive. Long-term relationships, the ones that matter, are all about weathering the peaks and the valleys." — Nicholas Sparks, Safe Haven
6. Quotes On Relationship Goals
What's the one thing that a relationship needs? Romance! This is what will bring you two close, build trust and increase your compatibility. Not to mention it will totally set the standards for relationships. Here are a few quotes on relationships that will totally set your #RealtionshipGoals:
57) "The best thing to hold onto in life is each other." — Audrey Hepburn
58) "You know you're in love when you can't fall asleep, because reality is finally better than your dreams." — Dr. Seuss
59) "In my opinion, the best thing you can do is find someone who loves you for exactly what you are. Good mood, bad mood, ugly, pretty, handsome, what have you." — Mac (played by J.K. Simmons), Juno
60) "When we love, we always strive to become better than we are. When we strive to become better than we are, everything around us becomes better too." — Paulo Coelho, The Alchemist
61) "A loving relationship is one in which the loved one is free to be himself, to laugh with me, but never at me; to cry with me, but never because of me; to love life, to love himself, to love being loved. Such a relationship is based upon freedom and can never grow in a jealous heart." — Leo F. Buscaglia
62) "Love is the absence of judgment." — The 14th Dalai Lama
63) "In a relationship each person should support the other; they should lift each other up." — Taylor Swift
64) "We can improve our relationships with others by leaps and bounds if we become encouragers instead of critics." — Joyce Meyer
65) "Affection is when you see someone's strengths; love is when you accept someone's flaws." — Emma Morley (played by Anne Hathaway), One Day
66) "My great hope is to laugh as much as I cry; to get my work done and try to love somebody and the courage to accept the love in return." — Maya Angelou
67) "I've never had a moment's doubt. I love you. I believe in you completely. You are my dearest one. My reason for life. Cee" ― Ian McEwan, Atonement
7. Relationship Quotes For Her
For all you guys out there who want your relationship to work but just can't seem to figure out what's going on in her head. Here are some quotes on relationships that are tailor-made to answer your questions and address your doubts. Who knows, they might even help you describe your feelings to her… Share the quote and write a few lines about how you feel as well. She'll love that you made a special effort to connect the quote to your own emotions:
68) "You and I, it's as though we have been taught to kiss in heaven and sent down to earth together, to see if we know what we were taught." — Boris Pasternak, Doctor Zhivago
69) "I've already wasted my whole life. I want to tell you with my last breath that I have always loved you. I would rather be a ghost, drifting by your side as a condemned soul, than enter heaven without you. Because of your love, I will never be a lonely spirit." — Li Mu Bai (played by Chow Yun Fat), Crouching Tiger, Hidden Dragon
70) "The emotion that can break your heart is sometimes the very one that heals it." — Nicholas Sparks, At First Sight
71) "The simple lack of her is more to me than others' presence." — Edward Thomas
72) "Not even in my weakest moment have I considered letting you go." — Judith McNaught, Whitney, My Love
Related Reading: 51 Romantic Things To Say To Him And He Will Be Yours
73) "If a woman stands behind you, respect her; if she stands beside you, cherish her; if she stands with you, adore her." — Matshona Dhliwayo
74) "If she's amazing, she won't be easy. If she's easy, she won't be amazing. If she's worth it, you won't give up. If you give up, you're not worthy." — Bob Marley
75) "I love you right up to the moon—and back." – Sam McBratney, Guess How Much I Love You
76) "The greatest thing you'll ever learn is just to love, and be loved, in return." — Eden Ahbez, Nature Boy
77) "Once upon a time there was a boy who loved a girl, and her laughter was a question he wanted to spend his whole life answering." — Nicole Krauss, The History of Love
78) "The most precious possession that ever comes to a man in this world is a woman's heart." — Josiah G. Holland
79) "You cannot leave everything to Fate, boy. She's got a lot to do. Sometimes you must give her a hand." — Leonardo da Vinci (played by Patrick Godfrey), Ever After
8. Relationship Quotes For Him
Are you struggling to get your relationship moving? Is he driving you crazy with his lack of commitment? Do you feel like he just isn't into it the way you are? Maybe you're still trying to find your way in the dating maze. Well, here are a few quotes on relationships that will help you, women, out:
80) "If I know what love is, it is because of you." — Hermann Hesse
81) "I'm just a girl, standing in front of a boy, asking him to love her" — Anna Scott (played by Julia Roberts), Notting Hill
82) "For you see, each day I love you more today more than yesterday and less than tomorrow." — Rosemonde Gerard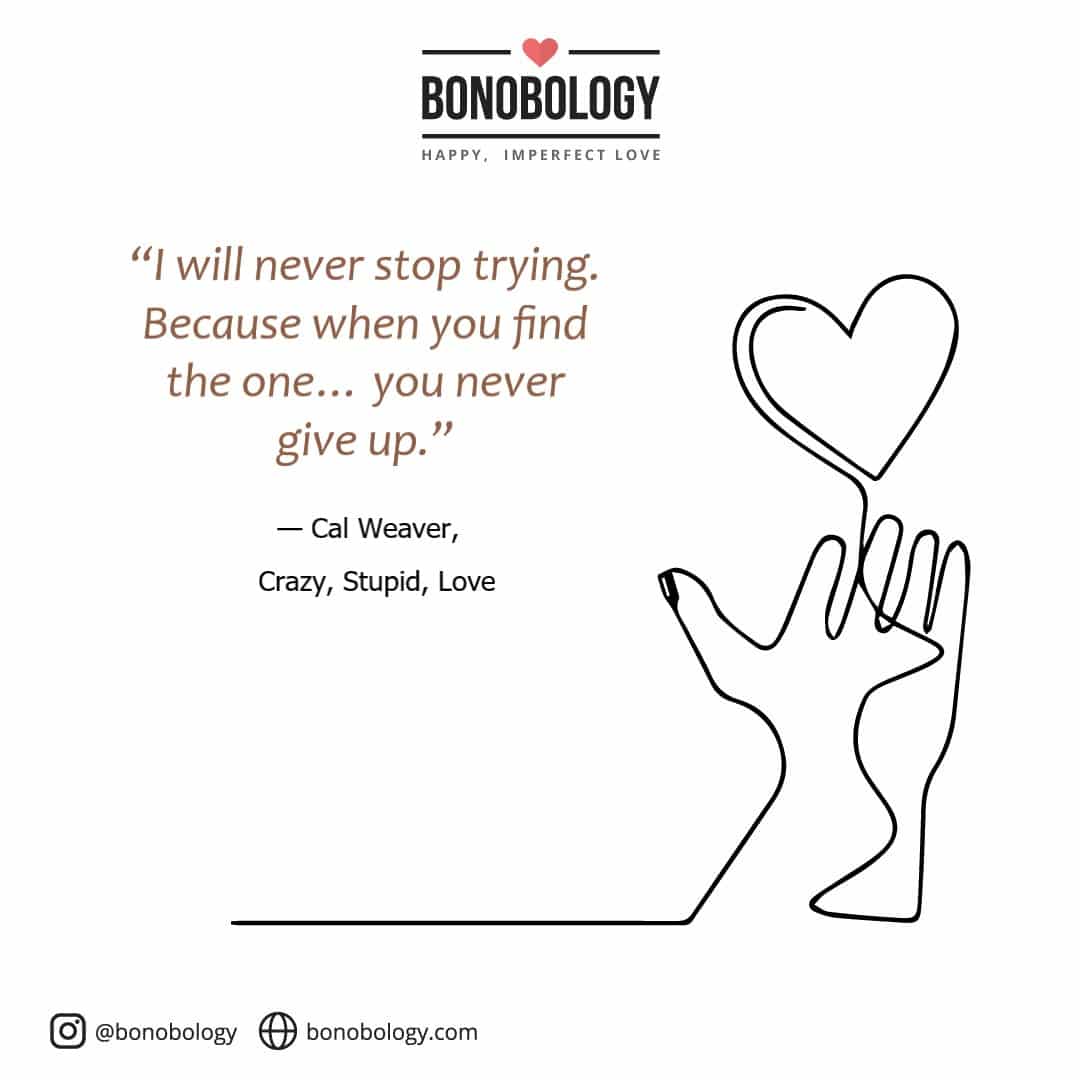 83) "I will never stop trying. Because when you find the one… you never give up." — Cal Weaver (played by Steve Carell), Crazy, Stupid, Love
84) "If you live to be a hundred, I want to live to be a hundred minus one day so I never have to live without you." ― Joan Powers, Pooh's Little Instruction Book
85) "You are the finest, loveliest, tenderest, and most beautiful person I have ever known – and even that is an understatement." ― F. Scott Fitzgerald
86) "It's always better when we're together." —Jack Johnson
Related Reading: How To Ask A Girl Out On A Date – 18 Tips To Make Her Say Yes
87) "It doesn't matter if the guy is perfect or the girl is perfect, as long as they are perfect for each other." — Sean (played by Robin Williams), Good Will Hunting
88) "I went to the school and put it to William, particularly, that if you find someone you love in life, you must hang onto it, and look after it, and if you were lucky enough to find someone who loved you, then you must protect it." ― Diana Princess of Wales             
89) "I came here tonight because when you realize you want to spend the rest of your life with somebody, you want the rest of your life to start as soon as possible." — Harry Burns (played by Billy Crystal), When Harry Met Sally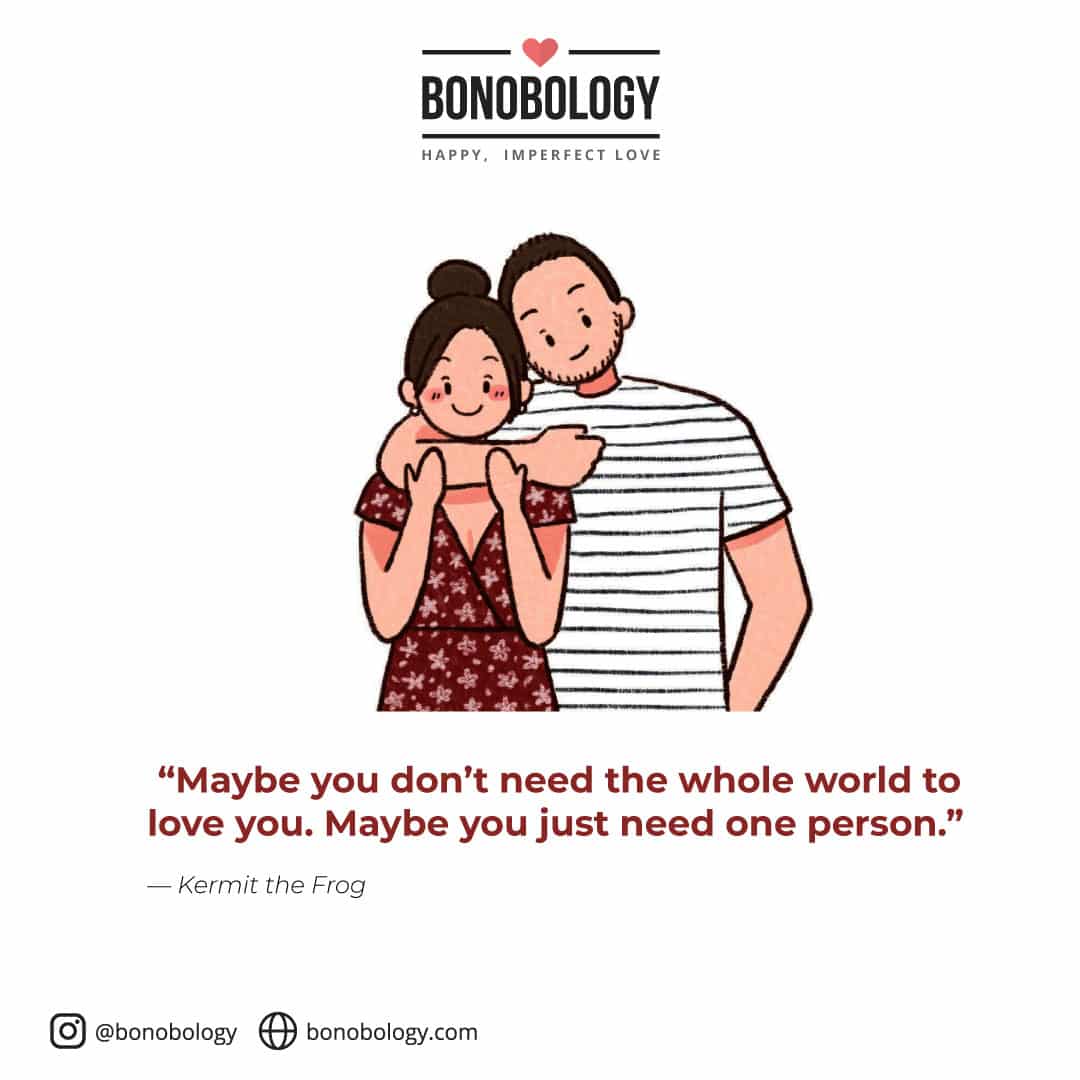 90) "Maybe you don't need the whole world to love you. Maybe you just need one person." — Kermit the Frog
9. Funny Quotes On Relationship
Humor keeps the spark alive in a relationship. No matter how boring or tough life gets, if you can make each other laugh, you'll stay together. So, here are a few quotes on relationships that will make you see the lighter side of your relationship and give you a little chuckle as well:
91) "Remember, we're madly in love, so it's alright to kiss me anytime you feel like it." — Suzanne Collins, The Hunger Games
92) "She is the only evidence of God I have seen with the exception of the mysterious force that removes one sock from the dryer every time I do my laundry." — Kirby Keger (played by Emilio Estevez), St. Elmo's Fire
93) "Yes, I'm drunk. And you're beautiful. And tomorrow morning, I'll be sober but you'll still be beautiful." — Matthew (played by Michael Pitt), The Dreamers
Related Reading: 28 Fun Things To Do With Your Boyfriend At Home
94) "If you love something, and you set it free, and it doesn't come back… you're a dumbass!" — Beavis & Butt-Head
95) "The venn diagram of boys who don't like smart girls and boys you don't wanna date is a circle." ― John Green
96) "Love is totally nonsensical. But we have to keep doing it or else we're lost and love is dead, and humanity should just pack it in. Because love is the best thing we do." — Ted (played by Josh Radnor), How I Met Your Mother
97) "Love is being stupid together." — Paul Valéry
98) "Come live in my heart and pay no rent." — Samuel Love
99) "I love being married. It's so great to find one special person you want to annoy for the rest of your life." — Rita Rudner
100) "Love is sharing your popcorn." — Charles M. Schultz
101) "We're all a little weird. And life is a little weird. And when we find someone whose weirdness is compatible with ours, we join up with them and fall into mutually satisfying weirdness—and call it love—true love." — Robert Fulghum, True Love
So, that's 101 relationship quotes out of which we hope at least a few have rung true for you. Use them well when the situation demands it and All the Best!
12 Creative And Impressive Ways To Tell Your Crush You Like Him Over Text
Relationship Counselling: I Don't Want to Run Away with My Love and Shame My Mother