If Bollywood is all about masala films then you should know that there is no dearth of masala in real-life Bollyood. That's why entertainment journalists covering Bollywood are always super busy. Let us tell you the real-life love triangles in Bollywood are something to write home about.
Many superstars have been involved in courting more than one partner at a time. Some were rumoured, some have admitted publicly, and some affairs turned to dust when the romance fizzled out. But there is no denying the fact that some of these love triangles have been shocking, some have remained a secret and some have been splashed on the newspaper for being the most controversial love triangles of Bollywood. 
Related Reading: 10 Best Bollywood Movies On Extra Marital Affairs
10 Shocking Real-Life Love Triangles In Bollywood
Love triangles in the life of Bollywood stars have created havoc in many relationships. There have been emotional ups and downs, lost roles and careers, mudslinging in public and break up of marriages. Some complicated love triangles in Bollywood have survived the test of time. Here are the 10 most famous-yet-shocking real-life love triangles in Bollywood.
1. Rekha – Amitabh Bachchan – Jaya Bhaduri
This is the most controversial love triangle of Bollywood but it has survived for 50 years and people still talk about it whenever they get a chance.
The romance between Amitabh Bachchan and Rekha allegedly started on the sets of Do Anjaane and ended with Silsila. It would be actually wrong to say it ended because the Rekha-Bachchan romance still fires people's imagination but Silsila was the last film in which they worked together.
Apparently Silsila was made because Yash Chopra wanted to cash in on the real-life love triangle of Bollywood. Although the film tanked at the box office but it remains a cult film because it tried to show the real-life chemistry between Bachchan and Rekha on reel.
When the Rekha-Bachchan alleged affair started he was married to Jaya Bhaduri. There was a massive scandal when Rekha turned up with sindoor and mangalsutra at a wedding, even though she was not married to anyone (not publicly at least). In innumerable magazine interviews Rekha acknowledged her relationship with Bachchan although he alwasy remained tight lipped. But she also said that if Bachchan walked out of his marriage she wouldn't be able to accept that either.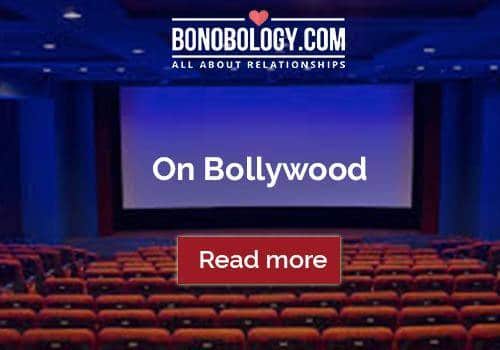 Their love triangle has remained the most controversial in Bollywood till date.
Read more: South Indian Actresses and their extramarital affairs with married men
2.
The two major stars Deepika Padukone and Ranbir Kapoor started their career together and fell for each other. Deepika was madly in love with Ranbir and even got herself an "R" tattoo on her nape.
They were termed as the star duo and were the quintessential star-crossed lovers. But things came to a halt when Ranbir's infidelity with Katrina came to Deepika's knowledge and the couple split. Ranbir admitted to the cheating and then got together with Katrina after the breakup.
Deepika went into depression because of her heartbreak, about which she opened up later. Ranbir started living-in with Katrina. That too didn't last, they also broke up. Now Ranbir is dating Alia Bhatt and Deepika is married to Ranveer Singh. The "R" on her nape has finally found new meaning. This is one of the most complicated real-life love triangles of Bollywood.
3. Sussane Khan – Hrithik Roshan – Kangana Ranaut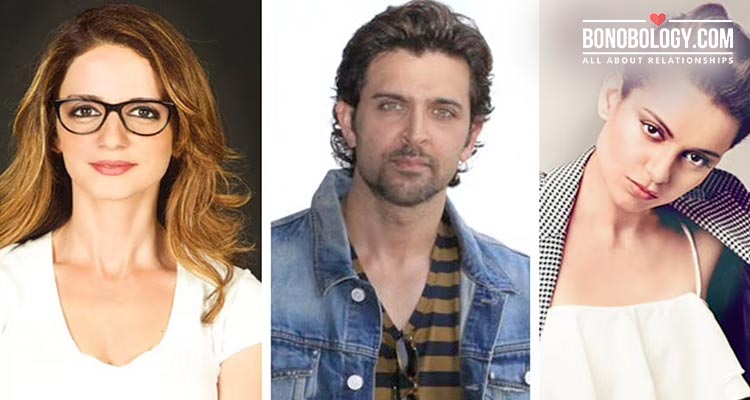 Hrithik and Susanne's marriage went for a ride after Hrithik's alleged affair with Barbara Mori. It was during the shooting of Kites that the rumours started flying. There were several stories of Hrithik's infidelity with his on-screen beauty Barbara, but nothing was confirmed.
The rumours died down eventually and the married sweethearts split in 2014. Whether Hrithik's alleged affair with Barbara was the reason or not we still don't know. There could have been actually another woman responsible for the split.
Kangana Ranaut kicked up a storm when she said she was in a relationship with Hrithik Roshan which took off on the sets of Krrish 3 in 2013.  Hrithik never acknowledged the relationship although the industry was abuzz with rumours about the affair.
Hrithik and Kangana are still fighting a court battle and this  relationship till date remains one of the most controversial real-life love triangles of Bollywood.
Read more: Hrithik Roshan finally opens up on his affair with Kangana Ranaut! Here's how he is justifying
4. Salman Khan – Aishwarya Rai – Vivek Oberoi
The movie Hum Dil De Chuke Sanam kindled romance between the former Miss World Aishwarya Rai and the Bollywood dabaang Salman Khan.
Their on-screen romance in the movie did not have a happy ending, and neither did their off-screen one. It turns out Salman Khan was not only killing animals but also terrorising and abusing Aishwarya on the domestic front. The mental and physical abuse led to a split and Aishwarya found solace in the arms of Vivek Oberoi.
But Salman terrorised Vivek Oberoi too and gave him 30 threat calls in one day. Vivek went on to do a press conference where he told the media what Salman was up to.
The consequence of this press conference was the industry started avoiding Vivek like a leper and Aishwarya too dropped him like a hot potato and went on to marry Abhishek Bachchan.
Vivek publicly apologised to Salman Khan during a stage performance but that did nothing to resurrect his career. If  someone got a raw deal from a real-life love triangle in Bollywood that was Vivek.
5. Saif Ali Khan – Kareena Kapoor – Shahid Kapoor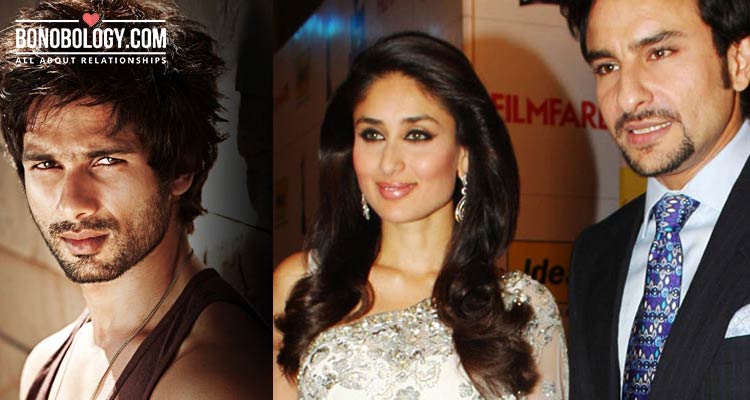 Shahid and Kareena's friendship blossomed into a romance the very first time they met. Things went trippy when the filming of Tashan came along, and Kareena and Saif started spending a lot of time on and off-screen. Shahid and Kareena broke off soon after that.
In fact, when Shahid and Kareena were shooting for Jab We Met, their last film together, they had already broken up. It is rumoured that Kareena was tired of the control freak Shahid and there were constant skirmishes between them. Kareena had changed herself  a lot, including turning into a vegan, to fit into Shahid's scheme of things.
The much older Saif was like a breath of fresh air. He was more mature, had the been- there-done-that  attitude and was progressive and free spirited. Kareena got attracted to him like a moth to the flame.
6. Dino Morea – Bipasha Basu – John Abraham
Dino Morea and Bipasha Basu started dating since Raaz. The romance went on to become a long term relationship. They broke off amicably after dating for five years, and Bipasha started dating her Jism co-star John Abraham.
But because of their amicable split Bipasha always had a good relationship with Dino and when he had an accident Bipasha was the first one to be by his side.
Apparently John never liked Bipasha's friendship with Dino much and they had a number of quarrels over that when they were together.
Eventually they split and Bipasha is married to Karan Singh Grover now.
7. Shahid Kapoor – Priyanka Chopra – Harman Baweja
Harman Baweja and Priyanka Chopra had been an item for quite some time and when the heroine of the film Love Story 2050, dropped out in the last moment Priyanka stepped in to help her boyfriend out.
They were a much-in-love couple then but the film was short-lived, and so was their relationship. They fell out eventually, and Priyanka got together with Shahid Kapoor during their shoot for Kaminey.
Shahid had just broken up with Kareena and Priyanka became his shoulder to lean on. But their romance was brief because intelligent Priyanka must have quickly understood Shahid's need for control and wriggled out of it before it was too late. But rumours go that Harman was dumped for Shahid, that's for sure.
Related Reading: 8 Famous Arranged Marriage Stories
8. Shilpa Shetty – Akshay Kumar – Twinkle Khanna
This is one of the most complicated love triangles of Bollywood. Before Twinkle and Akshay, it was Shilpa Shetty and Akshay Kumar.
Shilpa and Akshay started dating while filming Main Khiladi Tu Anari and Shilpa was head-over-heels in love with the co-star. But as it turns out, Akshay was double-timing Shilpa with his friend Twinkle Khanna. When the news surfaced, Shilpa walked out, and the romance was terminated. Akshay married Twinkle soon after.
The rest is history now.
Related Reading: Akshay Kumar Talks About A Perfect Marriage
9. Salman Khan – Katrina Kaif – Ranbir Kapoor
Salman Khan co-starred with Katrina Kaif in the movie Maine Pyar Kyun Kiya. It was Katrina's first, hot, box office movie and Salman Khan and Katrina were the talk of the town by then. In fact, Katrina was taken under Salman's wings and he did everything to protect her in Bollywood and help her get roles and a footing.
The sexy romance, however, saw its doom when Katrina started shooting Ajab Prem Ki Gazab Kahaani with the Casanova of Bollywood – Ranbir Kapoor. While Ranbir was still in a relationship with Deepika and Katrina with Salman, the two got closer. Ranbir split up with Deepika and Salman split up with Katrina shortly.
Ranbir and Katrina started dating soon after.
10. Abhishek Bachchan – Karisma Kapoor – Sunjay Kapur
What led to a split up between Abhishek Bachchan and Karisma Kapoor was under speculation when the two called off their engagement. Apparently there were issues between the respective parents about marriage arrangements and that incited an argument between the two lovers that led to the split.
Within months of breaking the engagement Karisma Kapoor got married to childhood friend Sanjay Kapur. They became parents to a boy and a girl but the marriage ended in a divorce.
The real-life love affairs of the Bollywood stars are interesting and the love triangles complicated and controversial. You must have realised that by now.