Who said Bollywood was all about romance and affairs in reel life?
Many superstars have involved in courting more than one partner at a time. Some were rumoured, some were admitted publicly, and some turned to dust when the romance fizzled.
Love triangles in the life of Bollywood stars have created havoc in many relationships. It becomes hard for the truth to be contained, even when it involves the best of best in Bollywood. People are bound to indulge in gossip as human nature would have it. Here are the most famous love triangles in Bollywood.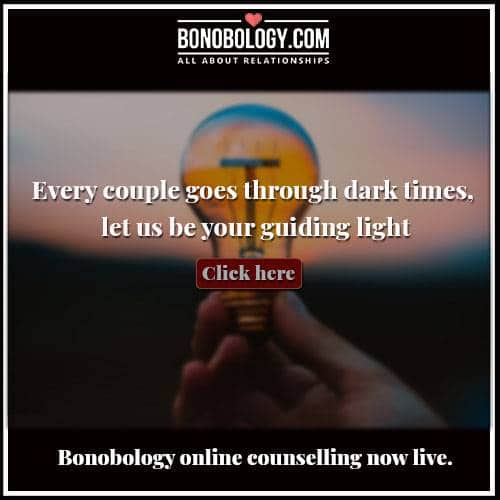 1. Rekha – Amitabh Bachchan – Jaya Bhaduri
The romance between Bachchan and Rekha allegedly started on the sets of Do Anjaane and ended with Silsila. Back when the love kick-started, Bachchan was married to Jaya Bhaduri. There was a massive scandal when Rekha turned up with sindoor and mangalsutra at a wedding, even though she was not married to anyone (not publicly at least). However, Rekha and Bachchan broke up when they realised they had no future and Bachchan chose to stay with Jaya.
Read more: Questions to ask yourself when you're falling for a married man
2. Deepika Padukone – Ranbir Kapoor – Katrina Kaif
A much recent event, this one caused an outburst between the parties involved. The show Koffee with Karan does bring out the best in people. The two now major stars Deepika and Ranbir started their career together and got together. They were termed as the star duo. Things came to a halt when Ranbir's infidelity with Katrina came to Deepika's knowledge and the couple split. Ranbir admitted to the cheating bit and then got together with Katrina after the breakup.
3. Sussane Khan – Hrithik Roshan – Barbara Mori
Hrithik and Susanne's marriage went for a ride after Hrithik's alleged affair with Barbara Mori. It was during the shooting of Kites that the rumours started flying. There were several stories of Hrithik's infidelity with his onscreen beauty Barbara, but nothing was confirmed. The rumours died down eventually and the married sweethearts split in 2014.
Read more: "We're in lust, not love," she said
4. Salman Khan – Aishwarya Rai – Vivek Oberoi
The movie Hum Dil De Chuke Sanam kindled romance between the former Miss World Aishwarya Rai and the Bollywood dabaang Salman Khan. Their onscreen romance in the movie did not have a happy ending, and neither did their off-screen one. It turns out Salman Khan was not only killing animals but also terrorising and abusing Aishwarya on the domestic front. The mental and physical abuse led to a split and Aishwarya found solace in the arms of Vivek Oberoi.
5. Saif Ali Khan – Kareena Kapoor – Shahid Kapoor
Shahid and Kareena's friendship blossomed into a romance the very first time they met. Things went trippy when the filming of Tashan came along, and Kareena and Saif started spending a lot of time on and off-screen. Shahid and Kareena broke off soon after that.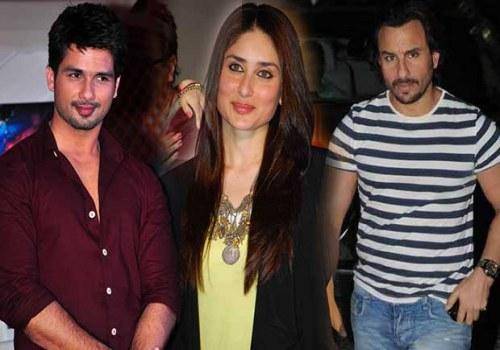 6. Dino Morea – Bipasha Basu – John Abraham
Dino and Bipasha started dating since Raaz. The romance went on to become a long term relationship. They broke off amicably after dating for five years, and Bipasha started dating her Jism co-star John Abraham.
7. Shahid Kapoor – Priyanka Chopra – Harman Baweja
Harman and Priyanka came together to film Love story 2050. The film was short-lived, and so was their relationship. They fell out eventually, and Priyanka got together with Shahid Kapoor during their shoot for Kaminey.
8. Shilpa Shetty – Akshay Kumar – Twinkle Khanna
Before Twinkle and Akshay, it was Shilpa and Akshay. Shilpa and Akshay started dating while filming Main Khiladi Tu Anari and Shilpa was head over heels in love with the co-star. But as it turns out, Akshay was double-timing Shilpa with his friend Twinkle Khanna. When the news surfaced, Shilpa walked out, and the romance was terminated. Akshaya married Twinkle soon after.
9. Salman Khan – Katrina Kaif – Ranbir Kapoor
Salman Khan co-starred with Katrina in the movie Maine Pyar Kyun Kiya. It was Katrina's first, hot, box office movie and Salman Khan and Katrina were the talk of the town by then. The sexy romance, however, saw its doom when Katrina started shooting Ajab Prem Ki Gazab Kahaani with the Casanova of Bollywood – Ranbir Kapoor. While Ranbir was still in a relationship with Deepika and Katrina with Salman, the two got closer. Ranbir split up with Deepika and Salman split up with Katrina shortly. Ranbir and Katrina started dating soon after.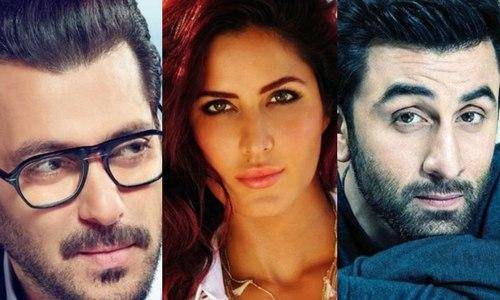 10. Abhishek Bachchan – Karisma Kapoor – Sunjay Kapur
What led to a split up between Abhishek and Karisma was under speculation when the two called off their engagement.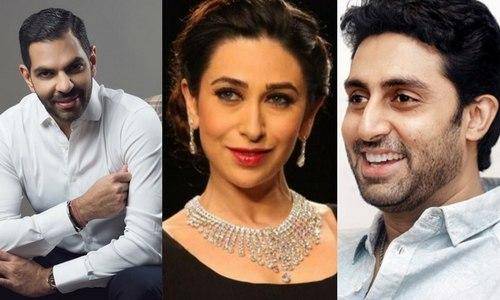 The split was followed by Karisma's marriage to Sanjay Kapur soon after.