Peering into the laptop screen, I scrutinised the presentation for mistakes. One last look and I would be ready for a break. Wish I could play hooky after the intense work on the presentation. Just as I pressed the send button, the desk phone rang, announcing a visitor. I wondered who that would be. I stepped out of my office and into the reception to find the husband languishing on the sofa. Well, he had no business being there, I thought to myself and spelled it out even.
"I came to see you because I was missing you," he said, not convincing me in the least bit. "Spill," I waited.
Turns out, that he had come for a meeting nearby and on an impulse (well, that would be a first) he came round to my office. I looked around wondering what people would think. How would I explain that my husband had dropped in to see me for no reason? Obviously, we could not settle down in the reception to talk, comfortable though it was. My ex-boss used to often say, if you are on the sofa in the office reception, you are either a visitor or have been sacked.
Not in the least bit interested in giving that impression, I asked the husband to wait. I went back to my desk, pulled out a sheaf of important looking papers and stepped out of the office into the waiting car so that it looked like we were on personal official work. We drove out of the office premises, parked on the road and gobbled the cakes the husband had bought. It was not much as dates go, but it rejuvenated me and I felt recharged as I got back to office and continued to work on the rest of my tasks.
Related reading:  Scheduled intimacy can be just as fulfilling
How can a working couple connect on a regular basis?
Pop in to each other's office and share lunch or grab a coffee. It works for me every time I drive home after a meeting. It does not take long; we ensure it is quick and express and we do not linger, because both of us have jobs to do. Sometimes we take a quick shopping break, which gives us the much-needed adrenalin during an otherwise boring workweek.
Sometimes we take a quick shopping break, which gives us the much-needed adrenalin during an otherwise boring workweek.
Our favourite kind of shopping during such occasions is the 'project shopping'. The kind when we shop with a particular common project in mind, like the home-makeover. Else we find it hard to be together in malls, as our interests are poles apart. On most shopping days, we split, complete our individual shopping and meet when it is time to go. However, for project shopping, we stick to each other like newlyweds.
Related reading: The secret of how retail therapy helps couples stay in love
We have made a pact to have our birthday and anniversary lunches sans kids and make it up to them during dinner so the children, those devious devils, do not have a chance to guilt-trip us. The matter is resolved now, as the children are old enough to dismiss us unceremoniously when we beg them to join us for a spot of shopping. Quite a contrast to the earlier days when they insisted they join us for our 'hospital and injection' outings.
Some friends I know schedule lunches during workdays to ensure they have a guilt-free break. Others, who work from home-offices, take their hobby activity or a book and work from the same room, just to be with each other, doing their own tasks.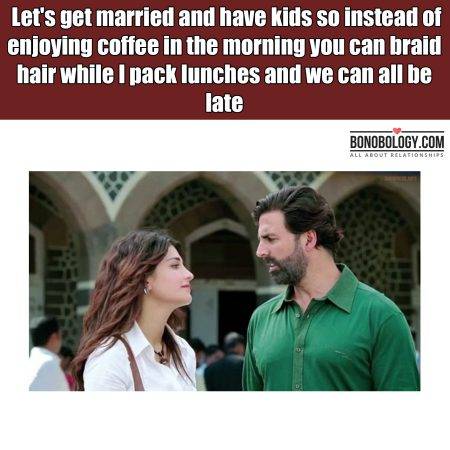 Find a meeting point
A couple whom I know coordinates their travels just to be in the same city. On one occasion, the husband and I flew to Paris on work from the opposite ends of the world, and got a chance to eat dinner near the Eiffel Tower and share the hotel room for just one night. It felt exciting and forbidden, like an illicit relationship when we sneaked back to the hotel late into the night and registered an extra guest in the room. We had a chance to be together in a different city after a long time.
The clichéd bonding between families and spouses happens at the dinner table. Or that one meal that the family has together. However, our bonding nowadays happens at the study table. When all four of us sit at the same table, studying hard for the children's exams and competing with each other on who finishes the portions first. So, why should we not term these moments as bonding moments? We have a common goal, we are charged with adrenalin, all pumped up, and we are completely into each other, tracking progress and helping each other when stuck on a concept. That's a definite bonding moment from my perspective.
https://www.bonobology.com/5-cute-ways-couple-can-strengthen-relationship/
The incredible benefits of gifting each other time and making marriage work