Has Bollywood ever tackled a love story between a transgender and a man? Never! Netflix Series Sacred Games has done that and that too with a rare finesse and intensity that it has appealed greatly to the viewer's imagination.
And to think of it the character of the transgender gangster moll was added to the script and was not there in the original novel written by Vikram Chandra in 2006.
Now as we wait with bated breath for Sacred Games Season 2 releasing on August 15, 2019 we will definitely miss the beautiful, intelligent and sensitive transgender personality Kukoo (played by Kubbra Sait) who falls madly in love with rising gangster Ganesh Gaitonde or GG (Nawazuddin Siddiqui).
Kukoo was established gangster Isa's moll but she leaves him to be with GG spurring a rivalry between the two gangs costing many lives. Kukoo is GG's inspiration and good luck charm. The love story ends with Kukoo killing herself when she realizes that she cannot fulfill GG's dream of having a family (being a transgender).
But this passionate and poignant love story gives us love lessons that we cannot forget.
We bring you 5 love lessons from Sacred Games, Season 1
1. Love is not bound by gender
When GG falls in love with Kukoo it is not her body but her ability to push him to do greater things that matters to him. After falling in love with her, he accepts her reality of being a transgender, and is ready to take his relationship to the next level. Love is blind after all. The series opens our mind to love that transcends all social barriers.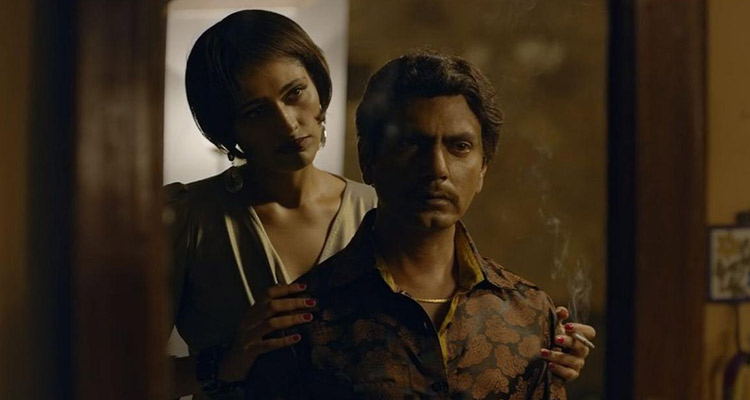 2. Love is selfless
Kukoo's love for GG creates the gang rivalry. She realizes that GG is ready to accept her after knowing the truth about her but also that his life would be in constant danger as long as she is around him. She wanted to give him a better life and she felt that was possible only if she was not around. So she went down the path of self destruction.
3. Money and power do not guarantee true love
Kukoo is earlier the moll of a Muslim gangster Isa but is soon won over by a small-time gangster GG. Isa is a much bigger fish in the underworld with a thriving illegal business in guns and drugs but it is GG's pure valor that wins her heart. GG treats Kukoo as his equal, takes her advice and even considers her his lucky charm.
4. Love can make you or break you
GG's business was faring well till he lets his heart make all the decisions. From there everything starts going downhill.
5. Love makes you feel invincible but you are not
GG and Kukoo fall in love. She becomes his lucky charm and inspiration. She pushes him to take risks and rise up. But in his over confidence and efforts to turn from a mafia don to a white collar gangster he launches his soft drink plant which fails. Love does make the world go around but bad decision kind of takes the air out of the wheels.
Sacred Games Season 2 introduces new characters of Guruji played by Pankaj Tripathi. Versatile actor Kalki Koechlin and Ranvir Shorey are also in the latest season. What love lessons are we going to learn now?