In the 20-year-old black buck poaching case, Salman Khan is convicted and sentenced to five years prison by a Jodhpur court. His bail hearing is yet to come. Right now he is a prisoner in Jodhpur Central Jail. He will, of course, appeal and in no time be out on bail. Still, for a superstar like him, spending a few nights in prison is a big thing and it throws some positive light on the Indian justice system. One would expect that the common Indian people, always critical of the system, would be elated. However, since yesterday there is a feeling as if the nation is mourning. People including the film fraternity are showing their anger and sadness at the development. The whole nation's sympathy is with him.
This is not the first time the masses have supported their hero against rationality. He was the God with cult status even if he physically abused his partner or mowed down people. What is the reason for this apparent paradox?
How Salman is simultaneously the monster and the god
Salman Khan is a 52-year-old superstar and self-proclaimed virgin. From the day he began his career in 1988 he has been in the news for right and wrong reasons. Today he is in the news for his conviction and prison sentence for poaching black bucks by the Jodhpur court.
Things we hate Salman Khan for
1. His first girlfriend was Sangita Bijlani. He cheated on her. Cheating on girlfriends since that time was a regular thing with him.
2. His second girlfriend was Somi Ali, who left him because of his abusing and controlling ways. Abusing his partner is also a regular thing with him. It is public knowledge how during the filming of Devdas he followed his then-girlfriend Aishwarya Rai with the other actors of the film and publicly assaulted her. The lead actor of Devdas, Shahrukh Khan, was so shocked that he had stopped working with Aishwarya.
3. Aishwarya too left him and started seeing Vivek Oberoi. Salman not only harassed Vivek but took special care to end the young actor's career. After a tremendous start, Vivek became nobody in Bollywood.
4. Vivek is not the only one to suffer because of Salman's ire. There are many others, such as Renuka Shahane, Arijit Singh, Akash Deep Saigal, whose careers Salman has tried to end using his influence.
5. The worst controversy in his name was when in 2002 he allegedly mowed down a man on a Mumbai pavement. That case went on for a long time. But finally he was acquitted due to lack of evidence. Some people still believe him to be guilty in spite of the court's decision. The Maharashtra government has challenged the acquittal in the Supreme Court, but for that case the hearing has not yet started.
6. In 1998, while filming in Jodhpur, he and his co-actors went hunting for black bucks, breaking the wild life laws. On 5th April 2018, he was convicted in this 20-year-old case and sentenced to 5 years of prison. Right now he is in prison and awaiting bail.
Things we love Salman Khan for
In spite of these misdeeds, he enjoys a cult status among his followers. Surprisingly, their belief in their Bhaijaan is never shaken, no matter what. The reason being Salman himself, some aspects of his life and some of his gestures that always touch the heart. He even can disarm someone from the enemy camp (namely, Karan Johar) with his behaviour. Let's look at some of the positive aspects of his life.
1. He still lives with his parents. He respects them a lot. Any woman in his life has to be close to his parents too. Indian people are suckers for such Sanskari worshippers of parents.
2. He crossed all limits of Sanskari-ness by declaring on Koffee With Karan he is a virgin.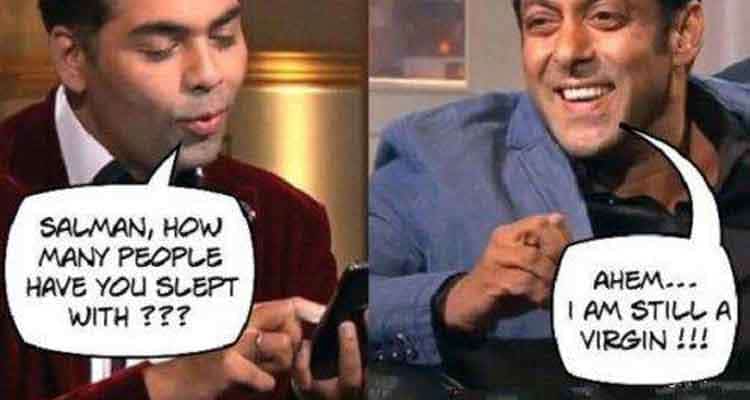 3. It is an open secret that his whole family, including his siblings and spouses of siblings, are dependent on him for money and jobs. He has been supporting them without ever complaining. From partying to vacationing, he does everything with them.
4. The commitment towards his family is always his first priority. He makes films for them. He can be spotted in various events with his family members.
5. His friends in Bollywood swear by his friendship. Salman Khan has created a loyal set of friends in the industry where new names are being added every day because of his attitude. He surprises his friends regularly with regular gifts and grand gestures. He will always stand by his friends, no matter what.
6. He popularised the whole concept of body building and male body appreciation in Bollywood.
Being Human is his thing
7. He is a painter who sells his paintings for charity.
8. His interest in charity led to starting of the "Being Human" NGO. He has been helping the underprivileged through this NGO.
9. He has mentored many newcomers, both men, and women. He has given the opportunity for these people, who have no connection with any filmi family, to enter Bollywood. This has made him a messiah among the struggling actors in Bollywood.
10. His films have a mass appeal. He does not cater to the ultra-rich NRI kind of populace. The general public from small towns identifies with his characters.
He should be out on bail in a few days and then will appeal against the decision. People are praying for him; not only supporters but also all those people who have invested money on him. He has crossed 50 and mellowed down a lot. As you can see, most of the controversies are at least a decade old. But the past is coming back again and again to haunt him.
Let's see whether the past will finally leave him alone or take him down.
What is it about Salman that keeps bringing Katrina back every time?