Sanjay Dutt was the original bad boy of Bollywood – before Salman Khan there was Sanjay Dutt. His staunch fans were mostly men who loved and imitated the way Sanjay projected his alpha personality. He was the template of masculinity in the late 1980s and early 1990s. The only star in the Hindi film industry who became synonymous with drugs, guns, girlfriends, leather jackets, muscles, long hair, drinking, smoking, partying. He was unabashedly evil, and he certainly didn't care what you thought of him.
While writing about his life and times in my book Sanjay Dutt: The Crazy Untold Story of Bollywood's Bad Boy, I came across numerous unheard anecdotes and forgotten episodes from his life that contributed to who he eventually became. Many instances took me by surprise. I'll talk about a few.
Sanjay Dutt and lesser-known facts about his relationships
1. Even after her death, Nargis saved her son
Sanjay was closest to his mother, Nargis Dutt. Nargis died on May 3, 1981, of cancer just before the release of Sanjay's debut film Rocky. Sanjay was slowly into drugs when she passed away. He could never come to terms with the tragedy and did not cry at all when she died.
Later, Sanjay was at a drug rehab centre in the US. His father, Sunil Dutt, went to meet him. Sunil realized that Sanjay is still taking drugs at rehab. He was appalled and dejected. Sunil knew it would be the end of his son. He left the place, leaving some tapes of Nargis talking during her final days to help him in his rehab.
His mother's voice was weak, broken, and she was in immense pain. But Nargis still spoke of her dreams for her beloved son and gave him some gentle advice: "More than anything, Sanju, keep your humility. Keep your character. Never show off. Always be humble and always respect the elders. That is the thing that is going to take you far. And that is going to give you strength in your work."
Sanjay heard his mother's voice and realised how much she loved him and cared about him. "I burst out crying and I cried and cried. I cried continuously for four days. . . I think till then I hadn't grieved for her when she passed away. So her voice and those tapes changed everything in my life," said Sanjay Dutt.
2. The Shootout after a breakup
One evening in 1982, Sanju Baba goes on exactly such a shooting spree after breaking up with Tina Munim, now Ambani. He shatters a few windows of his mansion in a posh Mumbai neighbourhood and also the windscreen of his imported car. The neighbours, alarmed by the loud gunshots, call the police. But before the police can arrest the actor, he runs off, only to resurface and surrender the next day. His weapon's license is confiscated and his passport impounded.
A film magazine reported how 'Sanju went berserk when papa was away.' But instead of expressing regret, Sanjay Dutt showed he was the real bad boy of Bollywood. This was his badass quip: "How does it affect anyone if I target practice in the premises of my bungalow?" The film star was arrested and then let out on a bail.
3. His relationship with drugs and addictions
Can you recall any celeb in India who's been forthcoming and honest about his drug addiction? I am sure there is no one. This is one quality that makes Sanjay Dutt a scarce bird in Bollywood. His unwavering honesty and forthrightness about things he has done. "Whatever drugs are there in the book, I've done it. But I preferred cocaine and heroin. You sniff cocaine, you smoke heroin, you can inject it."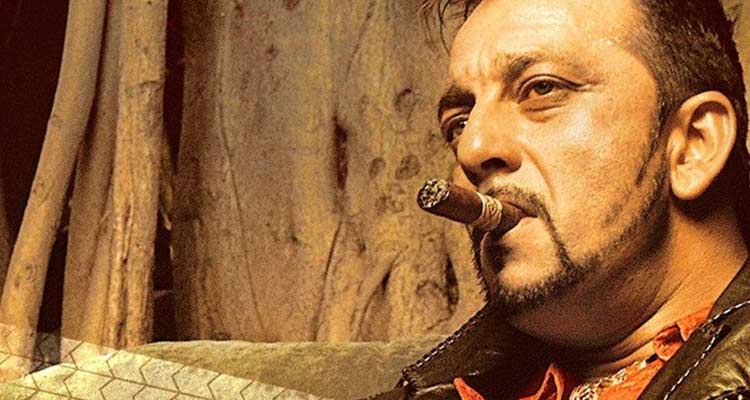 Indeed, his doctors at rehab in the US were surprised that Sanjay was still alive given the extent of his addictions. Sanjay said: "There was a doctor there who gave me a list of drugs and told me, 'Just tick the ones you have done.' Toh maine woh list dekha aur bola [I saw the list and said], Yaar, yeh toh sab tick karna padega! [I'm going to have to tick them all]."
4. Possessive, interfering, an emotional abuser and proud of it!
A film like Kabir Singh becomes a blockbuster and everyone is surprised about the justification of the lead character's toxic masculinity. Before Kabir Singh, there was a real Sanjay Dutt, the real bad boy of Bollywood. Millions of fans adored him, yet one look at his personal life and there is perhaps nothing to love. Sanjay made no bones about the fact that he was a possessive, interfering partner.
He once said, "I have never interfered in my girlfriend's career, except in the matter of her clothes. I am very possessive about her. She is mine and I don't like her to expose herself on screen."
About his new wife Richa Sharma, whom he disallowed from continuing a career in films, he once said, "She's waiting for me with food, so I love that. It's a great feeling to know that someone is waiting for you at home."
Many years later, when Sanjay was asked if he was ever in two relationships at the same time, he responded provocatively, "I was in three relationships at one point of time." When asked, how did he manage this feat, he said, "You need to be clever… one shouldn't know what is happening with the other."
Which another Bollywood star can you imagine talking things like this? Whatever else you may blame Sanjay for, he's never been politically correct or hidden his true beliefs under layers of diplomacy.
5. Affair with Madhuri Dixit and reaction of his wife Richa Sharma Dutt
In the early 1990s, there were constant rumours of a Sanjay-Madhuri affair. Despite both of them denying the relationship, there were cover stories laden with innuendos about them. The media had even been suggesting that Sanjay was planning to divorce his wife, Richa, who's fighting cancer in New York.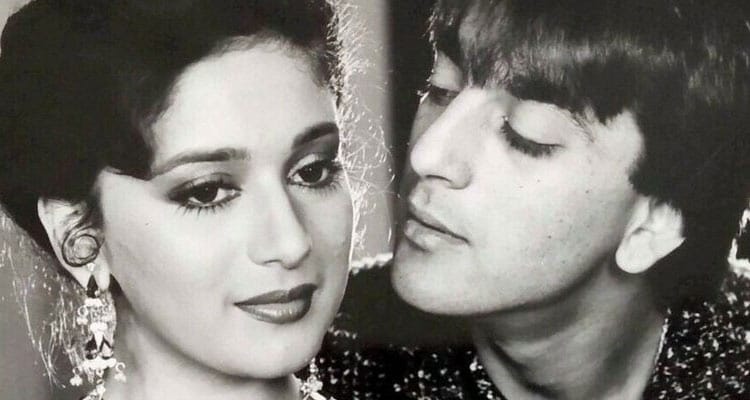 Madhuri Dixit once told an interviewer, "My favourite partner is Sanjay Dutt, he's a real joker…and his stories make me laugh all the time, but he is also a gentleman." But Madhuri didn't say much more than this to the press.
It was reported that Sanjay and Madhuri had grown close during the Mysore schedule of Sahibaan (1993). According to Sahibaan's director Ramesh Talwar, "He [Sanjay] was always following Madhuri around and whispering 'I love you', totally ignoring the fact that there were others around and listening."
The rumours reached Richa in New York. Richa wasn't quiet either. She put up a brave face and acknowledged the discord in an interview. "We've been apart for so long, we're not totally in tune with each other. But it is nothing serious; we can overcome it." Though Richa seemed to want to work things out, Sanjay filed for divorce in early 1993. Richa was furious.
"Where did I go wrong? I just fail to understand what he wants in life. A pretty chick who's skinny? I believe that's the reason why he fell for Madhuri…Sanju made a great boyfriend. As a husband, it was a different story." A bitter custody battle for Trishala ensued, and there was much unpleasantness between the families. But worse was to follow – by mid-1993, Richa's cancer was back. The press crucified sanjay for his 'humiliation' of Richa.
Sanjay and Madhuri were serious about their relationship. However, he soon got embroiled in the 1993 Mumbai Serial Blasts conspiracy. According to reports, Madhuri stopped responding to his calls and the link was over once Sanjay was arrested.
6. Never in a relationship with PR
Bollywood stars of today, just care too much about their image and what others think. That's the reason there cannot be another straight shooter like Sanjay in the image-obsessed film industry. In my opinion, he'll remain our last and 'worst' bad boy.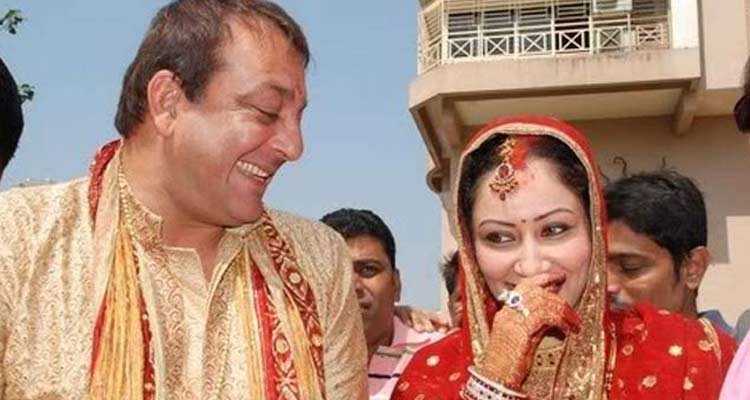 He doesn't care what you think of him. After Sanjay and Manyata got married in 2008 in a ceremony that Sanjay's sisters did not attend, everyone expected him to — in typical PR speak — say after the wedding that he would take Manyata straight away to meet his sisters or something along those lines. Instead, when asked by the media, "Aage ki kya planning hai?" a beaming Sanjay replied, "Family planning ki to nahin hai."
In my book, I set out to try to explain what makes a bad boy bad. I explored his childhood for clues. But in the end, I realized that you can't solve a bad boy. There is no logic here. They just are. There is no secret. He is the way he is.
The opinions expressed in this article are the authors.
https://www.bonobology.com/how-to-be-single-and-why/