Seducing a man through text messaging
Once in your life, you meet this man and the inner Eros awakens within you. He is so damn attractive that you badly want to make him want you. And guess what, you actually can. Enter the modern dating marvel – text messages. Yes, you can seduce your man with some hot, playful and steamy text messages and watch him getting hooked to you. Seducing your boyfriend will not just make your night hot, but will also strengthen your relationship further.
"It's always words that undress you." – Shahir Zag
Some women can take to the art of seduction easily and can make a man want to tear clothes with just a few rolls of eyes. For some, it may not be that easy. You may feel insecure and shy, and also feel self-conscious at the same time. If you have been in a relationship, it may be even harder since you both get so used to each other that those 'I want you right now' moments seem less and lesser. However, having a great sex life with your boyfriend or husband would add zing to your life, and we are here to help you take some control of your sex life, and make your man want you bad. Simply, by seducing on the phone, without even talking!
Seducing a man over a long distance is possible.
How To Seduce A Man With Text Messages Without Sending 'Sexts'?
You decide to make things spicy and hot. But you want to pull some strings and show him that you are really into him. You may have even Googled some of the ideas. You have picked up your cell phone to type a seductive text message when a buzz of questions hit you-
What if he thinks of me as horny and slutty?
What if he isn't into that kind of texting?
What if he isn't into texting at all?
Worse, what if he shows my texts to his friends?
You are deliberating upon these questions because you have your reputation at stake and no one likes making a fool of themselves. Plus, you are worried if he thinks that you are being raunchy and desperate. We hear from you! You need to know how to seduce a man with your words.
Related Reading: 18 Tips To Seduce Your Boyfriend And Drive Him Crazy
In such situations, it is always better to make sure your man is receptive to digital flirting – and let us tell you, they are. According to Barbara Greenberg PhD, a clinical psychologist who specialises in family and relationship issues, "More than likely, your crush is into you if they carry on the conversation and respond without too much of a lag time." That will pretty much be your hint!
The next best thing to do would be to choose a delicate balance of words that play on 'flirty' and 'sexy' rather than 'dirty' and 'kinky'. In this way, your seductive text messages serve two purposes – first, you save each other from an awkward and embarrassing situation and more importantly, you put him in a seductive mood that turns him on (even when he isn't someone into that kind of texting).
Ladies, here is a collection of 20 hottest text messages to seduce a man and get his instant attention. And they aren't nude photos – who knows, he may not even be ready for boobs flashing on his mobile screen. So play flirty, not dirty.
20 Hottest Examples Of Texts To Seduce A Man And Turn Him On
"It's always words that undress you." – Shahir Zag
Before you dismiss the idea of seducing someone without flashing yourself in nude selfies as 'impossible', let us assure you that making your man form images in his mind by reading your carefully crafted words is seductive beyond words.
The anticipation that follows, the excitement that builds up and the intimacy you end up sharing is much more pronounced when you woo your man with a creative alternative other than sexts and nude pics.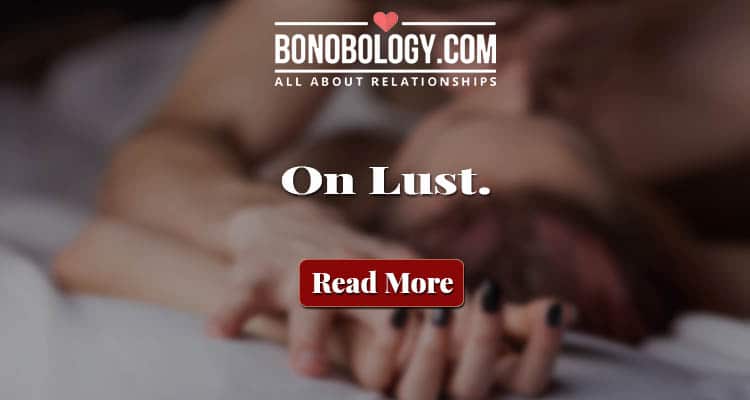 Romance experts say that hot text messages are like foreplay. They help you in warming up by putting you in a seductive and sexy mood for future action. They are usually flirty and playful and help in building healthy sexual tension. And, no, they do not threaten your classy reputation. Here is how to seduce with text messages, without sounding desperate.
Let him know that you're thinking about him: If you want your man to be turned on and think about you, it's natural if he wants to know you are turned on and thinking about him too. So let him know that. If you have had amazing dates (or nights) before, you can text: "Hey, I can't stop thinking about you." Or "Last night was amazing, I have been thinking about it."
Never say the direct words: The very art of seduction states that you never say directly, "I want to make out." You can always try putting that sexy idea in his mind. Let him think about you naked instead – "God, what a tiring day. I couldn't wait to get off my clothes and into my blanket. With you by my side, of course!"
Play a little game: You must have played the Truth or Dare game in high school. Bring it back into your bedroom. Ask him, "Suppose we were alone in a bedroom, what do you think we should do?" or "What do you want us to do after the date tonight?" It will keep his mind racing. How about a never have I ever game? 
Ask his opinion: Take a naughtier step up and ask, "I was thinking to buy some new lingerie. Will lace or satin look good on my skin?" You could even look up some good options online and share screenshots or product links with him to stimulate his imagination even more. He will have a tough time coming out from the with-lingerie and without-lingerie you in his mind
Tease him with a photo: Once he gives his input about which lingerie will look good on you, try pulling it out from your closet. Set up a sexy backdrop with some candles, wine, a bed sheet waiting to be messed up with and the lingerie he suggested. But avoid sending nude photos – they are not seductive but can be devastating. Text him, "Can't wait to try them on." This will give him a visual treat. Chances are there he would rush to you immediately
Bring in the desserts: Foodstuff like chocolate syrup, whipped cream or berries are major sex metaphors. Click a picture of these food items and ask, "Where will you put these?" Well, the next time he gets a chance he will show you where he wants to put it.
Role-play his fantasy woman: Everyman secretly fantasises about his female sex model. Ask him and about his fantasy woman and text, "I was wondering how you would feel if I dressed up as…" Or better still, seduce him with the right mix of actions and words. Don't know what that means? Well, just order a costume that you think would get his juices flowing. Send him a flirty, teasy text and follow it up with a picture of yourself wearing the costume. We bet it will turn him on six ways from Sunday
Show off your flexibility: If you wish to grab his attention then try turning it towards your body. Tell him, "You know the yoga and aerobic sessions are paying off, want to see me at my flexible best?" He is surely going to think about you in all those positions. Target arousal: achieved
Send him a gift card: If you have been text messaging each other for a while now and you have his full attention, type "This text message is a gift card. You can use it whenever you wish to and do whatever you with." You can add the validity period depending on how quickly you wish to see him
Be honest: Sometimes it's good to keep it straight and watch him go weak down there for you. Simply drop in a seductive text, "Just so you know, I am not wearing any underwear right now."
Make him want you, badly: Sending him a seductive text right in the heat of the moment turns a man on like anything. Text him, "I am typing with one hand because my other hand is busy. " He gets the message. He is on your mind right now. He can feel it in his pants.  You are seducing him with your words
Walk him through your dreams: "Hey, I had a sexy dream yesterday night. You were in it." Text this and watch him pester you for the saucy details
Related Reading: The 12 Rules Of Having A Sex Chat For The First Time
Act it together: If you both watched a movie together, with some particularly sexy scenes, then text him "You remember that scene from the movie… how about we try to act it out someday?" As a bonus, you can always ask him to think of some 'awards' after your performance
Tell him about your date locations: "You know maybe we should just go on a long drive tonight, what do you say?" If he is missing you too, then you guys are going to have a great ride
Go emoji: When you want him to miss you but are running short of words send some obvious emoticons like 'wink', 'eggplant' or 'lips'. But be careful, according to dating guru, Debra Goldstein, "Emoticons are okay to use sparingly. We've known many who said the overuse of emoticons is a deal-breaker."
Get him worked up: "I know you love working out in the gym. Try saving some energy for later?" This is so much hotter and sexier. He will smile throughout his gym session. And, did we tell you that sex burns calories? Do you know working out together also boosts your sex life? 
Use that compliment: "I love that tie you're wearing. Want to use it someday?" Things just got steamy. He may become sexually obsessed with you!
Pun it: "I'll show you mine if you show me yours." Whoa. You might be aiming at each other's new cell phones or latest travel photographs or surprise gifts, but you both know that the pun has hit its target
The shower text: It's like the good old trick that always does its work. Send him, "Just came back after a long day, going to hit the shower." Things are going to get dirty in his mind. And your's too
Make use of the weather: If it's cold, "Hey, it's so cold outside. I wish you could warm me up." If it's hot, "It's so hot. Want to take a dip in the pool?" Weather can be played in so many ways!
Fifty shades of grey: Use these lines from fifty shades of grey and make him go crazy. Why just stop at borrowing lines from this masterpiece of a series on the art of lovemaking! Describe your favorite scene from the movie to him, find the sex toys used in those scenes online and share them with him, casually asking what he thinks about using them someday.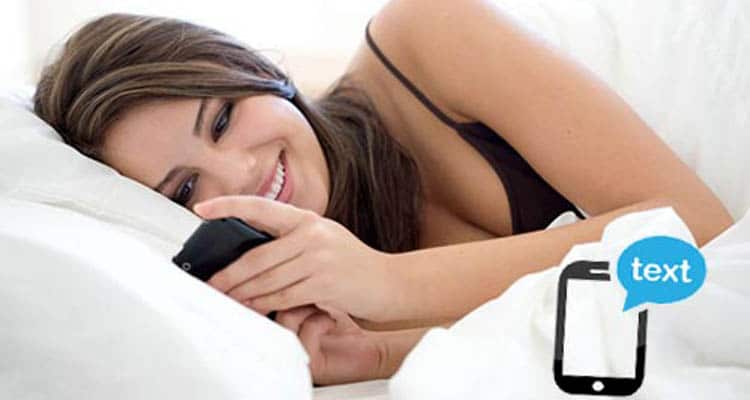 Many relationship experts believe that text messaging is the first step to dating. Some even refer to it as the new calling. People prefer sending seductive text messages rather than saying it to the other person's face because it seems much more comfortable and much less intimidating. But sending hot text messages serves a greater purpose than fleeting sensory experience.
Related Reading: How To Seduce A Married Woman With Text Messages
Ways to seduce your boyfriend
Now that you know how to seduce your guy by simply texting him, you may be interested in knowing how to seduce him when he is in front of you. Well, if you are in the mood for a hot, steamy session, and you want to seduce him so that he is the first one to make a move, you can try the below –
Answer the door partially naked: If you are expecting him, it may be a good idea to be partially, or completely naked when he arrives. Or wear something transparent. Or go braless under a low-neck casual tee. Whatever you may decide, make sure it's him on the door and he is alone
Tease him by touching him: Casually run your fingers on his abdomen, slowly building up tension in his muscles by touching his crotch gently. Leave it there, and do that again
Masturbate in front of him: Men definitely get turned on by seeing women touching themselves. When watching TV, slip your hand under your panties and let him have a glimpse. He will jump at you right away!
Play the "Never have I ever" game: Work on a few sexy and daring questions and play this game with your boyfriend to spice up your sex life
Casually take off your bra and keep it aside: The sight of a woman taking off her bra is a hard one to resist for men. And then when you move and your assets do some jumping – he cannot keep his hands off you for long!
Roam the house without the panty: To make him sweat with desire, wear a knee-length dress and go around working the house without a panty. But make sure he knows it!
Use your eyes: The classic. Just convey what you want with your eyes. Let your eyes do the talking!
Bite your lower lip: Lips is where it all starts from! Use your lips to convey your message and draw his attention by biting onto your lower lip
Men love kinks, read a piece about it here. If you are really into a man and wish to know him more, then you should choose your text messages wisely.
According to Debra Goldstein, co-author with Olivia Baniuszewicz, of Flirtexting, "Texting is the new first step in dating. What and when you write back can easily determine the fate of your relationship. Therefore putting some real thought into it so that your text, i.e. you, sticks out from the rest is very important."
And so, all you women out there, make it sexy but make it count as well. Now go ahead and let your words do the talking.
For more expert videos please subscribe to our Youtube Channel. Click here.
Disclaimer: This site contains product affiliate links. We may receive a commission if you make a purchase after clicking on one of these links.
10 innovative ways of telling your man that you want to have sex
How can women achieve a satisfying climax all by themselves?
12 Foods That Boost Your Sex Life And Enhance Your Performance