Poring over the files for long hours, finding my subordinates' mistakes in them, I experienced immense satisfaction. It always filled me with a secret pride that no decision in my department in this large corporate house was taken without my consent. Whenever my colleagues and subordinates were all praise of me, I would wear an impassive expression though my heart would swell with pride.
Spending long hours in office was well-justified and none of my colleagues knew that there was another secret reason as to why this dynamic and good-looking Senior Manager preferred spending less time at home.
I was in my mid-thirties now and the large 3BHK flat that I owned was shared only by my wife, Arpita. The week after our marriage would complete three years but I often wondered if I really knew that slender, comely-looking bespectacled woman.
Ours was an arranged marriage, and I introduced Arpita to my colleagues' wives and egged her to go on shopping with them. I always asked her to frequent expensive restaurants with them. I wanted her to be in step with my colleagues' and senior's wives. But all my efforts met with abject failure.
Related reading: The STARK truth of a marriage arranged
She found the topics which other women her age discussed, utterly mundane. She would prefer snacks from ordinary Udipi hotels to plush restaurants.
I sincerely wanted her to understand that her husband was extremely well off and that she was free to squander money. I secretly felt that giving my spouse the liberty to spend more and more money would make her hold me in high regard. But Arpita proved me wrong. If at all she spent money, it was on buying second-hand books and DVDs of classical music from roadside DVD sellers.
I attributed her queer lifestyle to her typical middle class upbringing. At times I hinted the same to her with a caustic remark but she would ignore my barb with a calm smile. I secretly resented her taking no cognisance of my professional success. Never had it occurred to me that there could be something worth learning about her.
But life always comes with its surprise package when we are the least prepared for it.
One afternoon when I was in office suddenly Amitesh, my friend and colleague, stormed into my room, carrying a periodical.
"Is it Bhabhi?" he asked me directly, keeping the periodical open in front of me. It was a fiction story by Arpita Bhadhuri! Without a word, I read a few paragraphs of the story and knew that the author was none other than my wife.
"Yeah, it is her," I said to Amitesh slowly.
"Great man, you have never told us that bhabhi is so talented. It is such a prestigious periodical. Getting published in it is such an honour."
After Amitesh left, I read the story minutely with a deep churning sensation about my heart.
The story was about a woman who enjoyed her aloneness with birds whom she offered water and crumbs of foods on the windowsill and with the tiny plants that grew on the earthen pots on the veranda of their flat. Never had it occurred to me that during daytime, while I was busy in office, quite often tiny sparrows entered our room, comfortably perched on her palm and ate grains off it.
It was beyond me to imagine that a woman could tend and water the plants so lovingly as though they were her own children. Her command over the language and writing skill convinced me that she had been into writing for a while.
Related reading: It took 7 years for me to find acceptance, love and respect in my marriage
After reading the story twice I remained silent for a long time. Lost in the maze of self-conceit and ego never had I bothered to understand Aprita while she continued growing in her own way.
Without further delay I left office, earlier than usual.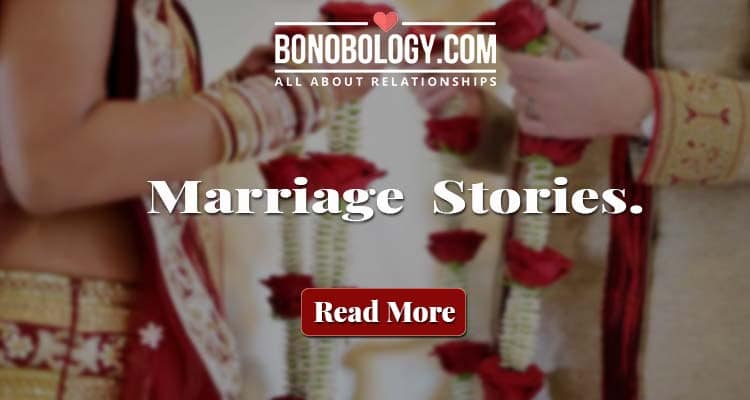 On reaching home I found her standing by the window, watching the sun setting down gracefully.
"Get ready, we will go for shopping today," I told her directly.
"But I don't want anything from a shopping mall," she replied.
"No shopping mall, we will go to get second hand books as many as you want. That's our shopping today," I smiled at her.
At once her eyes twinkled with joy.
Around fifteen minutes later as we were leaving, hand in hand, I bade goodbye to my otherwise most faithful companions, male ego and subtle arrogance, for good.
https://www.bonobology.com/10-books-that-couples-can-read-together/
How Long Does it Take to Fall In Love in an Arranged Marriage?