These marriages are not just for Page 3
Modern marriages are getting more and more stressful. Rising rates of divorces are an indicator of this trend. In this time when couples in general are getting unsure about their marriages, these five couples from Bollywood with long marriages are showing the path for a happy and stable marriage.
We can't brush them off just as silly celebrities saying something for publicity. They have survived the pressure of being constantly under public scanner, lean phases in their careers, meddling in-laws and rumoured extramarital relationships. Hence they know what they are talking about and how they are doing it.
Related reading: Surprise couples of Bollywood
1. Saira Banu and Dilip Kumar
The grand couple of Bollywood were married in 1966. With an age gap of 22 years, they were written off before they even started their marital life. Plus, Dilip Kumar has a big family and they were not willing to accept a newcomer in his life. But they survived all this and even a female called Asma Sahiba Dilip Kumar was secretly married to for some time.
They have tackled the issue by not hanging on to the issue. Kumar seriously regrets it. In an interview he had said, "Well, the one episode in my life that I would like to forget and which we, Saira, and I, have pushed into eternal oblivion is a grave mistake I made under pressure of getting involved with a lady named Asma Rehman whom I had met at a cricket match in Hyderabad."
Saira was besotted since she was only 12 years old. Her selfless dedication to love is the strong foundation of their more than half a century old marriage.
"Seriously, there is no woman as blessed as I am… I thank my Allah every day for this. It has been my good fortune to be able to do anything for the man I love intensely. For me, it was always Saab, no one else. I was his fan from the time I can remember. While still a teenager, I wanted to be his wife. I am very headstrong and once I made up my mind, there was no stopping me. I knew many beautiful women wanted to marry Saab, but he chose me. It was my dream come true and that's what my marriage has been, a perfect dream."
2. Jaya and Amitabh Bachchan
They were co-actors and then became life partners. Jaya and Amitabh got married in 1973. They survived the immense pressure of Amitabh's superstardom, rumoured relationship with a certain co-star, serious health issues and political scandals. Jaya stood by him through all these like a rock. They have survived by never talking about their personal issues openly or to the media.
They have survived by never talking about their personal issues openly or to the media.
As a rare case, in the chat show Rendezvous with Simi Garewal, they had talked about their private life. Jaya Bhaduri had said, "I totally trust my husband and I know this industry. I have never been threatened or felt insecure about anything he did."
They have tackled everything privately, and never talking or listening to the world.
3. Neetu and Rishi Kapoor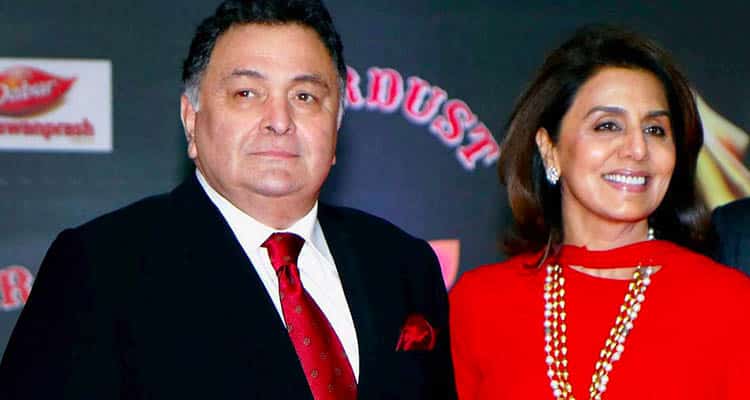 After acting together in numerous films together, Rishi and Neetu got married in 1980. Neetu left her flourishing career because no "Kapoor daughter or daughter-in-law should be acting." If Neetu had any regrets, then she never talked about it, because she had other things to worry about. Rishi was rumoured to be demanding, alcoholic and abusive. Whatever the real story may be, today they are still happily married, even appearing in films together.
According to Neetu, "There always comes a phase in a couple's life when there will be friction, disagreements. Rishi and I also went through that stage. It was just one of those problems, which only the husband and wife will understand. Fortunately, we were able to sort out our differences. Today, everything is forgotten."
Rishi Kapoor has bravely owned up to his issues in his autobiography Khullam Khulla – Rishi Kapoor Uncensored.
"I lost my nerve, sinking into a deep depression. I was so demoralised that I couldn't face the camera anymore. … The Karz vs Qurbani stand-off at the box office happened in June 1980, five months after Neetu and I had got married. I now began to blame my marriage for my diminishing fan base… Neetu was pregnant with Riddhima and had to endure my breakdown in that fragile condition. I finally came through it with the help of supportive colleagues, family, and friends, but I can only imagine how agonising the experience must have been for her."
4. Gauri and Shahrukh Khan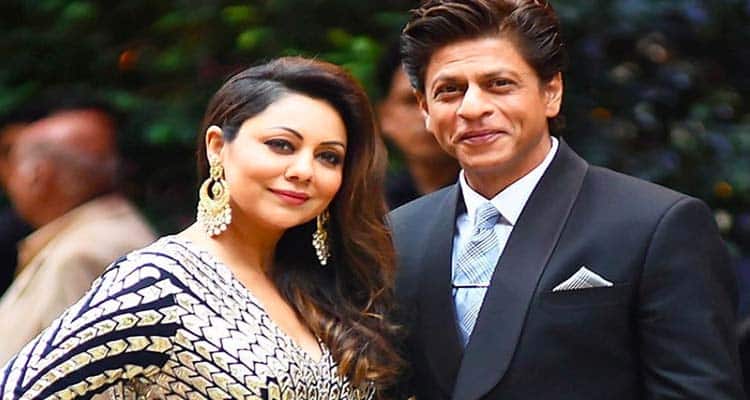 Shahrukh Khan had yet to taste success when Gauri married him in 1991, not bothering about his job insecurity and religion. They have the most stable marriage in Bollywood of this era, except a small long-forgotten hiccup named Ms. Chopra. In an interview, Gauri had talked about the secret behind their almost three decades old successful marriage.
"We both are very easy-going people. He doesn't question me about too many things, and he also stays busy with his work. I think when people spend all their time together is when trouble starts brewing. I love the fact that he gives me my space, and I make sure I give him his."
Shahrukh Khan has given his version of the secret: "I haven't had much time to spend with her over the years, because of my schedule, so the freshness of my marriage is still quite intact. We've never thought the same – about films, about life – and we've never tried to change that about each other."
"We've never thought the same – about films, about life – and we've never tried to change that about each other."
"The only thing we are completely aligned in thought about are the kids. Both of us have become very focused about them and that has become the centre of our lives."
The space they give to each other in terms of distance, ideas and views seems to be pivotal in the success of their marriage.
Related reading: How much of yourself should you give to a relationship?
5. Twinkle and Akshay Kumar
Akshay Kumar was rumoured to be a serial cheater before meeting Twinkle. No one expected him to settle down with someone. Yet not only did he get married to Twinkle in 2001, but also he turned life around. He gives credit to Twinkle for making his life stable.
"Twinkle has not only added to my wardrobe but also to my bank balance. I was a scattered person; she is the one who has put me together. After marriage, she has kind of raised me (laughs). On a serious note, whenever I've broken down she's given me emotional support."
Twinkle thinks he is an ideal partner because he is her constant source of support.
"He really believes in my capabilities as a person and that gave me a lot of confidence to switch jobs. Even today, if I do something new, he ensures he is a part of it."
Supporting each other and being the stable factor in each other's lives is their mantra for a happy marriage.
In a family of three we have four religions – Hinduism, Islam, Sikhism and Buddhism
Priyanka Chopra Finally Talks Openly About Her Relationships
Anushka Sharma: Breaking down stereotypes in her personal and professional life