The era of parents finding matches for their kids is long gone and the magic of old-fashioned matrimonial websites is fading fast. Cometh the era of finding a date for yourself! Swiping on the screen is the new-age way to find your prince in the pond of toads. Dating apps are a new rage. Yes, apps like Tinder, Happn, OkCupid, Woo and TrulyMadly are not just for casual dates and one-nighter.
If you are willing you can find your Mrs or Mr Right with a mere swipe – as did Arushi Nayar Tandon, now happily married to Akshay Tandon. Arushi's story in her own words:
I never had the knight-on-a-white-horse-sweeping-me-away type of fantasy. Mine was the desi-version Shaadi fantasy, with all the colours of a typical Punjabi wedding complete with late-night phera, shor-sharaba, being picked up for the Jai mala, and cousins fighting for the mojdi!
I have always been excited about getting married. It was what came after the wedding that scared the wits out of me. The thought of having to spend every day and night with one man for the rest of my life!! That was quite harsh – or so I felt at the time.

Related reading: You can fix a cricket match, not an attraction
At 25, I had been through enough relationships to realise that no Mr Perfect was coming to fetch me, that it was up to me to find my man.
For someone like me, matrimonial portals didn't seem the right way. I couldn't let my parents pick a man for me when I wouldn't let them pick a dress! So I was pretty stuck.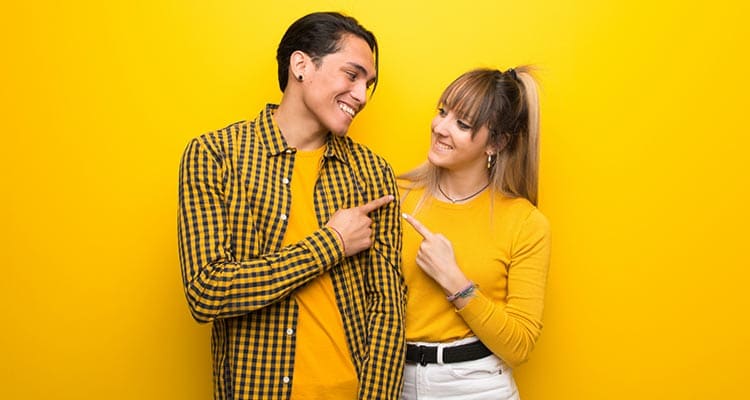 I was on the lookout for something different when someone suggested Tinder. Although it was a dating app, it seemed to suit my demands. In a time when we are in a hurry for almost everything, the simple swipe of acceptance or rejection seemed perfect. Soon I was a pro and all set to find the perfect partner. From the beginning, I wasn't on it for a casual date. I was looking for Mr Right, thinking, 'maybe, just maybe, he is also out there, desperately swiping away girls to find me, eventually.' And then, there was this whole breathing space that the app provided. I mean, I didn't have my mom or dad asking me about every boring person that popped up on the screen.
Of course, nothing works as magically as it sounds and I had to go through quite a few clowns at first. There was one who worked in an IT company and couldn't wrap his head around the fact that I freelanced and kept referring to my projects as my 'hobby of designing'. Then, there was another who kept postponing our so-called dates. Another who was not looking for a committed relationship. I admit every single time I got the this-might-be-the-one feeling. Then along came Akshay!
After exchanging the usual pleasantries we decided to meet up. He was 28, IIM, working in big pharma. At that time my feeling went from 'is-this-the-one?' to 'this-better-be-the-one!' Our coffee dates soon became evening drinks and conversations stretched from daily plans to what we wanted from life. I became less active on Tinder and more determined to make this work.

I come from a fairly open family, but I knew what my parents wanted in a son-in-law. Right from the beginning, my dad had stressed on qualifications and a handsome salary. I, too, had my demands, which some would regard as trivial – impeccable grammar, perfect English pronunciation, and a smart dressing style. I didn't want to jump the gun but, this time, the guy seemed perfect. Akshay was 10-on-10 on all these parameters. Plus, a great conversationalist. He was relaxed and made me feel comfortable. After our dates, I would go back home and think about him all the time. Yes, it was love.
Related reading: What is the Price of Falling in Love?
We were both now sure we could put up with each other for the rest of our lives. It was time to introduce Akshay to my parents. What had to be done, had to be done.
They knew he wasn't one of those marriage portal guys; sites they had signed me upon and monitored themselves ten times a day. My parents loved Akshay but kept asking how we'd met. Just a simple 'I know his, dad, he's a friend,' did not suffice and we finally had to get down to explaining Tinder to them. They were horrified. Horrified at how youngsters could 'get physical' with strangers. We managed to convince them that all we had done was to hold hands and finally they were on board.
As scary as an arranged marriage can be, matrimonial portals often make it even more terrifying. Proposals emanating through them give rise to the fear of rejection. Sometimes a fear psychosis can set in and you might not even want to look at another suitor.
Akshay had had his fill of looking at pictures of posed girls, of parents trying to convince him the such-and-such girl had the potential to be nice. He wanted someone real. He was bored and swiping away when he came across my profile and felt 'Wow, someone here is looking for a committed relationship!' A dating app afforded us the liberty to proceed at our pace, to keep our interactions under wraps till we were ready to let everyone know. And we have a great story to tell our grandchildren, right!
After the initial honeymoon phase wears off, once the monotony of home-office-home sets in, most marriages turn out pretty much the same. Thanks to – what we like to refer to as 'our rather scandalous past' – we still find opportunities to laugh over how we met. Needless to say, as a couple, we love using apps. Not the same ones though!