As told to Riti Kaunteya
Nandhini and Satish are a power couple living in the USA.
Satish and I met rather late in life and a mere four dates in, we were ready to marry and take our relationship to the next level.
Call it instinct or mere 'gut feel' but everything felt 'just right'. We were lovesick, we were crazy, we could argue our ears out and at the same time giggle the night away. The process of getting to know each other may have started the day we met, but it assumed more importance and evolved after we married. One advantage of marrying at the very end of your 20s is that childlike immaturity gives way to maturity, reason and the clear understanding that neither of us is perfect. Early on, we made a simple rule, to never go to bed angry and almost 13 years later, we can comfortably say that we have never let a disagreement steep overnight.
A full life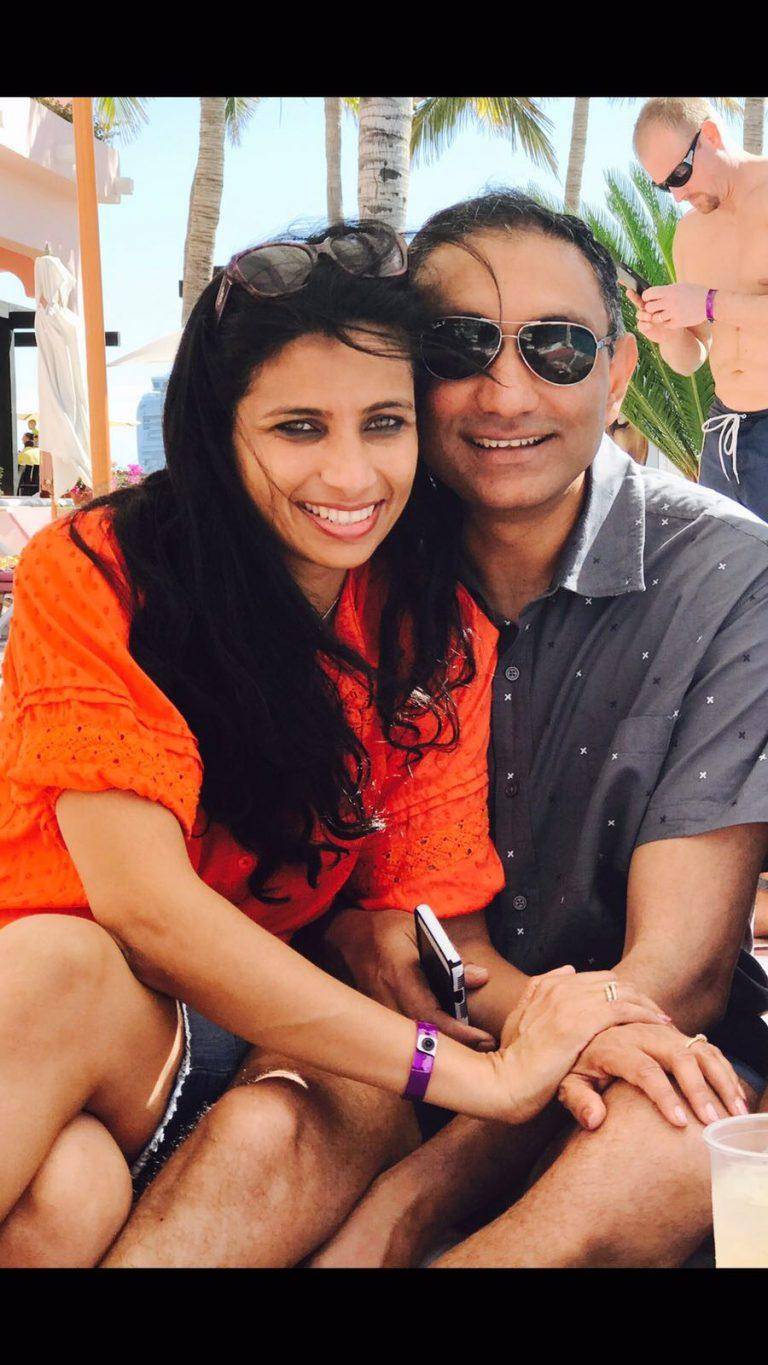 We are a classic modern-day couple, with both of us fiercely independent and extremely focused on our careers, and now with two energiser bunny kids, our life is full and packed to the brim. The concept of date night became important after our oldest was born. We were new parents, focused on raising our child, and that left us with little time to date or share our thoughts and the details of our day. We then decided that for a few hours, we would leave the new parent worries behind and just enjoy our time in each other's company; just the two of us, like old times.
At first, we would go for dinners and just talk about the baby. Slowly we veered to other topics, planned for the week and simply talked about anything and everything that crossed our minds. Sometimes we sat in silence, comfortable with each other. We learnt that as we rushed through our lives, racing against time, we had few occasions of connecting. These date nights gave us much-needed space to connect, talk and unburden ourselves. We realised what we were missing and how in the complexities of work, home, child, and later children, we were time-starved. The date nights gave us a much-needed break from routine. It was our time when we could do as we please, unfettered by the pressures of daily life.
Related reading: Six ways couples can achieve work-life balance
Evolving together time
Then we decided that date night doesn't necessarily mean sit-down dinners. We evolved it to running errands, watching a movie, going furniture shopping, grabbing a sandwich, and watching the waves (we lived in San Diego, one of the finest cities of the world) and regardless of what we did, this was 'our time'. Our time to talk shop, our time to discuss parents, family matters, future investments, or share childhood and college stories AND circle back to kid (then) and kids (now). What worked for us was that we did not regiment our date nights. It was a purely organic process without rules, except that it would be just about the two of us.
Despite our friends poking fun at us, and family telling us that date nights aren't truly necessary, we've always felt our date nights have been the backbone to maintaining our sanity navigating through life. We've diligently gone on date nights for the last 10 years and we make it a point to step out once in 4-5 weeks. Each year on our anniversary, we gift each other time. We take the day off and just spend time with each other. We head to a spa, get a couple's massage, have a relaxed lunch, or go for a hike then lunch. That's our way of celebrating our anniversary. We have dinner with our kids, thus ensuring we include them in our day as well.
Related reading: Scheduled intimacy can be just as fulfilling
Couples in calendars
In these fast paced times, the era of conference calls and career obligations that span across geographies, couples often find themselves using Google calendars to convey each other's location co-ordinates. We aren't immune to that, we do the same; but we make sure we carve out time for each other too on our respective calendars. Just a small conscientious effort goes a long way.