A shooting numbness spread all over my body. My head felt like someone was mercilessly hammering. Gathering all my strength and courage, I pushed myself up. Putting my legs down on the cold floor, I forced myself to stand. The cold pierced my bones and I sat down with a thump. "I am a fighter," I reminded myself and at the second attempt, I stood up. Dragging myself to the hall, I saw him having a hearty lunch with beer.
It all began that afternoon when he used my phone to order food. I was suspicious; he never let his phone out of sight. As I looked around, I suddenly saw something on the almirah, camouflaged with black suitcases around it. It was perfectly angled towards the bed. I freaked out, jumped out of the bed, pulled the phone down, turned it around and saw the video mode was on!
My blood curdled, my insides burnt but before I could ask anything, he snatched the phone away. I tried pulling it from his hand but he was a giant, a 5'11" giant weighing 105 kg.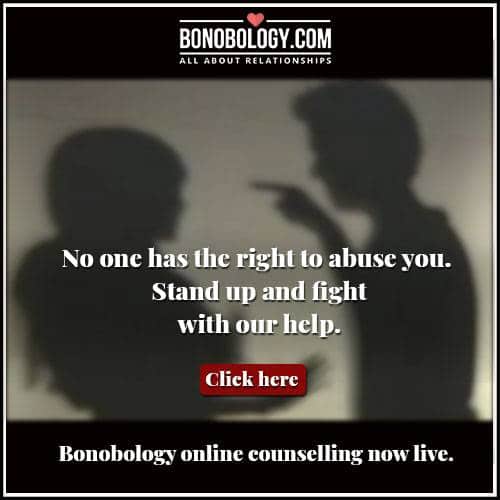 I couldn't do anything, yet I dared to ask and he answered with a huge blow to my head. I hit the hinge of the door and blacked out.
"He is not your husband, he is your boyfriend," Atharv, my best friend, screamed on the phone a few days later. I was sitting on the stairs of a temple with all the bells ringing in the background. His words made perfect sense to me. After a long time, I felt powerful. I wanted to be in charge of my life and my actions. From that moment, I decided to be independent, both physically and emotionally.
My phone beeped again. I told my boyfriend that I was in the temple, he was there in ten minutes. I got into the car. He snatched my phone, checked my call list and saw Atharv's number. He fumed in anger and asked me why he'd called. He threw the phone at me and as he was about to hit me, I screamed. I told him, "Next time you try to hit me, I will scream or complain to your parents about it." He didn't hit me again after that incident.
Related reading: My boyfriend, drugs and me
A few months passed peacefully. I got all decked up for Durga Puja and wore red. Everyone in the party complimented me. I went back home, called him and told him about all the compliments I received. He asked me to wear the same dress the next day when I met him. "You are the ugliest woman I have ever seen," he told me, spitting on the road. Tears ran down my cheeks. I said he was jealous. He dragged me into the car, drove at 80 km/hour to a deserted road, opened the door of the car, pushed me out and sped away. Not wasting a single moment in lamenting, I took an auto to the nearest Women's Welfare Association, where his mom worked. I complained against her son. She calmly said that she'd look into the matter and asked me to leave.
I asked her very politely to drop me home. As soon as she stopped the car in front of my home, I switched off the engine, removed the key and pulled her out. I rang the bell while she was trying to get free.
My mom opened the door and it is Sunday, my father was at home too. I asked her to call her son. I sat down and narrated all that he'd done to me. My dad left, my mom was wailing, his mom started abusing and accusing my mom of bringing me up wrong. He barged into my home and was about to hit me. Gathering all my courage, I slapped him.
Looking directly into his eyes, I asked him to delete my photos and videos, or I'd call the cops.
His mom pleaded with me not to do it, as he already had a case pending against him. I didn't want to go to the police either, so I agreed. She told me that he would never call me. He never called me again.
Three years later I've evolved as a person. I'm happily married, and I've become stronger yet a sensitive human. In his display photo today, I saw some other girl. I hope he stays happy forever but alas! Karma won't let that happen. And for me the best days are yet to come!
(As told to Antara Nandi)
https://www.bonobology.com/when-i-decided-to-walk-towards-freedom-after-facing-abuse/