When 14-year-old Dhananjayan travelled from Payyanur, Kerala, to Kalakshetra, Madras, he had thoughts only of becoming a dancer. He did not expect to meet his life partner there. But as fate would have it, the first person he interacted with was Shanta, who not only partnered him in the ballets under the strict yet benign eye of Rukmini Devi Arundale, but also became his life partner. Their life journey is intricately interwoven with their dance career.
Om Saha Nau-Avatu |
Saha Nau Bhunaktu |
Saha Viiryam Karavaavahai |
Tejasvi Nau-Adhiitam-Astu Maa Vidvissaavahai |
Om Shaantih Shaantih Shaantih ||
Om, May God Protect us Both (the Teacher and the Student),
May God Nourish us Both,
May we Work Together with Energy and Vigour,
May our Study be Enlightening and not give rise to Hostility,
Om, Peace, Peace, Peace.
Dhananjayan began: This prayer applies nicely for us. One of our greatest advantages is that we trained in Kalakshetra together; we grew up together, like a family. So understanding each other was easy and natural. That is the advantage of staying in a Gurukulam.
Related reading: Common relationship problems like lack of compatibility, less understanding for each other often lead to bigger ones. How to deal with them esp when the partner is hot headed?
We had similar grounding in the technicalities of dance, and when we performed as a couple in the ballets in Kalakshetra, we were under the watchful eyes of Rukmini akka. The real challenge would have come after we came out and started on our own. We had to direct each other, and that could have caused difficulties.
Fortunately, we were complementary. We had the right attitude to accept these differences. We understood each other's strengths and leveraged that.
Related reading: How our differences make our marriage a success
And as we started getting recognition and appreciation, as accolades followed, we realised we were doing it right and it just fell into place. We also complete each other as dancers…
If I am the architect, Shanta is the engineer. I transfer the ideas I get to her, and she implements them.
If something is not workable, then she modifies it or we work together to better it. This is not just in dance choreography alone. Ideas for the costume and the accessories come from me. But she assesses their suitability for performance, the colour combinations and the practical aspects. In short, I do all the literary work – the ideas, the lyrics, the costumes suitable for the character, while she works on giving it shape and effects improvements.
When teaching something to the students, sometimes I may have to take a break due to other commitments and Shanta will take over. When I return, I will make a suggestion, and the students will tell me, "Shantakka has already taught us that way only." They are surprised at how alike our thinking is!
She is 'akka' to the students, I am 'master' – this gives you an idea of how we approach teaching. She likes to spoon feed the students and is more empathetic. I believe students should absorb on their own and get agitated if they are not able to! Though the students like being spoon fed initially, after they reach a level, they prefer to try on their own – so our differing methods are an advantage, as the student progresses through different levels.
In our personal life, she ably manages the household, taking care of an aging aunt, the kitchen, the home, the children and, of course, me. I manage the admin work and all official business.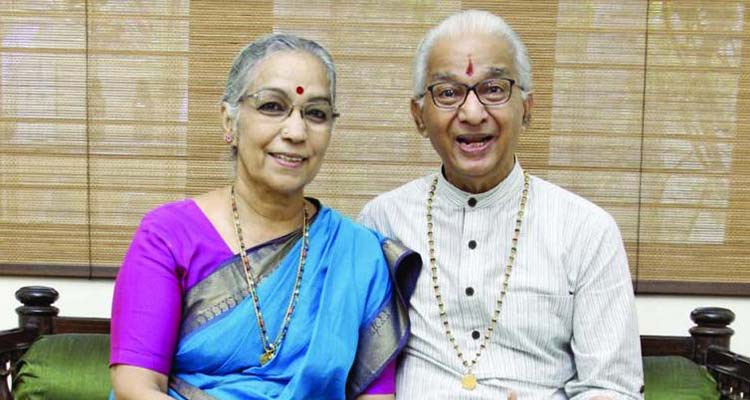 On and off stage, what has worked for us is the willingness to let go of our ego and accept the suggestions of the other with the larger good of our performance (such as in costume design or choreography), as well as our life, in mind.
Shanta pitches in with her views: We know our limitations as we grow older and perform judiciously, not exposing our vulnerabilities. We have trained many couples too in dance, and presented them in our ballets. Many of them are performing together still, though some very promising ones have also split.
Apart from for dance, we also guide other young couples on how to live their lives. We should learn to keep our ego in check and contribute to better the way we live.
(As told to Meera S)
https://www.bonobology.com/practical-guide-tantra/
https://www.bonobology.com/story-of-kama-and-rati-reveals-indias-forgotten-celebration-of-love/
https://www.bonobology.com/tips-turn-jealousy-motivation/