I do not know if my husband of 10 years and I are best friends or not. We had an arranged marriage after exactly a year's courtship. I felt prepared to take the plunge, as I believed it was the 'normal' thing to do after educating myself to a society-approved Masters level and having found a job. A few meetings, niceties exchanged and the rest as it appears in the flowchart of such life events.
I never felt the need to give our relationship any qualifier besides what was bestowed upon us legally. This is probably because I haven't had that one best friend for as long as I can remember. I changed many schools and many cities due to the transferrable nature of my father's banking job. I was always a people's person and could engage effortlessly in conversation with anyone, anywhere. Thus I made friends with diverse groups of people that I met in my life.
Culture shocks of every magnitude
Our upbringing didn't have a lot in common. Culture shocks threw themselves at us like pebbles, stones, rocks and boulders as we grappled with them for the first few years. His family often ordered their favourite butter chicken, they bought and ate bread pakoras and kachori every Sunday. They never fussed over birthday rituals at home. My family always dined out on special occasions but we hardly ever ordered food until we were grown up.
His family had lived in Delhi for generations while the major part of my adolescent and adult upbringing was in a nuclear family in Bombay. Apart from holidays, he stepped out of the city for the first time when he found a job in Calcutta. On the other hand, I had moved around many cities. Home for me was never any particular house or locality but simply wherever we rebuilt our nest each time we moved.
It made us stronger and richer
The bright side to culture shocks was that behind every shock, there was a shock-absorbing mechanism that we did not know we possessed in the deepest recesses of our beings. I would engage in up-to-the-minute detailed conversations with my folks daily. He found that irksome at times. Men are differently wired, but it took me a marriage to learn that! I assumed that a message I passed on to someone in his family would be known by all. That was often not the case and now I share information with each of them separately. It's a small effort, but it works very well.
While sometimes these episodes left us emotionally a bit bruised, most of them brought out a fresh perspective. They made us realise that it was futile to expect each other and each other's side of the family to process information in the same manner or even react similarly, if they reacted at all. We learnt to unlearn. No people can be the same. We began to see the rewards of flexibility and of keeping an open mind. It dawned upon us that replacing the 'I' with 'we' could be a peacemaker. What also glued us together was our firm conviction about certain basic life values.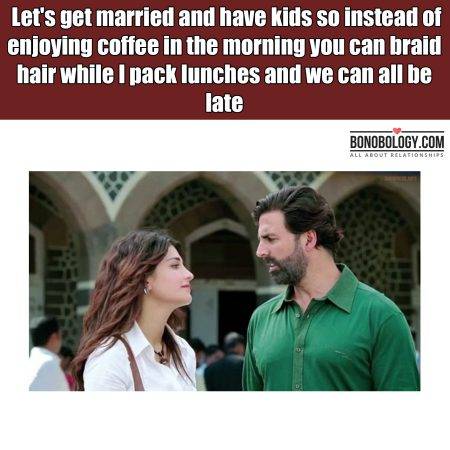 Related reading: These 9 rules for a happy marriage will make you go "That's it?"
Keeping our goals joint
Together, we have enjoyed his consistent and exponential career growth in the last 10 years. I have always taken immense pride in his achievements, however big or small. This was possible not only because I am very fond of him, but also because I do not perceive his success as separate from my own. We have joint goals that we chalk out and strategise to collaborate and achieve. For this, we are in charge of different tasks in our daily routine and work towards them with honesty and focus. While majority of the charge he takes is for bringing home the moolah, I manage our kids and the household chores. Taken with a pinch of salt, I see Home, Culture, Defence and Personnel and he sees External Affairs and Finance…and we rule the judiciary jointly!
Over a decade we have walked into three empty houses with bare walls staring at us. Our first move was completed in just one trip of a Wagon R from one suburb to another, while our third transport needed a ship from Jebel Ali port to Mumbai. As one, we have fed these barren spaces inside bricks and cement, to sprout and grow into warm homes. In return, these cavities that we filled out not only with furniture, but with conversations, family, friends and kids, have nourished us abundantly. We have drifted away from each of these when time was up. Some memories associated with each of these homes he and I share exclusively and some, which no one else will ever need to know. The same was the case with two of our cars that we used with a lot of fondness and eventually had to bid teary farewells to, because we were relocating.
Related reading: Find out why this Army wife loves to move on and on and on…
Every marriage needs love and arrangement
There is really nothing such as a 'love' marriage or an 'arranged' marriage. All marriages need love and arrangements to last. Once a couple begins a conjugal life under one roof, it ceases to be about any destination or target or purpose. It is a journey where one accepts the other with the perfections, the flaws, the dreams and the quirks. That is when love becomes ubiquitous.
As a couple, we constantly try to enrich our lives with whatever we have around us. We leverage our differences. We sing, we read, we watch films, we travel and we pretend to be fitness freaks. It is a fun alliance, to which our kids add new dimensions every day. This life is a gift and our camaraderie is the gift-wrapping. I know we will always be able to lean on one another during our weak moments. I might decide to call him my best friend tomorrow, soul-mate the next day, but what I will always know is that we will never call time on each other.
Save<Save<