Diwali is celebrated for a number of reasons, especially the return of Lord Ram from his exile of 14 years. People were supposed to be so happy to see their Prince return with his wife Sita and brother Lakshman, that they lit earthen lamps and decorated their houses to welcome them. It's not just about Ram and his successful return to Ayodhya, but also about Sita enduring 14 years of exile in the forest and all that happened to her, without complaining about her plight, and her steadfast belief to be with her husband during the period of exile.
There is a reason for every single ritual we do on Diwali and the history and significance of Diwali is immense. However, two very beautiful stories are associated with Diwali on love for one's spouse and incidents which strengthen this relationship.
Why we celebrate Dhanteras before Diwali
According to one myth, the son of King Hima was destined to die of snakebite in sleep, on the fourth day after his wedding. His wife decides to defy destiny, a la Savitri! On a fateful day, she piles all her wealth and jewellery at the bedroom door. She then lights up the whole room with numerous lamps and starts singing songs and telling stories non-stop to her husband, ensuring that he doesn't fall asleep, aided by the brilliance of the heaped gold and jewellery.
In the middle of the night, Lord Yama comes in the form of a snake to take away the life of King Hima's son. But the son isn't able to fall asleep due to the non-stop storytelling by his wife.
Besides, the numerous lamps blind Yama and he can't enter the bedroom. He then decides to wait and sits on the heap of wealth and jewellery. The night passes and the hour slips away, thus depriving Yama of his allotted time to take the life. He has to leave, thus giving the King's son a lease of life. Dhanteras is thus also known as a day of Yamadeep-daan, a practice of keeping a lamp-lit the whole night. Love can save one's partner, and often the god of death beats a retreat in the face of such love!
Watch this video: Diwali Yamadeepdaan | A Celebration Of Love & Partnership
The myth behind Chhoti Diwali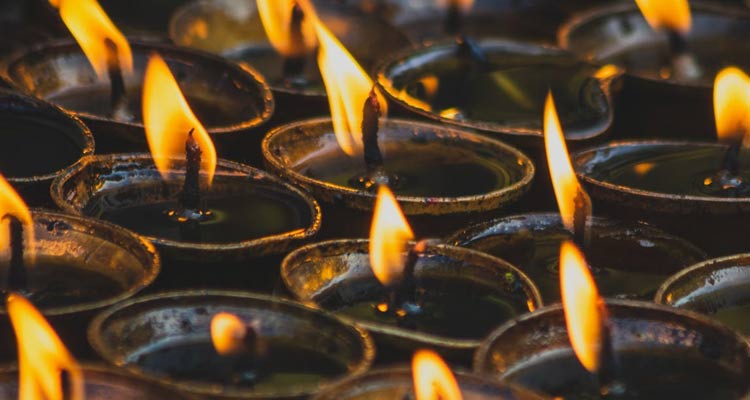 Another important myth is that of Chhoti Diwali, the day prior to the actual Diwali, also known as Narak Chaturdashi.
The myth concerning this day is related to a fierce demon king by the name of Narakasur, the king of Pragjyotishpur, a place south of present-day Nepal. He had defeated Lord Indra in a fierce battle and taken away the earrings of Goddess Aditi. Goddess Aditi happened to be related to Lord Krishna's wife, Satyabhama. Besides the earrings, Narakasur had also imprisoned 16,000 girls, the daughters of different gods and saints.
When Satyabhama hears about it, she's furious and seeks the help of her husband, Lord Krishna. Lord Krishna knows that Narakasur can only be killed by a woman, so he decides to help his wife and becomes her charioteer in her battle against Narakasur.
On the day prior to Narak Chaturdashi, Satyabhama not only wages a successful battle against Narakasur and kills him, but also recovers the precious earrings. She also liberates the 16,000 girls.
As a mark of victory, Krishna smears his forehead with the blood of Narakasur and when he arrives the next day, his wives massage him with perfumed oils and give him a royal bath. Since then it has become a custom in parts of Maharashtra to get up early on Narak Chaturdashi and have an oil-bath before sunrise. Many apply kumkum on their foreheads, as a ritual before the bath, imitating the smearing of the blood of Narakasur by Lord Krishna.
Celebrate the joy and equality
Bhoodevi (Mother Earth) who was the mother of Narakasur, declares this day as a day of celebrations and not mourning. Thus this day is celebrated as Chhoti Diwali, a day when man and woman come together to celebrate the day with joy and trust in each other, to support one another.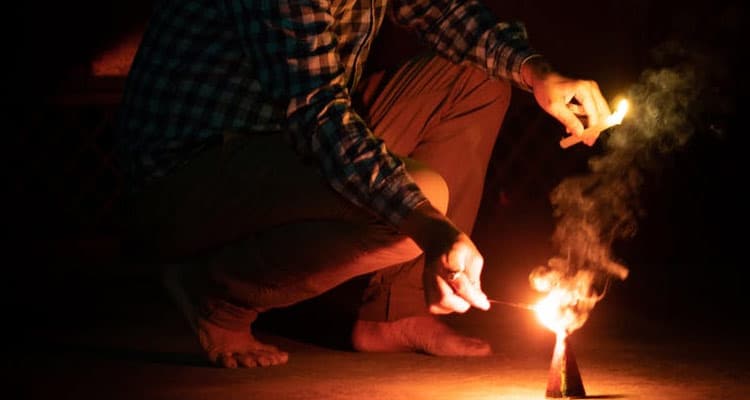 While we celebrate the festival with joy and happiness, let us not miss the significance of our partners in our daily life as equals. Such festivals bring out the relevance of each to the other and how a spouse lends meaning to the life and existence of the other.
It's not about who is superior and subservient in a relationship, but who is supportive.
Relationships help one flower with the help of the other, not at the cost of the other.
Here's what to do when you are making love and your child walks in
Why I became happier when I stopped trying to please my in-laws