I started the dopamine drip and stared at the monitor, waiting for the blood pressure to stabilize. My patient, Mrs Sumona Dutta, wife of Lance Naik Krishna Bandhu Dutta (retd), was 74 years old. She was diagnosed to have a complete heart block with a grave prognosis.
Slowly as the blood pressure shot up, I heaved a sigh of relief, the first one in the last two hours, and made my way out of the ICU to the nearest vending machine. It was only three hours into my casualty duty that night and I was already six cups down.
As I made my way back in the dark, I saw the silhouette of a man, hunched down on a sofa chair, hands-on this head, as if in prayer. For a moment I was scared – it was three in the night and I was alone in a dark hospital corridor. But as I approached the man, I saw that his eyes were tired and dry. He made an effort to get up but I stopped him.
"Are you with a patient?"
"Yes . . . my wife's in the ICU. Third-degree Heart Block."
"Ohh…" I said in recognition, "She's stable for now. Don't worry."

That's when he broke down and cried.
Related reading: Love Overcomes any Handicap
She was 16, and he was 19 when they got married. She was just fresh out of school, had ribbons in her well-oiled hair and sparks in her eyes, and she clung possessively to her dreams. But life didn't offer her too many alternatives back then, he said. Things were beautiful for most parts, he said. She would work hard to keep a sparkling home and he would come back from work and they would eat together. She loved to talk about her day and he loved to hear her talk. Sometimes when he was off work early, they would saunter around town, buying flowers and bangles from the fair. Working for the Indian Army was quite alright back then, he said.
But then war broke out. And he had to leave for Poonch, J&K.
That was in 1948. A year after they got married.
Letters flew to and fro, carrying warm hand clasps and eager anticipation of his return. Until one fine day, he was summoned by the Commanding Officer and asked to return home. His wife was in the hospital.
She was diagnosed to have an unusual and very rare complication of Mumps – encephalomyelitis. She was rendered partially deaf, was bed-ridden and unable to communicate. Their world came crashing down. He was eventually released from service on 'compassionate grounds,' to look after his wife. Months passed, but her condition remained the same. She lay in bed all day, wilting and withering away, spitting venom every time he tried to talk to her. He worked part-time and spent all the hard-earned money on nursing his wife.
Related reading: Testing times bring out the best in relationships
Well-meaning family and friends suggested a remarriage; he was after all barely in his twenties. But he stuck on. He never thought of giving up on her. They said he was a crazy man and cut off all ties permanently.
Gradually they learnt to communicate in a new language of their own – a cacophony of meaningless sounds to a casual observer. He would read to her every night. Sometimes she would write a few words back. But mostly, she would turn her good ear to him and quietly listen.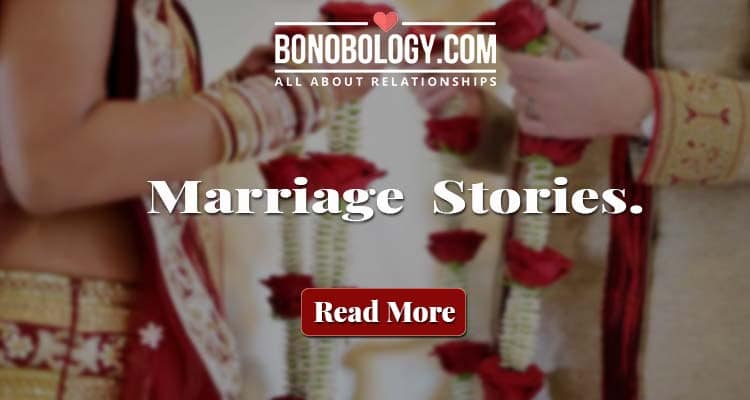 At this point, the old man took out his wallet and removed a piece of paper, now wrinkled and yellowed over time. He spread it on the bench. "I seem to have loved you in numberless forms, numberless times / In life after life, in age after age, forever."
Lines from a poem by Rabindranath Tagore, she had given it to him one November night.
It has now been 58 years! 58 years of fighting it out, of trying to justify their marriage to the world. And after all this time, she lies as helpless as she once was, with a one-way ticket to heaven and no chance of ever coming back.
My heart stopped. I didn't know how to console him. As I looked on, he raised his head and said, "Death is inevitable. We have to part. But I shall follow her close behind. I shall not leave her alone. I never have."
And then, as I struggled to keep my tears in check, he added, "All that I pray, for now, is a painless journey. We have had enough pain in our lives."
She died three days later. He never shed a tear. And this is what he told us: "I am lucky to have found her, to have known her, to have loved her as I did. We could have passed by each other like two strangers. I shall not grieve over what I have lost. But I shall rejoice over what I have gained all my life. Such is our love."
I'm told by colleagues who were posted at Base Hospital, Barrackpore after I left, that Lance Naik Krishna Bandhu Dutta passed away four months later. No living relative was present to claim his body. His ashes were scattered by the hospital staff in the same river as his wife.